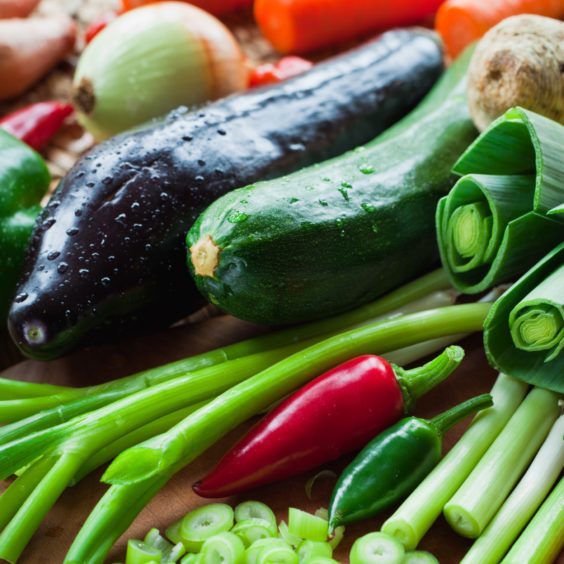 Martin Hollis, executive chef at the old Course Hotel St Andrews, springs into action with his tasty recipe for a vegetable casserole.
This is a funny time of year – spring is round the corner but it can still be very cold. A casserole filled with tasty seasonal veg and mini dumplings is the perfect dish to warm up a chilly late winter day and ease us gently into spring. To make my veggie casserole you'll need: For the dumplings: 100g self-raising flour, 50g cubed butter, 50g mature cheddar, finely grated, 3 tbsp finely chopped parsley and seasoning.
Rub the flour and butter together so it looks like breadcrumbs. Stir in the cheese, parsley and salt and pepper to season and set aside.
For the casserole you'll need 3 tbsp light olive oil, 8 shallots peeled and cut in half lengthways, 250g small halved new potatoes, 3 peeled garlic cloves, cut in half lengthways, 200g baby carrots, scraped but left whole, 500g fennel bulbs, each cut into 8 wedges, 600ml boiling vegetable stock, 300g fruity white wine, such as sauvignon blanc or pinot grigio, pinch of muscovado sugar, light or dark, ½ tsp light soy sauce, 200g green beans, trimmed and cut in half, 250g chestnut mushrooms, halved if large, 200g chopped baby courgettes, 2 tsp cornflour, ½ fresh red chilli, seeded and finely chopped, 1 tbsp each snipped chives and chopped parsley.
Heat the oil in a large pan or flameproof casserole (about 3.5 litres) over a highish heat, then throw in the halved shallots. Fry for 2-3 minutes till beginning to soften and turn golden in places.
Add the potatoes stirring with a wooden spoon. Add the garlic, carrots and fennel, allowing a couple of minutes between each so they get a chance to release their flavours. Pour in the stock along with most of the wine, then stir in the sugar and soy sauce and return to the boil. Simmer covered for 10 minutes. Stir about 2 tbsp of water into the dumpling mixture to form a soft dough.
Break off small pieces to make 20-25 dumplings, then shape into rounds about the size of a cherry tomato. Add the green beans and simmer for 5 minutes, then add the mushrooms and courgettes.
Stir the cornflour into the remaining wine until it has dissolved, then stir into the casserole until it thickens. Bring to the boil, stir well then gently place the dumplings on top.
Cover the pan with a lid and simmer gently for about 15 minutes till the dumplings have risen, and the stew is rich and thick and the vegetables deliciously tender. Check the seasoning. Mix the chilli and herbs together in a small bowl and scatter on top of the casserole.
Chef's tip: Courgettes can be substituted with leeks if you prefer. If, like me, you love dumplings, double the recipe for the dumplings.