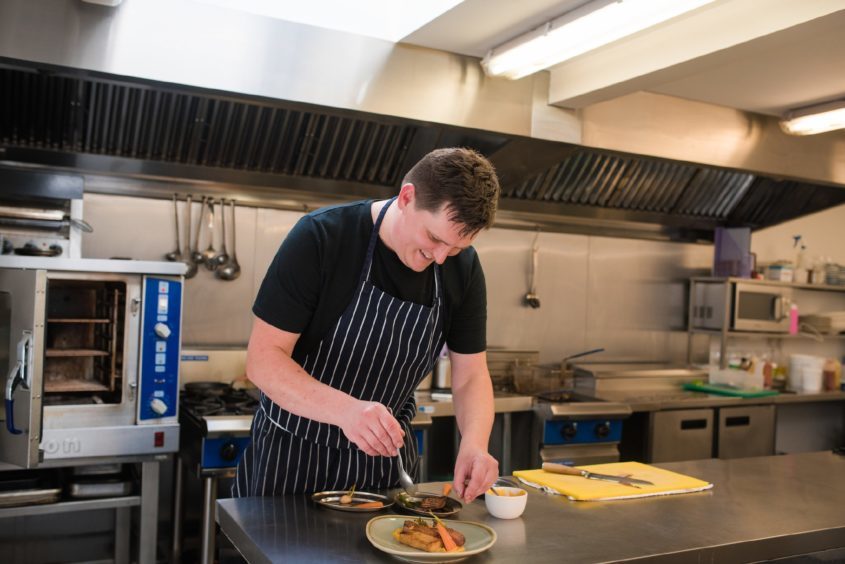 Kevin Joubert, chef proprietor of the Kingarroch Inn in the Fife village of Craigrothiew tells Caroline Lindsay about his love of both Scottish and South African cuisine
Q Desert island food?
A Steak and chips, says it all…
Q Favourite TV chef?
A Keith Floyd, for his old school approach to cooking, no fancy equipment, and his love of drink!
Q Favourite cook book?
A Larousse Gastronomique. I've used a lot of these recipes as a base for my own dishes with my own twist.
Q Favourite ingredient?
A Beer. I use it to cook seafood dishes, for steaming clams and mussels, or slow cooked meat dishes. It's also an excellent ingredient for my sticky ale pudding dessert and always handy after a long day in the kitchen.
Q Most hated ingredient?
A I am not a big fan of gluten-free flour. Instead of using it I try to find flourless alternatives for my dishes.
Q Perfect dinner guest?
A Someone who appreciates my/other chefs' hard work. Not a fan of guests who count how long each course takes to come out. Enjoy your company and wine instead.
Q Favourite kitchen gadgety?
A I am not a gadget man… My fish slice has been by my side for 15 years. I also like my 50p lemon juicer – can't beat it.
Q Favourite music to cook to?
A Planet Rock radio station, no pop and boy bands.
Q Perfect menu?
A I don't trust menus with too many choices. Keep it simple, local, seasonal and fresh.
Q Favourite country for food?
A France, I use a lot of basic French recipes and build on them.
Q Favourite chef, alive or dead?
A Rick Stein; he started his cooking career without even knowing he would become a talented chef. I think his enthusiasm is contagious; his manner of educating others is inspiring.
Q Favourite culinary season?
A I love autumn in Scotland for game (especially where we are), summer for seafood as it reminds me of my childhood summers in my native country, South Africa.
Q Salt or pepper?
A Salt – every chef knows it is the difference between a good and a bad dish.
Q Favourite herb?
A.Thyme, it's a good all-round herb.
Q Favourite spice?
A Star anise – love its unique flavour which can be utilised in savoury and sweet dishes.
Q Favourite way to cook potato?
A Gratin.
Q Favourite go-to recipe if you are in a hurry?
A Soft boiled egg with sour dough toast.
Q Favourite naughty nibble?
A Biltong, a South African delicacy of marinated, seasoned dried meat.
Q Favourite health food?
A Whatever my partner can blitz into a smoothie for me to drink during service! But lentil soup as a health food is probably the winner.
Q Ideal picnic dish?
A Pork pie.
Q Ideal BBQ food?
A Nothing beats South African Braai (BBQ).
Q Are you critical of the food when you are dining out?
A Yes, it's difficult not to be but I always keep it to myself. I would never publicly complain to highlight somebody's mistake.
Q Do you tip in restaurants?
A Always.
Q Top tip for failsafe cooking?
A Enjoy it.
Q Worst cooking sin in your opinion?
A I have seen a lot during my career – buying factory produced dishes and putting them on restaurant menus, then calling them home made. Believe me, there is a lot of it about…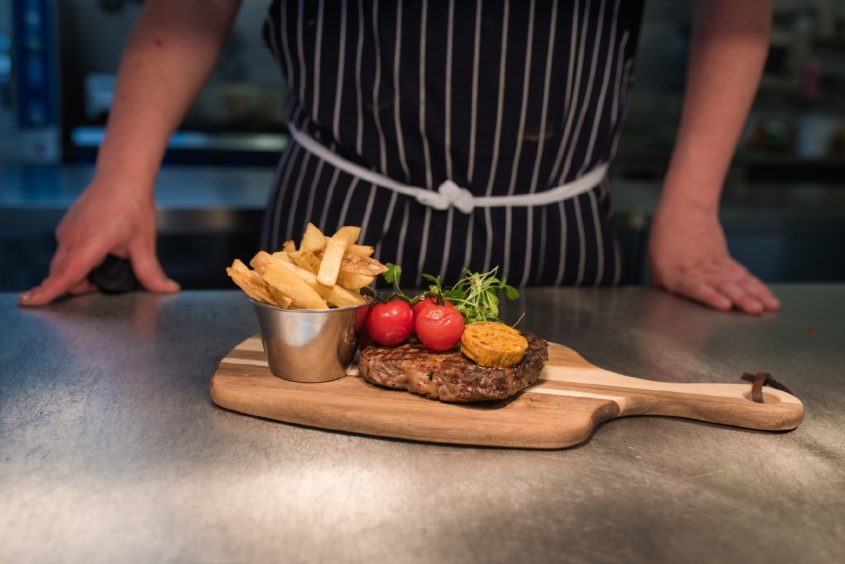 Lightly smoked ribeye steak, duck fat chips, Café de Paris butter
Serves 4
Ingredients
For the Café de Paris butter (serves 8): 250g of unsalted butter, at room temperature
1tsp of Dijon mustard
1tsp of capers, rinsed and finely chopped
2 shallots, finely chopped
1 small bunch of thyme, leaves only, chopped
1 small bunch of tarragon, leaves only, chopped
1 clove of garlic, crushed
3 anchovy fillets, drained and chopped
1tsp Worcestershire sauce
1/2 tsp of Madras curry powder
1/2 tsp sweet paprika
1 lemon, finely grated, zest of whole, plus juice of half
1 orange, finely grated, zest only
For the steak: 4x 225-275g ribeye steaks
Large handful of hickory wood chips
Salt and freshly ground black pepper
For teh chips: 550g medium sized Maris Piper potatoes
700g of duck fat
Directions
For the Café de Paris butter: Blend the butter in a food processor until very pale, then remove the blade and stir in all the other ingredients. Season with sea salt and roll the mixture into a sausage shape. Wrap in cling film and place in the fridge until ready to serve; or add a layer of foil and place in the freezer for long-term storage.
Tips and suggestions: The Café de Paris butter will keep for months in the freezer so even if you are only cooking for 2, make the whole recipe and cut off frozen slices as when you want serve quick steak dinner.
For the steak: To smoke the steak put the wood chips into a large shallow pan such as a wok or deep sauté pan and rest a cooling rack over the top. Place the pan over a high heat until the wood chips begin to smoke. Reduce the heat to low, put the steaks onto the cooling rack and cover with a lid (don't worry if it doesn't fit too well). Smoke the steaks for 2 minutes. Uncover and lift off the rack.
To cook, heat a ridged cast-iron griddle until smoking hot. Season the steaks on both sides with salt and pepper and cook for 2 minutes on each side for rare and 3 minutes on each side for medium. Them lift them up with a pair of tongs and sear the fatty edge on the grill until crisp and golden. Meanwhile, slice the butter into thin slices.
For the chips: Maris Piper Potatoes make the best chips. Empty duck fat into a medium -sized pan, so that when is melted you have a sufficient depth in which to cook the chips – the pan should not be more than one-third full.  Heat the duck fat to 120˚C. Drop a large handful of the chips into a chip basket and cook them in batches until they are tender when pierced with the tip of a knife. To finish, heat the duck fat to 190˚C and cook them in batches until crisp and golden-about 2 minutes. Lift them onto kitchen paper, drain and sprinkle with sea salt. Serve immediately.
www.kingarrochinngastropub.co.uk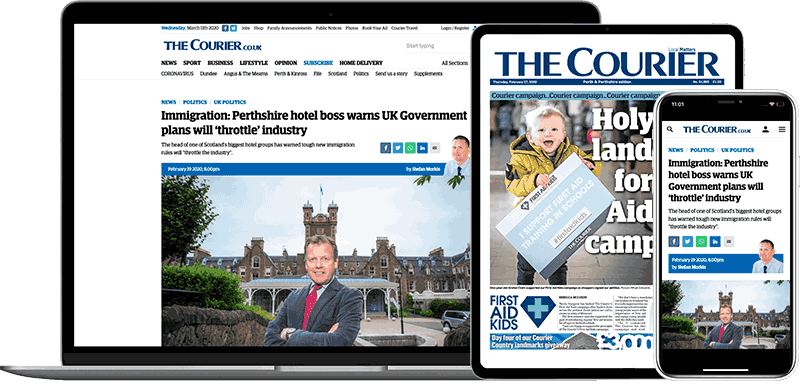 Help support quality local journalism … become a digital subscriber to The Courier
For as little as £5.99 a month you can access all of our content, including Premium articles.
Subscribe