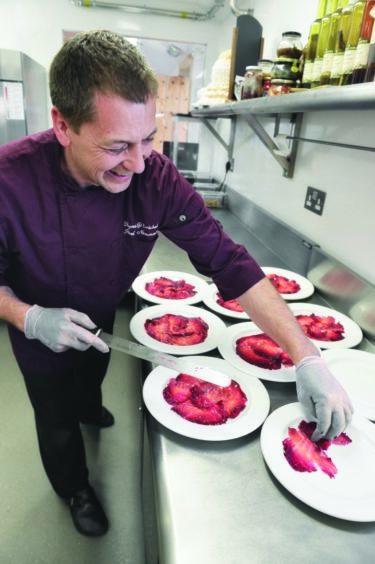 Paul Newman, winner of the Chef of the Year Award in the recent Courier Menu Food and Drink Awards, tells Caroline Lindsay about his favourite foods
Q Desert island food?
A Coconut, if you're stranded on an island they are the ideal emergency ration – food and drink in a handy package.
Q Favourite TV chef?
A Tom Kerridge – I was lucky enough to meet Tom recently. I have followed his career with interest and enjoy his attitude to food and his treatment of seasonal produce.
Q Favourite cook book?
A The Lebanese Kitchen by Selma Harge. It is a fantastic book with so many base recipes which can be adapted according to seasonal produce available locally. Light, fresh recipes ideal for fine dining or sharing with friends.
Q Favourite ingredient?
A Figs, sweet or savoury, as a fruit, main ingredient, preserved ingredient. Just great.
Q Most hated ingredient?
A Pineapple – I'm allergic!
Q Perfect dinner guest?
A Rebecca, my wife. Working in the hospitality industry with the unsociable hours can impact on family life. Time spent with Rebecca relaxing, eating and sharing a good bottle of wine is precious.
Q Favourite kitchen gadget?
A Spice grinder. I use spicing in many of my dishes and I have a small spice grinder which is ideal. It takes up little space, was inexpensive but is in use almost every day.
Q Favourite music to cook to?
A I'm going to go with a radio station – Radio 2, great music selections and interesting talk shows make for a varied day.
Q Perfect menu?
A A menu with seasonal, local produce. Ingredients treated with a light touch to let the natural flavours shine through.
Q Favourite country for food?
A The Middle East – such a variety of ingredients, styles and spices.
Q Favourite chef, alive or dead?
A Paul Bocuse. Bocuse sadly passed away earlier this year – a huge loss to the industry; but what a legacy he has left behind. During my early days in the industry his methods were used for training in classic French techniques and have given me a great foundation to work from.
Q Favourite culinary season?
A Early summer when there's a glut of Scottish produce available right on our doorstep. Fresh, local ingredients from the farm here at Errichel and from the fantastic local producers.
Q Salt or pepper?
A Pepper. It is so versatile and can be used in so many was including introducing a different taste to sweet dishes.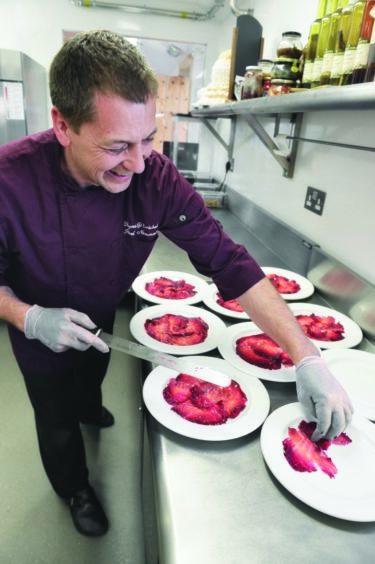 Q Favourite herb?
A Thyme. Once again versatile and great for introducing flavour to so many things from stock to cocktails.
Q Favourite spice?
A Cinnamon. Used widely in Middle Eastern cooking, it's lovely in sweet dishes but amazing in savoury dishes, for example tagines or a keralan curry alongside star anise.
Q Favourite way to cook the humble potato?
A Roasted in goose fat, a sprinkle of salt and pepper – perfect.
Q Favourite go-to recipe if you're in a hurry?
A Eggs Benedict or Florentine. Ten minutes and there's a delicious dish.
Q Favourite naughty nibble?
A Cheese, all types!
Q Favourite health food?
A Figs and dates.
Q Ideal picnic dish?
A Olives and a glass of wine.
Q Ideal BBQ food?
A Boerewors, a traditional South African sausage. I make my own from our rare breed Shetland beef from our own farm.
Q Are you critical of the food when you're dining out?
A Not overly. I can understand the processes and the input involved in all aspects of dining out so can usually find something to enjoy.
Q Do you tip in restaurants?
A Yes.
Q Top tip for failsafe cooking?
A Read the recipe start to finish and then read it again.
Q Worst cooking sin in your opinion?
A Lack of hand washing.
www.errichelhouseandrestaurant.co.uk
Fig and plum flan with ice cream
Serves 6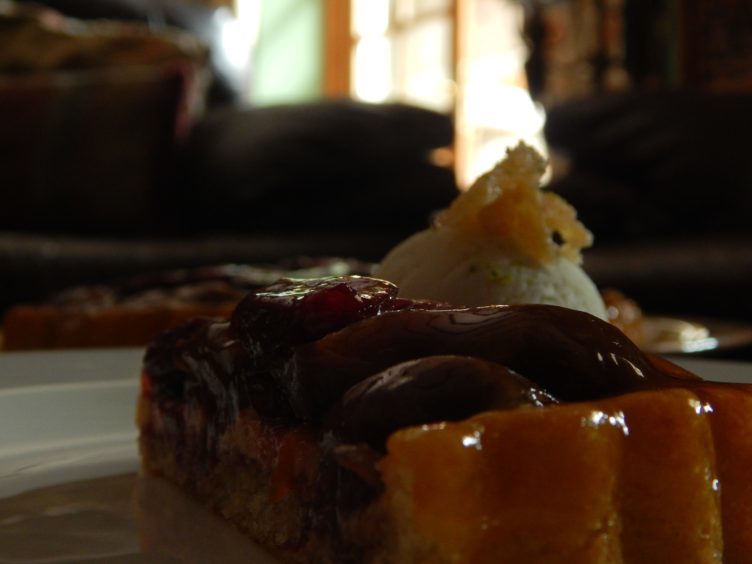 Ingredients
For the flan case: 85g plain, white flour
85g caster sugar
3 medium eggs
For the creme patisserie: 250ml of whole milk
1 vanilla pod, or 1 tsp vanilla extract
50g of caster sugar
3 egg yolks
10g of plain flour
10g of cornflour
For the figs and plums: 200g fresh figs
200g plums
4-6 sprigs fresh thyme
2 tbsp red wine
1 tbsp dark or light brown sugar
2 tbsp honey
3cm strips of fresh lemon zest
Directions
For the flan case: Pre-heat the oven to 200C/400F/Gas Mark 6
Place sugar in a bowl and whisk together with eggs over a pan of hot water for 10 minutes
Remove from heat and continue whisking for 5 minutes
Gently fold in sieved flour, in about 4 lots
Pour sponge-cake mixture into a greased and floured 20cm flan tin
Bake in a pre-heated oven for around 20 minutes and allow to cool
For the creme patisserie: Bring the milk and vanilla to the boil in a saucepan then remove from the heat
Mix the sugar, egg yolks and flours together until thoroughly incorporated
Pour 1/3 of the warmed milk over the egg mixture and whisk vigorously
Pour the egg mixture into the saucepan with the milk and continue to whisk over a medium heat
Cook until the mixture boils and thickens being careful not to let it burn on the bottom of the pan
Remove from the heat cover with cling film to prevent a skin forming. Allow to cool and place in the fridge until needed
For the figs and plums: Preheat the oven to 400F/200C.
Slice the touch stem end off the figs and slice each in half lengthwise.
Cut plums in half and remove the stones.
Toss the figs and plums in a large baking dish with the thyme, red wine, brown sugar, honey, and lemon zest. Turn the figs so that they are all cut side down in the baking dish, in a single layer.
Cover tray with tinfoil and roast them in the oven, uncovered, for 30 minutes, or until cooked through.
When done, remove the baking dish from oven, lift off the foil, and let the figs cool completely. Reserve some of the juices.
To assemble
Spread some of the plum and fig juices on to the flan case.
Top with crème patisserie
Arrange plums and figs on to the crème in your desired pattern
Brush a little of the plum and fig juices over the fruit to glaze
Serve with a scoop of ice cream (we used ginger ice cream)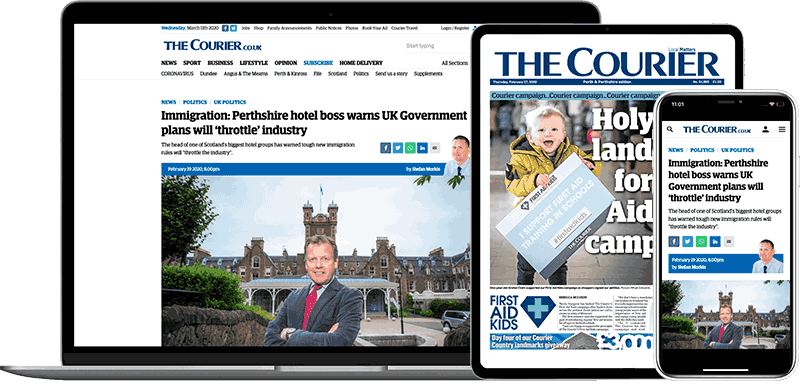 Help support quality local journalism … become a digital subscriber to The Courier
For as little as £5.99 a month you can access all of our content, including Premium articles.
Subscribe