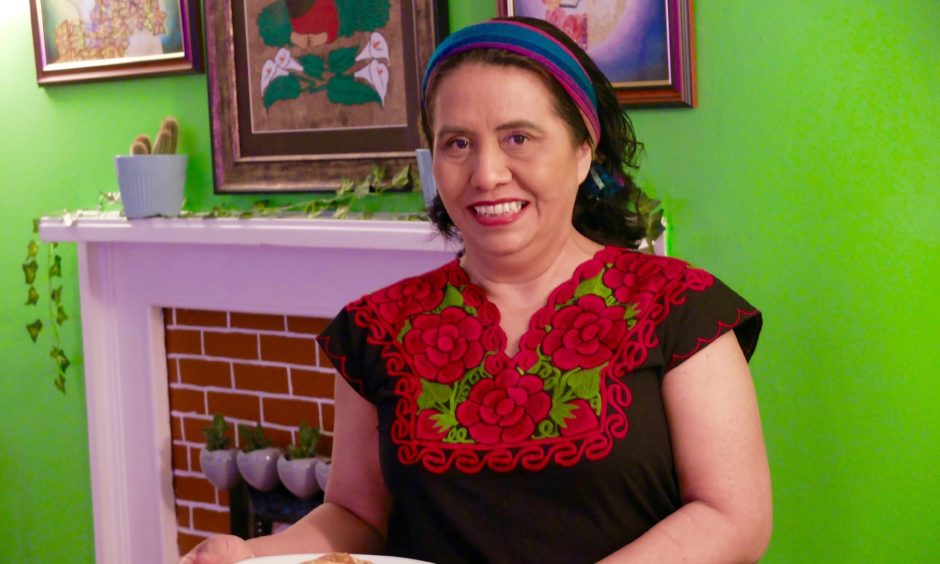 Martha Doyle, chef patron of El Tajin Mexican restaurant in Montrose, tells Caroline Lindsay why you won't find horseradish on her menu
Q Desert island food?
A Avocado and lime so I can make a healthy salad with all our great seafood. Also I can use the avocado as a moisturiser – just because you're stranded doesn't mean you can't look fabulous!
Q Favourite TV chef?
A Rick Stein, his travels are very inspirational and I was delighted about his recent journey to Mexico, showcasing the variety of flavours that my countrty has to offer, along with the vast influences that have shaped our cuisine.
Q Favourite cook book?
A Michel Roux's books Eggs and Pastry – the recipes are foolproof. You can't go wrong with them!
Q Favourite ingredient?
A That's a tough one! It would have to be between hand-dived scallops and goat's meat. I can't pick between them!
Q Most hated ingredient?
A Horseradish. My personal opinion on them is that it is too strong. Thankfully it's not an ingredient from my cuisine.
Q Perfect dinner guest?
A One who appreciates the intimate atmosphere and loves the variation on our menu, the returning customers who love dining, the Mexican wine and cocktails, and have respect for the service.
Q Favourite kitchen gadget?
A Pestle and mortar because this is the traditional way to make a good fresh sauce.
Q Favourite music to cook to?
A Salsa and cumbia makes me happy and puts a spring in my step.
Q Perfect menu?
A A perfect menu to me would be one that utilises seasonal, fresh, local ingredients that are full of flavour.
Q Favourite country for food?
A Mexico! The diversity of the geography makes Mexico a place with real variety in food: we have game, deer, pheasant, from the seas we have lots of sea food, every city has something different to offer. This is precisely what we trying to do at El Tajin – bringing regional dishes with the best produce that Scotland have to offer.
Q Favourite chef, alive or dead?
A Patricia Quintana is one of the foremost authorities in our native cuisine and she promoted the cooking of Mexico worldwide.
Q Favourite culinary season?
A The summer – I love doing lots of bbq to entertain my family and neighbours.
Q Salt or pepper?
A Salt brings out tasty food.
Q Favourite herb?
A Oregano and coriander are fundamental in my cuisine.
Q Favourite spice.
A Chillies! Dried, fresh, ground. They are always good for adding flavour to my cuisine.
Q Favourite way to cook the humble potato?
A Roasted in the bbq.
Q Favourite go-to recipe if you're in a hurry?
A Picadas is like a tartlet grilled and topped with tomato sauce and cheese. Really yummy!
Q Favourite naughty nibble?
A Churros – they are so sugary and fluffy and utterly delectable!
Q Favourite health food?
A Guacamole! Avocados are very healthy and good for you.
Q Ideal picnic dish?
A Cactus salad.
Q Ideal BBQ food?
A Grilled fish wrapped in banana leaves.
Q Are you critical of the food when you're dining out?
A No, after working in the kitchen I understand the difficulties that can unexpectedly arise.
Q Do you tip in restaurants?
A Always, to show appreciation of the service.
Q Top tip for failsafe cooking?
A Don't try to do too much or anything too complicated, taste before serving.
Q Worst cooking sin in your opinion?
A Microwave – I don't have one and won't use one.
www.facebook.com/cocinandoconmartha/
Bacalao a la Veracruzana – cod Veracruz style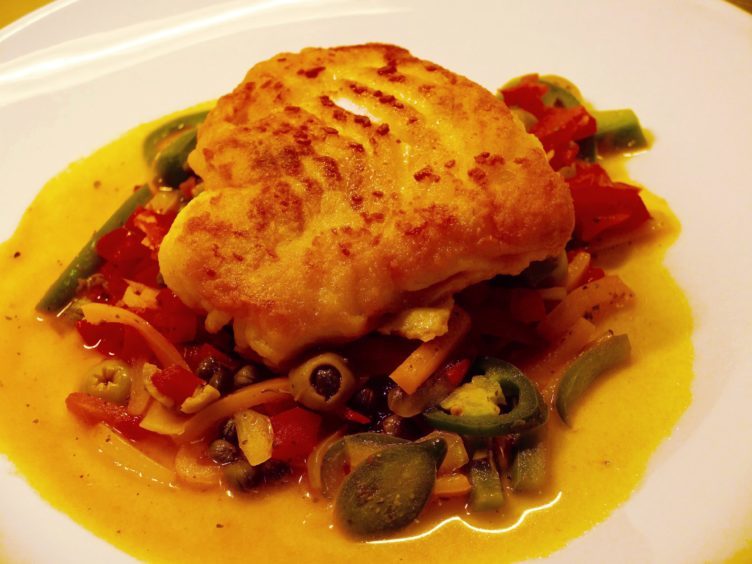 INGREDIENTS
SERVES 4
2 tbsp of olive oil
1 clove of garlic, minced
¼ white onion cut into short fine strips
½ red bell pepper seeded and cut into short fine strips
½ yellow bell pepper seeded and cut into short fine strips
½ green bell pepper seeded and cut into short fine strips
1 jalapeño sliced across with the seeds
2 tomatoes sliced with all the seeds
¼ nonpareil capers
½ cup of olives sliced
1tsp dried oregano
2 bay leaves
4 slices of cod loin
Salt and white pepper
DIRECTIONS
Heat one tbsp of the oil in a frying pan and sauté the garlic, onion, peppers and jalapeño add the tomato and cook until they are soft and they become juicy, add the capers and olives, add the dried oregano and bay leaves, season well taking into consideration that the capers and olives could be a bit salty so you may not need too much salt, and leave the sauce to simmer for another 5 to 7 minutes.
Meanwhile in a separate non-stick frying pan heat the second tbsp of oil, season the fish well and fry the cod about 3 min on each side depending on how thick the loin is and until the fish has a nice golden colour. You can also cook one side and finish 3 minutes in the oven.
Chef notes:
In Mexico this dish is traditionally cooked with Red Snapper it's difficult to find in Scotland but in any London markets you can find a lot of this fish.
Also in Mexico this dish is usually covered completely with the sauce however I prefer this presentation. It's one of the favourite dishes at El Tajin.
Serve this healthy dish with white rice and boiled potatoes.