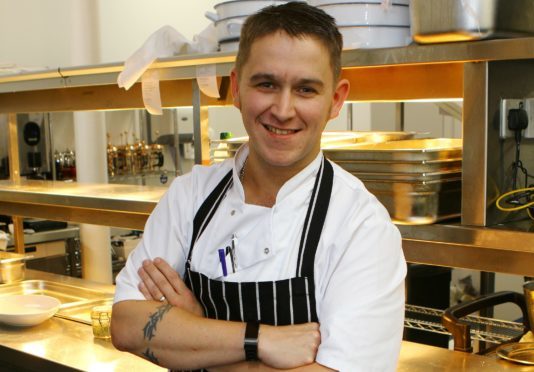 Stewart Macaulay, head chef at Hotel Indigo Dundee's Daisy Tasker restaurant, tells Caroline Lindsay who and what inspire him​
Q Desert island food?
A Coconuts of course!
Q Favourite TV chef?
A Raymond Blanc, his passion andcooking are a pleasure to watch, and a real inspiration.
Q Favourite cook book?
A Larousse Gastronomique, It has everything a chef could ever need – it's incredibly inspiring.
Q Favourite ingredient?
A I love working with all ingredients – the learning process never stops, and I'm always finding new favourites.
Q Most hated ingredient?
A I used to hate coriander because I didn't like the taste. Over the years, this herb has grown on me.
Q Perfect dinner guest?
A Frankie Boyle, I enjoy his comedy, and he always raises a few eyebrows.
Q Favourite kitchen gadget?
A Thermomixer, its like having another pair of hands in the kitchen.
Q Favourite music to cook to?
A AC/DC, puts a great energy in the room.
Q Perfect menu?
A It changes all the time with each season.
Q Favourite country for food?
A Scotland – it has some of the best meat, game, fish, fruit and veg in the world.
Q Favourite chef, alive or dead?
A Again, it would have to be Raymond Blanc – he never ceases to inspire.
Q Favourite culinary season?
A Spring, Scotland has so much to offer in this period.
Q Salt or pepper?
A Salt – it can transform any dish.
Q Favourite herb?
A Tarragon, love the taste and smell.
Q Favourite spice?
A Star anise, I think it works well with a wide range of produce.
Q Favourite way to cook the humble potato?
A Pommes Anna – it's delicious and never fails to impress.
Q Favourite go-to recipe if you're in a hurry?
A A great duck stir fry, with pak choi, sweet corn and fresh plums.
Q Favourite naughty nibble?
A Greggs steak bake – isn't this everyone's?
Q Favourite health food?
A Banana – taste great and good for you!
Q Ideal picnic dish?
A Pork pie
Q Ideal BBQ food?
A Rib-eye steak.
Q Are you critical of the food when you're dining out?
A No, I just enjoy the fact that someone else is cooking for me.
Q Do you tip in restaurants?
A Always and if it's a particularly great meal, I will make sure that all the chefs get a beer.
Q Top tip for failsafe cooking?
A Good organisation and a high level of cleanliness – everything else will fall into place.
Q Worst cooking sin in your opinion?
A Popping cling film!
Lamb with cauliflower puree
Serves 4
Ingredients
500g lamb shoulder (boned and rolled)
1 litre vegetable stock
Sprig of thyme
10g whole black peppercorns
2 bay leaves
10g flat leaf parsley
150g red rooster potatoes
75g Chantenay carrots
20g salad radish
40g peas
40g broad beans
10g mint
½ cauliflour
75g unsalted butter
75ml double cream
Salt and pepper
25g Mull cheddar
Curly endive
Directions
For the lamb, place the shoulder, vegetable stock, thyme, peppercorns and bay leaves with a pinch of salt into a deep roasting tray and cook overnight at 90c for around 12 hours. Once the lamb is cooked, simply pick off the meat, add some of the flat leaf parsley to the meat and press down into desired shape. Try and find a similar to put on top and weigh down with something heavy like a few tins of something to give it a firm press.
For the garnish, cut the potatoes into 2cm dice and place into cold, seasoned water and gently cook for around 10/12 minutes until they are soft to touch. Cook the carrots in simmering seasoned water for around 10/12 also. Quarter the radishes and add this along with the peas and beans to the rest of the cooked vegetables. Add the mint at the very end so it retains its freshness and does not go bitter.
For the puree, grate the cauliflower. Doing this will allow it to cook quicker and once again help retain a fresh, vibrant flavour. Add the cauliflower to a hot pan of foaming butter and cook for about 15 minutes. Add the cream and cook for a further 10 minutes. At this point season with salt and pepper. Be mindful of how much salt you are using as Mull cheddar will be added at the end and this cheese is naturally quite salty. Empty the contents of the pan into a food processor and blend for about 5 minutes. Now add the Mull cheddar while the machine is still blending. Pass the puree though a fine sieve then transport into a squeezy bottle to make it easier when plating.
To finish, place the lamb in the centre of the plate. Spoon your vegtables on top and alongside the meat. Pipe small dots of the puree wherever you like really. Lastly, dress the dish with some curly endive. Serve and enjoy.