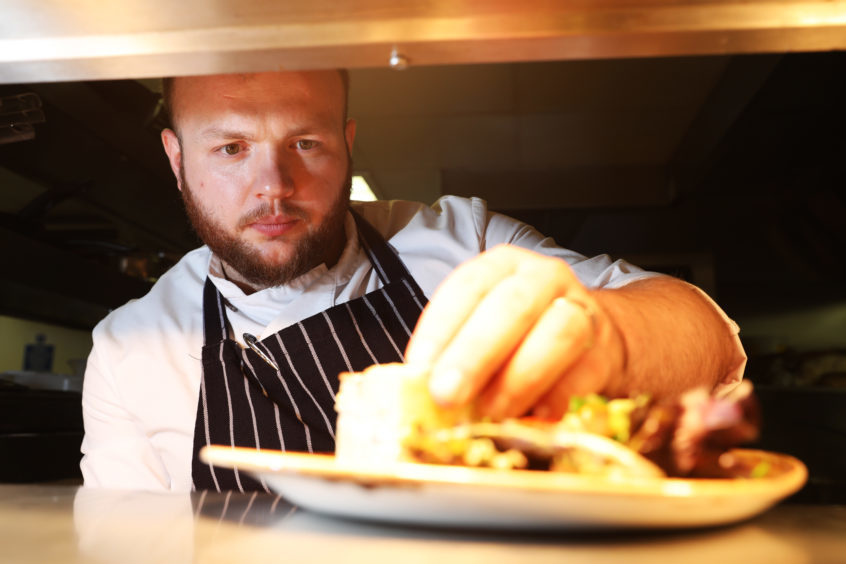 Paul Hannan, head chef at Hams Hame, at the Hamilton Grand Old Course St Andrews, dreams about having strongman Eddie Hall to dinner, discovers Caroline Lindsay
Q Desert island food?
A It has to be chicken wings, I can eat them by the bucket and they must be covered in hot sauce and fresh chillies.
Q Favourite TV chef?
A Raymond Blanc, he was self-taught and has had loads of success – his approach to cooking is relaxed and everything he does looks great.
Q Favourite cook book?
A In all honesty I would say my SVQ book I received my first year in college. It had some amazing recipes that I still use to this day and there is something for everyone in it.
Q Favourite ingredient?
A Butter – it adds amazing flavour to any dish from soups and fish to beef.
Q Most hated ingredient?
A Canned fruit – soggy chunks of fruit which are stored in syrup.
Q Perfect dinner guest?
A Eddie Hall, the strongman. I'm a massive fan and he's such an inspirational guy, it's easy to feed off his energy. I reckon I'd struggle to feed him though!
Q Favourite kitchen gadget?
A My Rational oven. I can program it to do many different things like overnight cooking and the quality of the product is always good.
Q Favourite music to cook to?
A Just a playlist I have on my Spotify – we have a few different people in the kitchen so it must be mixed to suit everyone.
Q Perfect menu?
A Wild Scottish game, I love the flavours and for me it doesn't get any better. For dessert, if there is a lemon dish on the menu that's really bitter, I'm happy. I don't really get people's fascination with chocolate.
Q Favourite country for food?
A Greece, or Rhodes to be specific, I honeymooned there this year and the food was outstanding: lots of flavour and simplicity.
Q Favourite chef, alive or dead?
A Marco Pierre White. He just doesn't care what anyone thinks and cooks the way he wants. He can also be quite blunt in in his approach which I could probably learn from.
Q Favourite culinary season?
A Spring, everything is coming back into season and the freshness is great for making some great dishes after a dark winter.
Q Salt or pepper?
A Both, all year round. It's called seasoning, not season.
Q Favourite herb?
A Coriander. It adds a nice fragrance and has a lot of flavour – it isn't given the credit for what it can bring to a dish.
Q Favourite spice?
A Cayenne pepper, I like heat and I find this works every time.
Q Favourite way to cook the humble potato?
A Roasted, with lots of duck fat, rosemary, thyme and cracked black pepper.
Q Favourite go-to recipe if you're in a hurry?
A Mediterranean veg stir fry with soy sauce and egg noodles. Simple and easy to make.
Q Favourite health food?
A Sweet potato and chilli Greek yoghurt.
Q Ideal picnic dish?
A Pork pies or Scotch eggs.
Q Ideal BBQ food?
A Chicken thighs marinated in herbs and spices with extra crispy skin.
Q Are you critical of the food when you're dining out?
A My wife tells me I am but I don't see it.
Q Do you tip in restaurants?
A If the service warrants a tip.
Q Top tip for failsafe cooking?
A Rest your meat for the same amount of time you have cooked it.
Q Worst cooking sin in your opinion?
A Buying things in when it can be made in house better and cheaper.
Ham hough Dauphinoise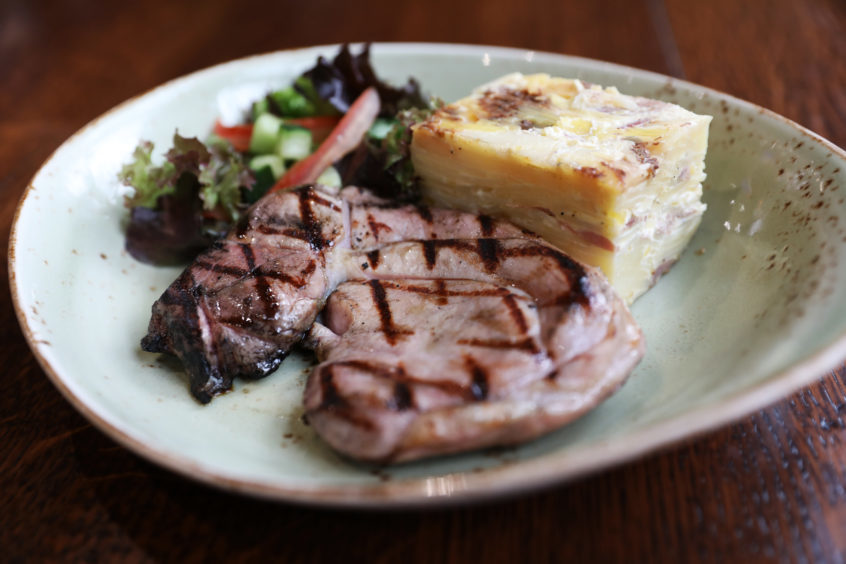 Ingredients
Serves 4
6 Rooster potatoes
300g ham hough
300g double cream
200g grated Parmesan cheese
4 fresh garlic gloves
50g fresh rosemary & thyme
Salt and pepper
Directions
Braise the ham hough until soft enough to pull apart with your hands. Peel and thinly slice the potatoes. Add double cream, cheese, fresh garlic, herbs and seasoning to a pot and bring to the boil. Lower to a simmer and leave to infuse for 10 minutes.
Pass through a sieve and add the cooked ham hough and potatoes to the cream and slowly heat on the stove for a further 10 minutes.
Line a deep oven tray with greaseproof paper and add the potatoes making sure they are spread evenly. Cover with tin foil and cook at 180C for 45 mins, remove the tin foil and sprinkle grated parmesan over the top and return to the oven for another 25 mins.
Serve as a side with gammon or other meat dishes.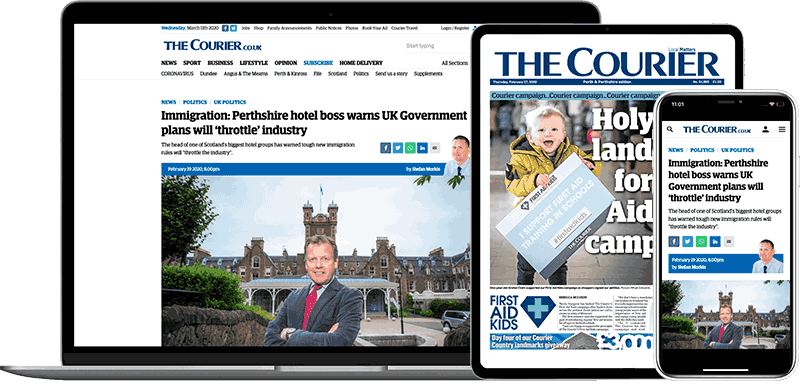 Help support quality local journalism … become a digital subscriber to The Courier
For as little as £5.99 a month you can access all of our content, including Premium articles.
Subscribe