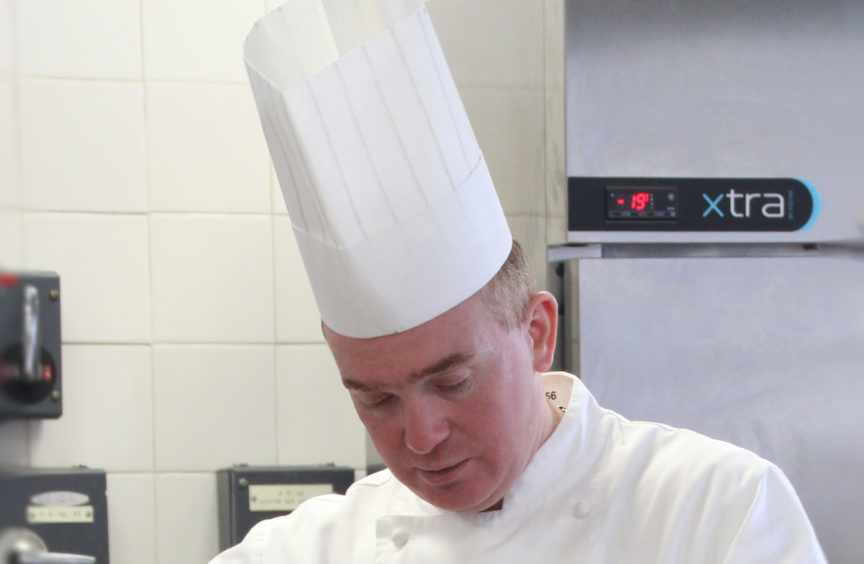 Q Desert island food?
A Anything with chocolate, although I do think I would miss the old traditional Scotch broth!
Q Favourite cook book?
A I have enjoyed the dessert books written by the Scottish pastry chef William Curley, who hails from Methil. The chocolate and patisserie books are very informative with great ideas and recipes. I refer to them often.
Q Favourite ingredient?
A Balsamic vinegar! I love sharp tasting foods and a quality balsamic to accompany simply cooked foods is a treat! I enjoy balsamic and fresh ground pepper with local strawberries. There are some fantastic fruity vinegars readily available now.
Q Most hated ingredient?
A I don't enjoy the flavour of fresh truffles in savoury cooking. They don't appeal to my personal tastes. Often they're served with beef and I feel it masks the flavour of great tasting Scotch beef!
Q Perfect dinner guest?
A Wilma Flintstone.
Q Favourite kitchen gadget?
A My favourite kitchen gadget would need to be the old Kenwood Chef! I love the versatility of it and all the attachments which I have and use.
Q Favourite music to cook to?
A Hmmm, I always cook and bake with no music. It's maybe an age thing but with baking especially I do my thinking and enjoy the quiet time.
Q Perfect menu?
A Locally sourced Scottish seasonal type menu.
Q Favourite country for food?
A I visited Germany on a food promotion a few years ago – I loved the simplicity of some of the dishes there and the flavours were very intense, Black Forest ham and the breads, cakes and pastries in the bakeries very amazing.
Q Favourite chef, alive or dead?
A Willie Pike, who I'm delighted to say is very much alive! Willie has been very inspirational in my career as he's been my college lecturer, mentor and a regular source of information and new ideas for me. He is a culinary artist who is always prepared to help anyone. Any information or recipe he has he is always delighted to share it and is always approachable. He is always devoting time to help mentor our students.
Q Favourite culinary season?
A Undoubtedly summer, Scotland has a fantastic larder then albeit for a short time. I love the local Perthshire berries especially and new season Scotch Lamb.
Q Salt or pepper?
A It's salt for me and I possibly eat and use too much. There are so many different types of salt nowadays and used correctly can really enhance the flavours on foods. Himalayan salt, Maldon salt…
Q Favourite herb?
A I always enjoy the flavour, colour and presentation qualities of opal basil. Basil also. Micro herbs are really good for adding flavour, colour and use for a simple garnish.
Q Favourite spice?
A I always liked ginger spice (as well as Posh spice and Baby Spice). That aside I enjoy the colour and flavour of saffron. I use it when poaching pears to roasting potatoes. It's a versatile – albeit luxury – ingredient.
Q Favourite way to cook the humble potato?
A Chip it! Roosters are a favourite.
Q Favourite go-to recipe if you're in a hurry?
A Salmon or mackerel, cooked in healthy oils and simply served. I love the colours, flavours and shapes of heritage tomatoes. I also enjoy most of the ingredients in Mediterranean cookery such as olives, sundried tomatoes, nuts and olive oils. Simple, colourful and tasty dishes can be made in no time.
A Q Favourite naughty nibble?
A Always chocolate. It's my staple diet.
Q Favourite health food?
A. A bowl of porridge is always good and can be quickly prepared. It can be served lightly salted of sweetened. Other healthy ingredients can be added.
Q Ideal picnic dish?
A I hate eating outside – I have a fear of wasps and bees.
Q Ideal BBQ food?
A Aberdeen Angus rib ye steak, cooked medium and simply seasoned.
Q Are you critical of the food when you're dining out?
A I always try not to be. It's always enjoyable to go out and dine with friends and be a guest…not a pest!
Q Do you tip in restaurants?
A Usually always. If there is a built in service charge then that's what I pay. I use around 10% of total bill as a tip guide. Am I stingy??!!
Q Top tip for failsafe cooking?
A Weigh things! Cooks nowadays I find tip, dash and pour ingredients without weighing. Working as a pastry chef, I always weighed and measured. This gives accuracy, consistency and the ability to teach and pass on exact recipes.
Q Worst cooking sin in your opinion?
A Hot food on cold plates! A simple and very basic skill. I do not enjoy eating foods that should be served hot that have cooled.
Blairgowrie raspberry flummery
Serves 4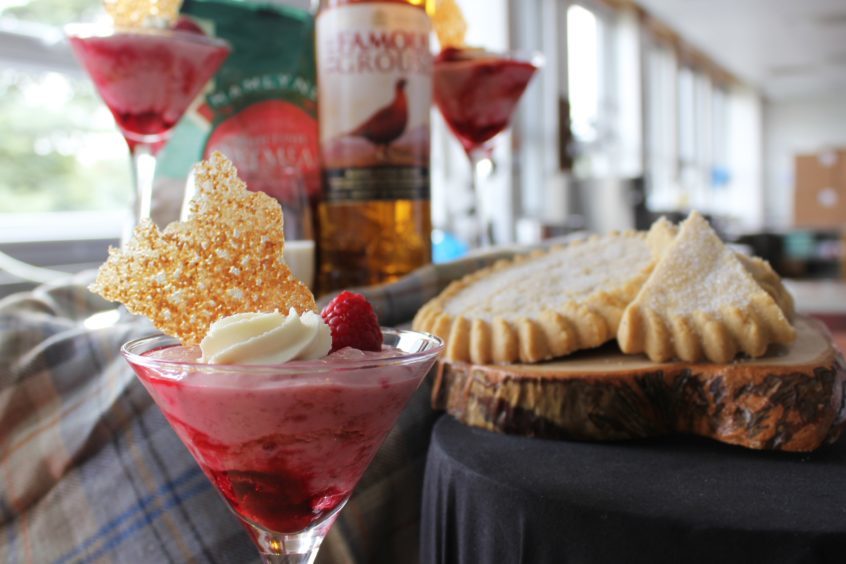 This very simple old-fashioned Scottish dessert is easily prepared and very similar in its preparation to a fool. It can utilise left over porridge and can be adapted to suit everybody's tastes. It could be made using mixed Scottish berries or with strawberries. Served rustically, it can look very authentic.
Alcohol can be added, but is not essential. The dish can be garnished with a variety of items, a butter based biscuit will offer texture to the soft creaminess of the Flummery.
Ingredients
125g raspberries
30g caster sugar
175g leftover cooked porridge
250g whipped double cream
40g honey
40ml Scotch whisky or liqueur of choice eg Drambuie
For the petticoat tails: 150g plain flour
100g soft butter
50g caster sugar
2 drops vanilla essence.
Directions
Lightly crush raspberries with sugar – reserving some to garnish the top.
Mix the porridge to soften, add cream, honey and booze and then fold all the ingredients together.
Garnish the outside of the glass with a few crushed raspberriess on the bottom then spoon the flummery on top, garnish as desired using the remaining raspberries.
For the petticoat tails: cream together the butter and sugar until pale in colour
Add in flour and bind to a dough – do not overwork.
Chill for 15 mins then press into moulds or alternatively cut into desired shapes
Bake slowly until golden at 165 degrees C, ensure they are baked in middle before removing from the oven and dusting with caster sugar.
Score and allow to cool.
Store airtight until ready to serve with the flummery.
Serving suggestions
A nip of additional booze may be poured over the top just before serving if desired.
Serve well chilled along with garnish of your choosing, this could be petticoat tails, oaty biscuits, Butter Shortbread fingers or oat praline or more fresh seasonal berries.
Chef Lecturer at Perth College UHI.  Could you include a note in the piece saying that:
Today, October 6, Neil is one of the judges for the 25th Golden Spurtle World Porridge Making Championships, which take place at Carrbridge.  This international event is free for visitors to attend.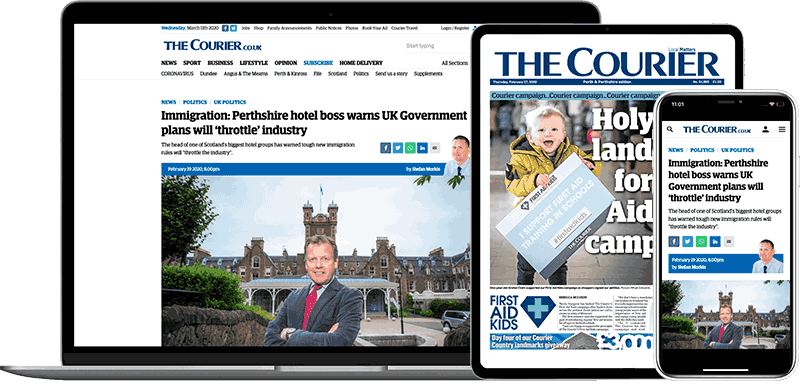 Help support quality local journalism … become a digital subscriber to The Courier
For as little as £5.99 a month you can access all of our content, including Premium articles.
Subscribe