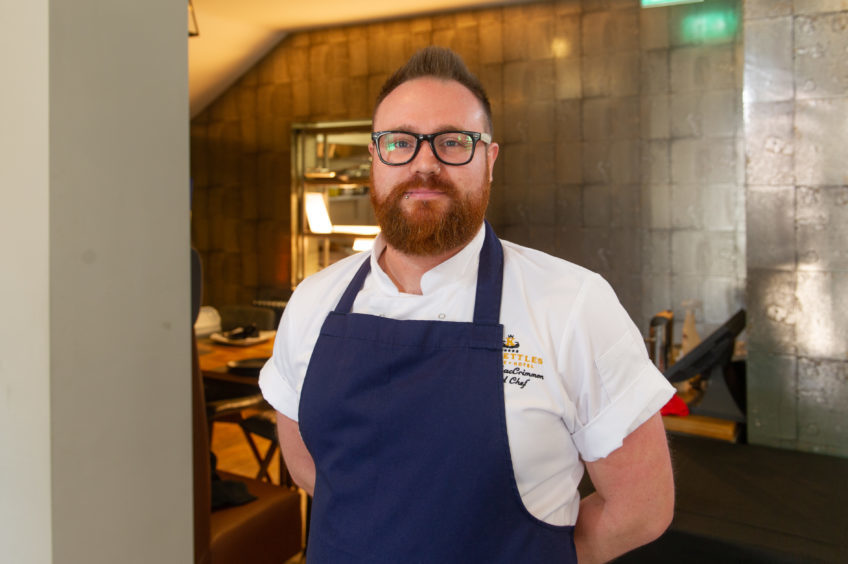 Q Desert island food?
A Special fried rice – it's always very tasty and is my ideal comfort food.
Q Favourite TV chef?
A Gordon Ramsay, I really respect his drive for high standards and he never suffer fools gladly!
Q Favourite cook book?
A The Flavor Bible, it has all you need to know about flavour combinations and inspires original ideas.
Q Favourite ingredient?
A Butter, just find it the most versatile ingredient to use in a number of ways – it makes any dish taste better!
Q Most hated ingredient?
A Paprika, have never really enjoyed the taste of it… maybe due to a miss use of it at one point.
Q Perfect dinner guest?
A anyone with no dietary requirements and can appreciate the work and effort involved in what's getting served up.
Q Favourite kitchen gadget?
A A Vac pack machine – it can preserve food longer and it helps cut down waste, which is always crucial in a kitchen.
Q Favourite music to cook to and why?
A I tend to not listen to music when cooking so I can keep focussed, the sound of a busy kitchen is music enough.
Q Perfect menu?
A Always a small, food focused and clean menu, nothing with a million things on the plate. I like to work with produce that's in season and sourced as locally as possible.
Q Favourite country for food?
A Scotland, there is so much produce at our doorstep and treated with respect and care can be the best in the world!
Q Favourite chef, alive or dead?
A Marco Pierre White, I love his professionalism and love of cooking. His philosophy on life as a chef at the highest level and being so humble is inspiring to me!
Q Favourite culinary season?
A Autumn is a delight for me and the 12th is marked on my calendar as it marks the start of the game season.
Q Salt or pepper?
A Salt for seasoning, in my opinion pepper is a spice.
Q Favourite herb?
A Thyme or sage as they are so versatile.
Q Favourite spice?
A Pepper as it can bring out a touch of heat in something without being too overpowering and can be a spice on its own too.
Q Favourite way to cook the humble potato?
A Pommes Anna, thinly sliced with clarified butter and thyme
Q Favourite go-to recipe if you're in a hurry?
A Soda bread… no proving or waiting just mix and bake – we call it danger bread.
Q Favourite naughty nibble?
A Always Chinese noodles.
Q Favourite health food?
A Couscous – so good they named it twice!
Q Ideal picnic dish?
A Cheese, crackers and pickles.
Q Ideal BBQ food?
A Braised BBQ brisket.
Q Are you critical of the food when you're dining out?
A I try not be as much as possible, it's better to let the chef tell his/her own story through their food.
Q Do you tip in restaurants?
A Always.
Q Top tip for failsafe cooking?
A Temperature control when working in pans or ovens is key to success.
Q Worst cooking sin in your opinion?
A Not seasoning food or tasting before sending out!
Seared Shetland salmon
Ingredients
Serves
For the ratatouille: ½ courgette
½ aubergine
1 red onion
1 red pepper
250ml tomato juice
100ml vegetable stock
Salt/pepper
For the lemon potatoes: 1 potato (very thinly sliced using a mandolin)
1 block of butter
50 ml of lemon oil
Samphire
Hazelnuts
Directions
In a medium pot sweat down the courgettes with oil, salt and pepper. Once done take out of the pot and sit on kitchen paper to soak up excess oil In the same pot complete the same process with the aubergines, then again with the peppers and onion. This time once the peppers and onions are ready to drain, leave them in the pot and add all the vegetables back in along with the veg stock and tomato juice and leave to simmer for around 30 mins. Once reduced by a quarter pour into a fine sieve and keep both the sauce and the vegetables. The sauce becomes a very flavoursome tomato jus and the vegetables are the ratatouille.
For the lemon potatoes: place the butter in a small pot to melt down slowly once melted add sliced potatoes and lemon oil, (the oil will stop the butter burning and giving the potatoes a bitter note). Leave on the heat
for around 15-20 min on a low heat. Season to taste.
For the samphire
Blanch the samphire in hot water for around 2-3min. While it is in the water take a small pan and gently heat a knob of butter, add the cooked samphire to the butter when ready, this will give a buttery flavour to the samphire. (Don't season the samphire as it's already a very salty product on its own.)
Hazelnuts
Lightly toast and deshell a handful of hazelnuts, then crush them up using a pestle and mortar.
To serve: take the sliced potatoes and lay them in the middle of the plate, for accuracy use a large ring to keep them centered, then add the vegetable ratatouille. On top of that goes the crumbled hazelnuts, then the seared salmon fillet, topped off with the buttered samphire. Take a tablespoon and drizzle the tomato jus round the side and that's the dish ready to serve.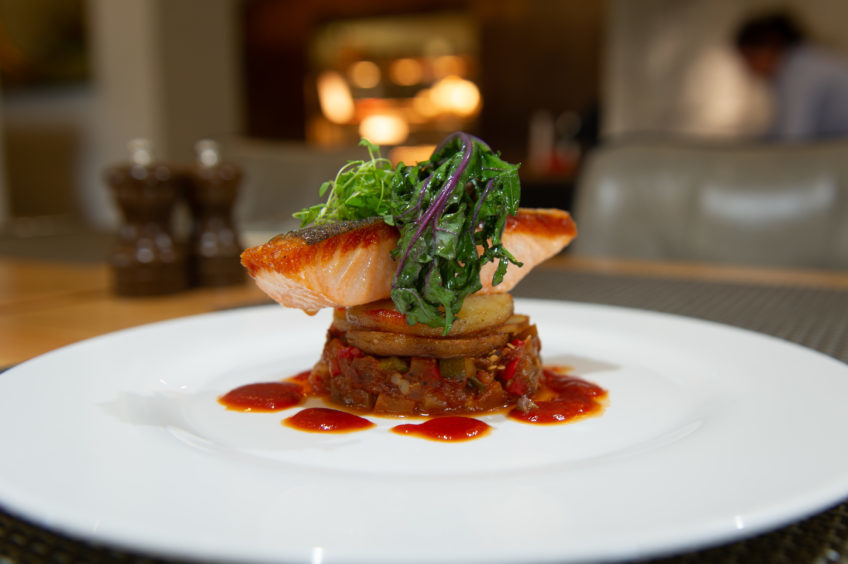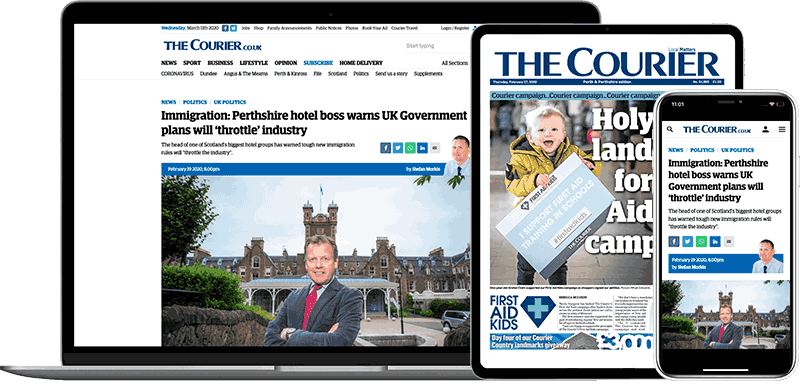 Help support quality local journalism … become a digital subscriber to The Courier
For as little as £5.99 a month you can access all of our content, including Premium articles.
Subscribe