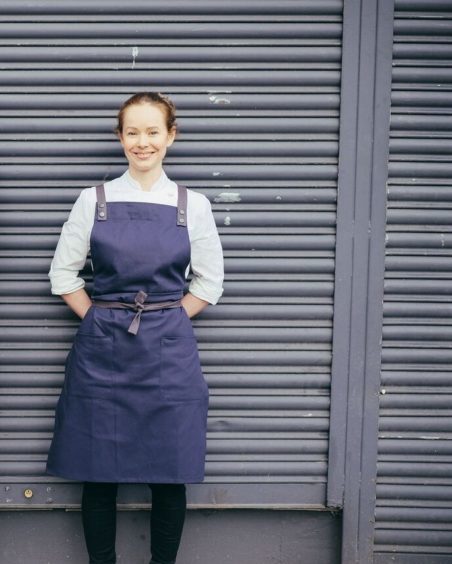 Roberta Hall-McCarron, chef patron of The Little Chartroom in Edinburgh, tells Caroline Lindsay why Scotland and Spain are her favourite countries for food.
Q Desert island food?
A Reese's Buttercups and a carton of milk, my ultimate happy place.
Q Favourite TV chef?
A Tom Kerridge, he always comes across as a very humble man despite his success.
Q Favourite cook book?
A Eleven Madison Park, it's a stunning book that is so well laid out.
Q Favourite ingredient?
A Any type of nuts, they compliment so many dishes by bringing extra flavour and adding texture
Q Most hated ingredient?
A Yuzu (a citrus fruit) – I've only ever had it in desserts that I haven't enjoyed.
Q Perfect dinner guest?
A Someone who loves food and is willing to try everything.
Q Favourite kitchen gadget .y?
A Thermomix.
Q Favourite music to cook to?
A I generally cook in silence.
Q Perfect menu?
A Scallops to start, then some sort of game and a rich chocolatey dessert to finish.
Q Favourite country for food?
A Scotland for the amazing produce we have access to. Spain for all the incredible little tapas bars – I love eating that way.
Q Favourite chef, alive or dead?
A David Chang, I love his restaurants and the way he runs them.
Q Favourite culinary season?
A game season, I love cooking game, it's challenging and rewarding.
Q Salt or pepper?
A salt, it brings flavour to a dish
Q Favourite herb?
A Lemon verbena, absolutely love it in tea to finish a meal.
Q Favourite spice?
A Cumin, It has a great flavour and I find it compliments the type of food I like to cook.
Q Favourite way to cook the humble potato?
A Sautéed.
Q Favourite go-to recipe if you're in a hurry?
A Stir fry.
Q Favourite health food?
A Smoothies.
Q Ideal picnic dish?
A Charcuterie and soft cheese.
Q Ideal BBQ food?
A Mackerel.
Q Are you critical of the food when you're dining out?
A To a point, but I do tend to just go out and enjoy being on the other side. I'd like to think I'm quite low maintenance.
Q Do you tip in restaurants?
A Absolutely.
Q Top tip for fail safe cooking?
A Go with your gut.
Q Worst cooking sin in your opinion?
A Not tasting your food.
Plaice with mussels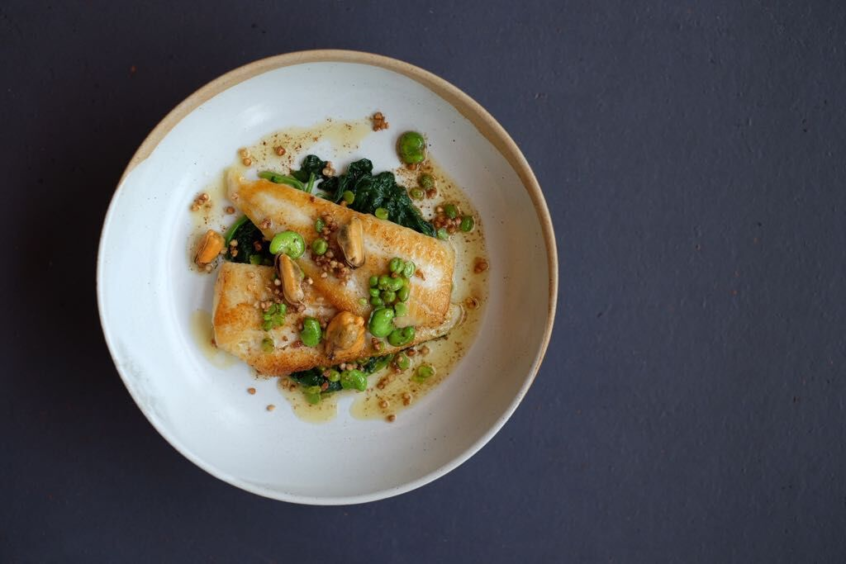 Ingredients
Serves 1
1 whole filleted & skinned plaice
200g washed baby spinach
100g mussels in their shells (beards removed)
100mls white wine
40g butter
100g broad beans, podded & peeled
Juice of half a lemon
50g buckwheat
Sunflower oil
Salt
Directions
Place a small pot over a high flame, have the mussels, white wine and pot lid ready.
When the pot has reached a high temperature put the mussels inside, cover with white wine and lid.
Leave for approximately 1 minute, then remove from the heat and pour the mussels into a colander over a bowl. Allow to cool.
Once cooked, pick the mussels out of the shells, discard the shells. If any mussels haven't opened discard them too as they should not be eaten. Put the mussels to one side.
Warm a small pot and sauté the baby spinach. Once wilted place the spinach on your plate.
Heat some oil in a non-stick frying pan. Season the plaice and put it in the pan.
Cook for approximately 2 minutes, until it is almost cooked then take off the heat.
Carefully flip the fillets over, then remove from the pan and place on top of the spinach.
Put the pan you cooked the fish in back on the stove and add your butter to the pan, allow it to melt. It will start to bubble and turn golden brown.
Before it starts to burn, add in the lemon juice, and take it off the heat.
Add the mussels and broad beans into the butter and lemon.
Then pour it all over the plaice.
To finish, sprinkle with toasted buckwheat: cook the buckwheat in salted simmering water until it has no more bite to it.
Strain off the water and in a warm frying pan on a low heat, gently pan fry until it is golden brown and it has a good crunchy texture – the buckwheat should not be chewy.