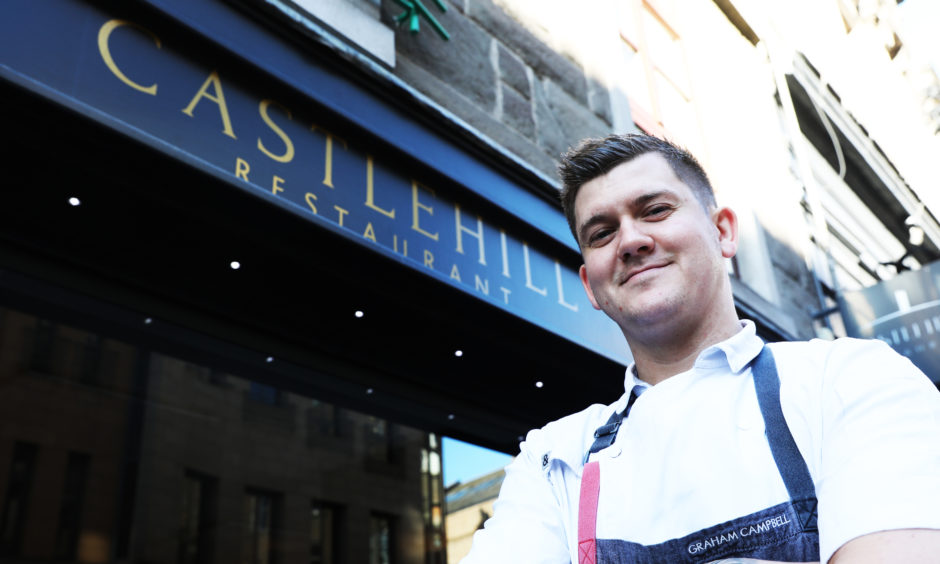 Graham Campbell, chef owner of Castlehill Restaurant in Dundee, appreciates fresh local produce wherever he is in the world – but loves coming home to his wife's lasagne.
Q Desert island food?
A My missus's lasagne. It's amazing.
Q Favourite TV chef?
A Can I have two? Tom Kerridge, because of the way he gets excited about food flavours and shows a true passion for tasty food, and Heston Blumenthal, who excites the mind as well as the palate.  Q Favourite cook book?
A Has to be Eleven Madison Park: The Cookbook, by the New York restaurant's executive chef Daniel Humm, whose food is amazing, and general manager, Will Guidara. This is an inspirational book.
Q Favourite ingredient?
AI  don't have a favourite ingredient. However, I do a lot of foraging and love picking ingredients that grow under hedgerows, by the sea or in the woods. You can't get fresher – or tastier. Some days, I pick about 30 different items on my way to work, including herbs, mushrooms and seaweeds.
Q Most hated ingredient?
A I can't say I hate any ingredients. Every ingredient has its place, just as long as it's used properly.
Q Perfect dinner guest?
A I don't have a favourite dinner guest. I just want the dining experience I offer to be memorable for everyone.
Q Favourite kitchen gadget?
A My Pacojet. It's an incredible machine that enables me to deep freeze fresh ingredients. I can then micro-puree the exact amount I need to create soups, pates, mousses, sauces, sorbets and ice creams.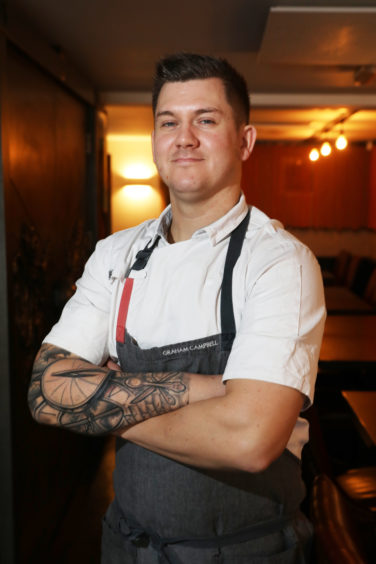 Q Favourite music to cook to?
A We listen to hip-hop in the kitchen at Castlehill. It always gets everyone going
Q Perfect menu?
A Is there such a thing? As long as everything's prepared correctly and full of flavour, not much else matters.
Q Favourite country for food?
A Every country's cuisine is unique and flavoursome, from Indian spices to Japanese sushi, from hot Mexican flavours to Scottish seafood. No matter where in the world I go, the fresh local produce is always amazing in its own way.
Q Favourite chef, alive or dead y?
A Ferran Adrià of El Bulli, a Michelin 3-star restaurant in Spain which was repeatedly voted the best in the world. Ferran Adrià completely changed food on a gastronomic level.
Q Favourite culinary season?
A It has to be spring. By the end of winter, everything's getting old and tired but then spring comes around and rejuvenates everything.
Q Salt or pepper?
A Salt. Always. It's a natural flavour enhancer that brings food to life.
Q Favourite herb?
A Wood sorrel. I absolutely love the stuff. When the forest floor's covered in this fresh, crisp, almost Granny Smith flavoured herb, I pick it and pick it.
Q Favourite spice?
A Cumin. I adore the flavour.
Q Favourite way to cook the humble potato?
A To perfection and with love.
Q Favourite go-to recipe if you're in a hurry?
A With my style of cooking there isn't a quick recipe. I like to be organised and that takes time.
Q Favourite health food?
A Quinoa. We use it a lot at Castlehill.
Q Ideal picnic dish?
A Pork pies.
Q Ideal BBQ food?
A Pork ribs.
Q Are you critical of the food when you're dining out?
A I always dine out with an open mind. I like to see how other chefs put dishes and flavours together.
Q Do you tip in restaurants?
A Yes – but only if the food and service are worth tipping
Q Top tip for failsafe cooking?
A Always follow the recipe. And cook from the soul.
Q Worst cooking sin in your opinion?
A Well-done meat. Why would anyone cook something until it's dry and has no flavour?
Braised oxtail and Douglas fir sauce with celeriac mash and crispy kale
Serves 4
Ingredients
For the braised oxtail & Douglas fir sauce: 3kg oxtail
400g Douglas fir needles
1 carrot, chopped
1 onion, chopped
1 celery stick, chopped
1/2 head of garlic, crushed
400ml red wine
1 knob of butter
Dash of vegetable oil
Salt
For the celeriac mash: 500g potatoes, peeled and chopped
1 celeriac, peeled and chopped
200ml double cream
100ml milk
50g butter
Salt
For the crispy kale: 200g vegetable oil
100g kale
Directions
For the braised oxtail & Douglas fir sauce: Preheat oven to 130C/gas mark 1. Caramelise oxtail in a hot pan until browned all over. Place Douglas fir needles in a deep roasting tray and lay a muslin cloth over the top.
Place oxtail on the muslin cloth, with carrot, onion, celery and garlic around the sides. Add red wine, cover oxtail with water and enclose tray in foil. Cook slowly in the oven for 10 hours.
Once cooked, pick meat from the bones.
To make the Douglas fir sauce, pass the liquid through a sieve and skim off fat. Add butter and a dash of oil, heating slowly until reduced to a sauce.
Moisten oxtail meat with a small amount of sauce and season with salt.
Place oxtail meat on the centre of a sheet of cling film in a sausage shape, to make a ballotine. Wrap tightly with cling film, tie the ends and leave to set in the fridge.
Preheat oven to 160C/gas mark 3.
Once set, cut the oxtail ballotine into 4 slices and colour both sides in a little oil in a frying pan (still wrapped in cling film to keep the shape).
Warm the slices through in the oven, then remove cling film.
For the celeriac mash: Cook potatoes and celeriac in a pan of salted, boiling water.
Drain, then mash until smooth, adding cream, milk and butter. Season with salt.
For the crispy kale: Heat vegetable oil and deep fry kale until crispy.
To serve, pipe celeriac mash onto each plate, place an oxtail slice on top and pour over the Douglas fir sauce. Finish with the crispy kale.
www.castlehillrestaurant.co.uk