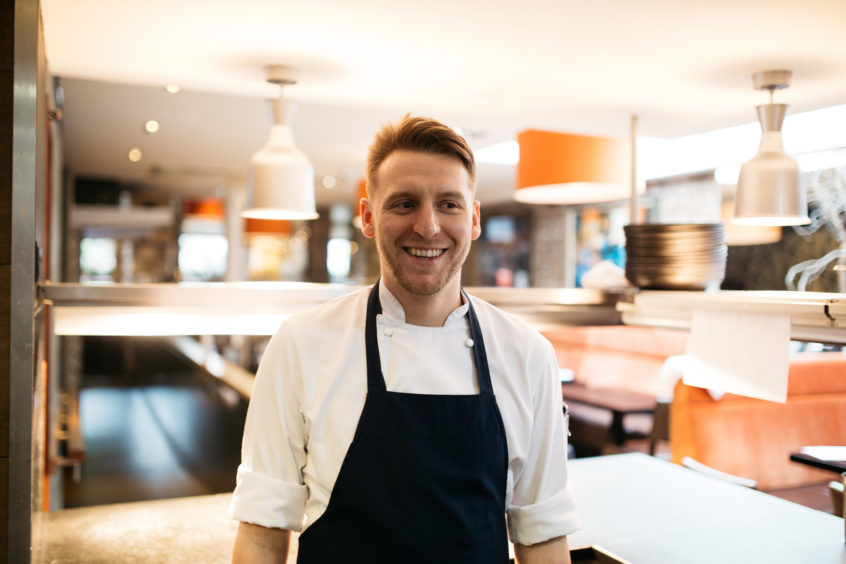 Q Desert island food?
A Cheese and ham toasties, as I can never get sick of them.
Q Favourite TV chef?
A Gordon Ramsay – for the entertainment! Makes me think I'm not that bad.
Q Favourite cook book?
A Jamie's 15 Minute Meals. Simple ingredients, quick, easy & tasty. Ideal when you get home from work after a long shift and want something knocked up.
Q Favourite ingredient?
A A 10z ribeye – I just love it.
Q Most hated ingredient?
A Parsnip, just hate it, I find it's such an evil vegetable.
Q Perfect dinner guest?
A Family and friends – always good fun
Q Favourite kitchen gadget?
A There's too many to choose, but it would be a solid basic pan.
Q Favourite music to cook to?
A Tay FM, as it's my favourite radio here on the east coast.
Q Perfect menu?
A Does not exist
Q Favourite country for food?
A The mothership (Poland) – I love food from all around going back home is always a treat for traditional food and hospitality.
Q Favourite chef, alive or dead?
A My granny, as her cooking made me happy.
Q Favourite culinary season?
A Summer, a great variety of fruit and veg available.
Q Salt or pepper?
A Salt – no salt no flavour.
Q Favourite herb?
A I love all herbs, as they're packed with flavour.
Q Favourite spice?
A Vanilla, great for sweet and savoury dishes.
Q Favourite way to cook the humble potato?
A Pomme purée.
Q Favourite go-to recipe if you're in a hurry?
A Mushroom and cheese omelette.
Q Favourite health food?
A Yoghurt and berries.
Q Ideal picnic dish?
A Picnic in Scotland?
Q Ideal BBQ food?
A Steak burgers
Q Are you critical of the food when you're dining out?
A No – but I can be when I'm hangry.
Q Do you tip in restaurants?
A Always.
Q Worst cooking sin in your opinion?
A Not tasting your own food.
SQUID, CHORIZO, BLACK OLIVES, BASIL
SERVES 2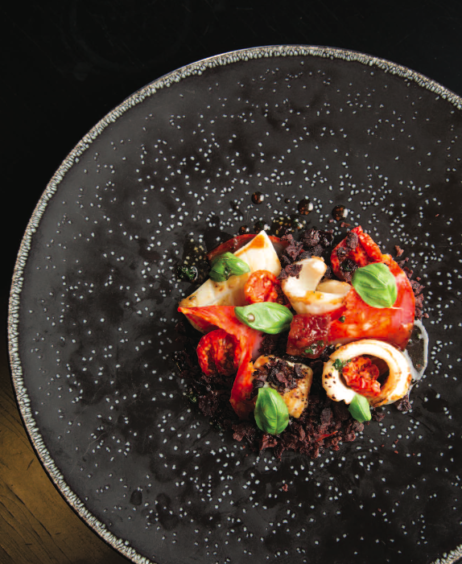 Ingredients
1 baby squid tube (prepared, cleaned)
10g plain flour table salt
10ml vegetable oil
5ml lemon juice
200g pitted black olives (drained)
5g cracked black pepper
15g lilliput capers
10g flat leaf parsley (finely chopped)
10g garlic (peeled, finely chopped)
10 cherry tomatoes (cut in half)
2g Maldon sea salt
2g cracked black pepper
10g garlic (chopped)
10g fresh thyme
20ml extra virgin olive oil
100g whole smoked chorizo 5ml balsamic vinegar 10ml extra virgin olive oil
For the sauce: 100ml red wine sauce 5ml extra virgin olive oil 30g tomatoes (concasse)
For the garnish: Micro basil
Directions
For the squid: Cut the squid in half lengthways. Score inside diagonally with a sharp knife.
Cut into 21⁄2cm pieces, season with salt and plain flour. To cook the squid, place the scored side down in a hot pan with a little vegetable oil. This will only take 30 seconds each side, so do this close to the time of plating and finish with the fresh lemon juice.
For the black olive crumble (prepare 2 days in advance): Place all the ingredients in a blender and purée until a thick consistency has been reached. Spread the mixture onto a silicone mat and place in a dehydrator for 48 hours at 50C, or in a low oven overnight. Once cold, blitz again in a blender until you have a crumble like consistency. Set aside.
For the dried cherry tomatoes (prepare ahead): Preheat the oven to 160C (fan). Gently combine all the ingredients in a bowl. Once fully incorporated, arrange the tomatoes cut-side up on a tray and cook in the oven for 8 minutes. While hot, place in a dehydrator for 6 hours. Alternatively, place in a low oven overnight.
For the chorizo: Slice the chorizo using a meat slicer (1-2mm thickness). Make a vinaigrette using the balsamic and oil, brush the chorizo with the vinaigrette and leave somewhere warm to take on the flavour.
For the sauce: Heat the red wine sauce. Once boiling, whisk in the olive oil until fully emulsified.
For the tomato concasse, score the plum tomatoes with a cross and remove the eye of the tomato with a turning knife. Place tomatoes in rapid boiling water until the skin blisters, then plunge into ice cold water for 5 minutes. Quarter the tomatoes lengthways and remove all the seeds. Cut the flesh into desired shape (squares/diamonds are most common).
To serve: garnish with micro basil.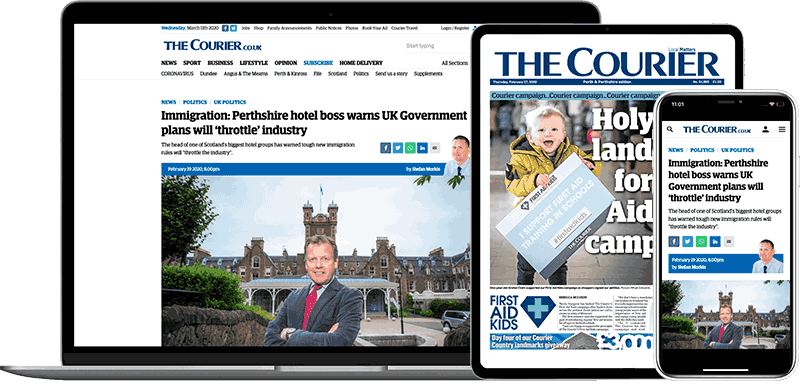 Help support quality local journalism … become a digital subscriber to The Courier
For as little as £5.99 a month you can access all of our content, including Premium articles.
Subscribe