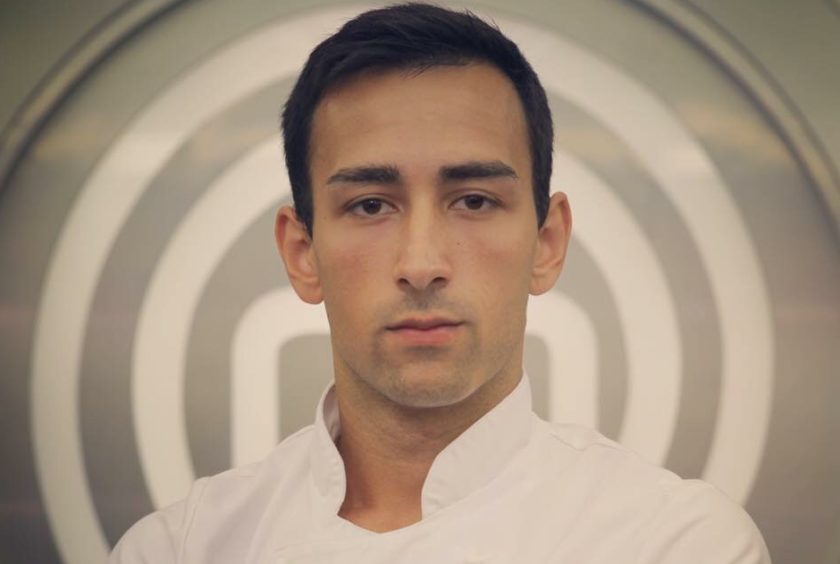 Private chef Theodore Chana from Braco was a contestant on MasterChef: The Professionals in 2016. Here, he tells Caroline Lindsay his foodie likes and dislikes
Q Desert island food?
A Himalayan salt, great for preserving and making my food taste great. If I catch a fish and don't eat all of it, I can cure it and save it for a rainy day! Also, I can clean my wounds with it.
Q Favourite TV chef?
A Michael Caines. One of my favourite places I have worked at was Gidleigh Park in Devon with Michael Caines, he is not just a brilliant chef but an inspiration. After the tragedy car crash losing his arm, Michael taught me to never give up and nothing is impossible!
Q Favourite cook book?
A 36 Inspirational Chefs of The United Kingdom and Ireland. This recipe book includes some of the best chefs recipes in the whole world, dishes including locally sourced and sustainable ingredients. I also personally know five of these chefs after spending time with them in their restaurants. I have been featured in some of the dishes in the book.
Q Favourite ingredient?
A Favourite ingredient has got to be a mallard duck, last week we had a shoot in the village, there is no better feeling than catching, preparing and serving such fresh produce!
Q Most hated ingredient?
A It's got to be scorpion, I tasted one whilst travelling in Thailand, the scorpion had been deep fried and then salted. Never again!
Q Perfect dinner guest?
A My perfect dinner guest has got to be my fiancée, Meghan Haste. Being a young entrepreneur and restaurant owner at Venachar Lochside, near Callander, her knowledge in hospitality is extensive from a different perspective. Meghan is my biggest critic and makes me a better chef!
Q Favourite kitchen gadget?
A Smoking gun, the options with a smoking gun is never ending. It is one of the most versatile instruments in the kitchen and can be used on sweet or savoury. My favourite dish to make with the gun is a smoked lavender lemon posset, one of my signature dishes.
Q Favourite music to cook to?
A Moyenda, a local Scottish band with an African twist, uplifting and energetic. Great for motivating the team!
Q Perfect menu?
A Starter – 0otato and truffle ravioli, Nigella seed and Isle of Mull cheddar crisp, beurre blanc. Main course – pan seared Inverlochlarig venison loin, fondant potato, koffman cabbage, parsnip puree, juniper jus. Dessert – tonka bean and buttermilk parfait, Blairgowrie raspberry sorbet, candied puffed quinoa, elderflower and McQueen's of Callander gin jelly.
Q Favourite country for food?
A Scotland, having travelled the world eating the finest produce I am yet to find somewhere as good as Scotland. From fish to game to vegetables, Scotland has it all!
Q Favourite chef, alive or dead?
A Steven McCallum at Kinloch House Hotel, Blairgowrie. Steven introduced me to the culinary world and started my career as a chef. I spent five years training with Steven and I believe he gave me the foundations of becoming the chef I am now.
Q Favourite culinary season?
A It has got to be summer, the produce in summer is of such a variety from fresh Scottish berries to Scottish coast lobster. I love using edible flowers to introduce colour to my plates and simply adding berries as garnish for a fresh summer taste.
Q Salt or pepper?
A Salt, it is so versatile and can be used for so many things like brining, blanching, curing and seasoning.
Q Favourite herb?
A Lemon myrtle, a native bush plant from Australia, it has a strong lemon flavour and is amazing for enhancing food.
Q Favourite spice?
A Garam masala, my grandmother used to make her own spice mix using dried spices from around the world to create a unique spice which we call garam masala.
Q Favourite way to cook the humble potato?
A One of my favourite ways to cook a potato has got to be a traditional Swedish hasselback potato.
Q Favourite go-to recipe if you're in a hurry?
A. My favourite go-to recipe has got to be pad Thai, a five-ingredient dish I learned from my three months travelling across Thailand. Simple, fresh and packed full of flavour!
Q Favourite health food?
Avocado, they are delicious, an avocado can be used for breakfast, lunch and dinner!
Q Ideal picnic dish?
A A scone, clotted cream, homemade jam with a good old cup of tea!
Q Ideal BBQ food?
A Ideal barbeque food is squid, I have fond memories of camping on the beach in Albany, Western Australia, catching a two-foot squid, scoring the body and barbecuing it whole.
Q Are you critical of the food when you're dining out?
A Extremely, dining for me is not only about the cooking aspect, but the whole experience.
Q Do you tip in restaurants?
A Yes, I know the amount of effort that goes into our trade, it is great to give back to our trade.
Q Top tip for failsafe cooking?
A Using local, foraged, seasonal and fresh ingredients. Cooking for me is all about freshness, taste, texture and smell.
Q Worst cooking sin in your opinion?
A Untidy fridges, freezers and food storage. I can tell a lot about how a kitchen is run by looking at these fundamental areas. A clean kitchen makes for clean cooking!
Panna cotta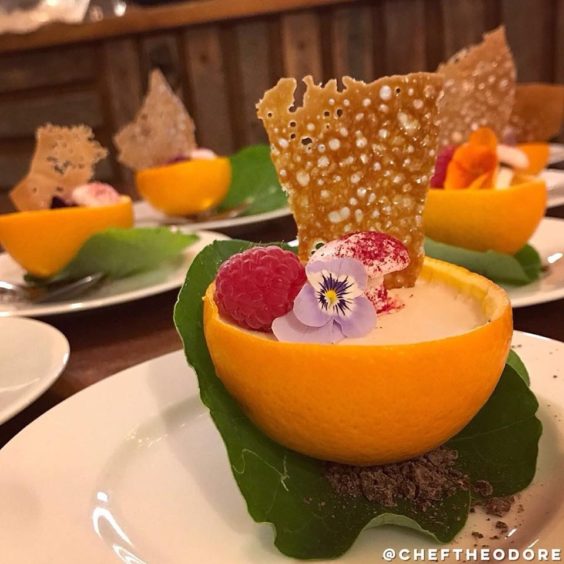 Ingredients
Serves
Five large oranges
3 1/2 gelatine leaves
135g caster sugar
1 pint double cream
½ pint milk
2 vanilla pods
To serve: Brandy snaps
Scottish raspberries
Edible mushroom meringue (from delis)
Directions
Cut five large oranges in half with a sharp knife, being careful not to break the orange. Squeeze a quarter of a pint of orange juice and put through a fine sieve to remove any pulp or seeds.
Use a spoon to scoop out the centre of the oranges, being gentle not to cut through the orange or make any holes.
Soak the gelatine in cold water and leave to sit at the side until later.
Place the caster sugar, double cream, milk, orange juice and deseeded vanilla pods into a pot. Bring up to a boiled and simmer gently for one minute.
Take the gelatine out the cold water, squeeze any excess water remaining in the gelatine and whisk in the pot. Pass through a fine sieve and place in a jug.
Pour the mix into the half oranges and place them in a fridge to set.
In my signature dish, I have served the panna cotta with a brandy snap, fresh Scottish raspberries and an edible mushroom meringue. You can serve this dish at Christmas with berries, chocolate or even a shot of slow gin!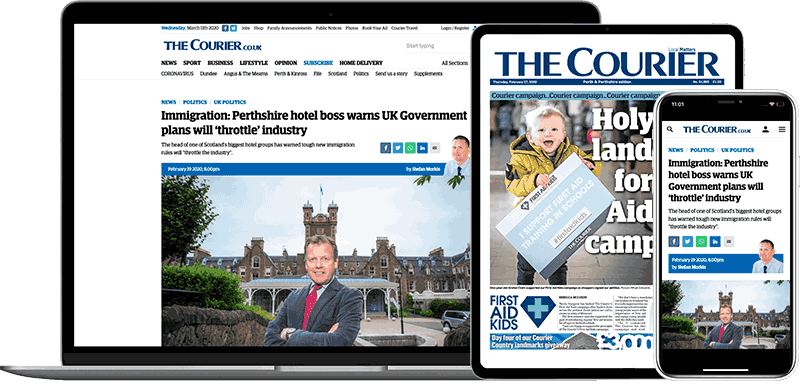 Help support quality local journalism … become a digital subscriber to The Courier
For as little as £5.99 a month you can access all of our content, including Premium articles.
Subscribe