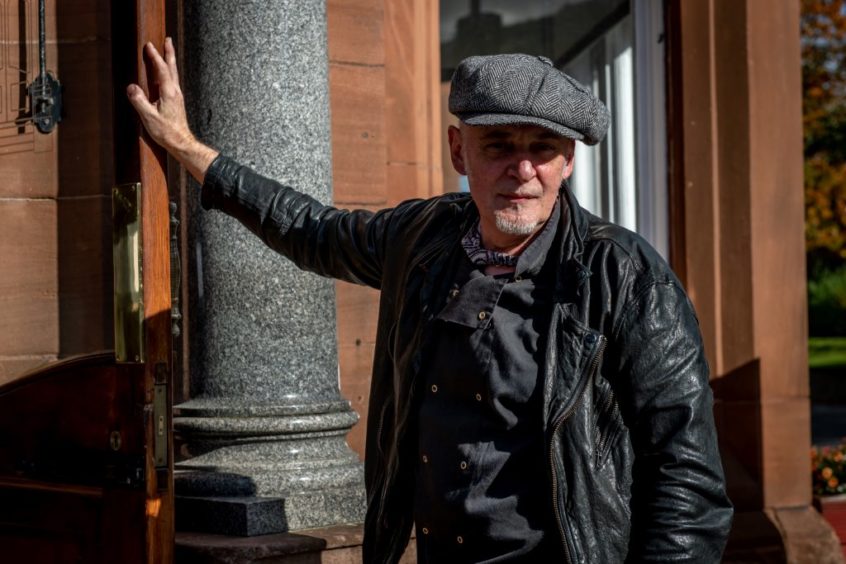 Lee Patrick, head chef at the Upstairs Restaurant at Aberfeldy's Townhouse, tells Caroline Lindsay why love is his favourite ingredient
Q Desert island food?
A Veal chops, pommes Anna and spiked spinach. It's consistent and always satisfying.
Q Favourite TV chef?
A Marco Pierre White. It all begins and ends with Marco, check out Marco Cooks for Raymond Blanc on YouTube.
Q Favourite cook book?
A Marco's White Heat. Because it still works and is still copied by many, the benchmark we all strive for.
Q Favourite ingredient?
A Love. Put love and passion in and it will show on every plate.
Q Most hated ingredient?
A Truffle oil. It smells like fuel and tastes worse.
Q Perfect dinner guest?
A Me. I don't complain, I'm grateful to be cooked for and I'm realistic in my expectations.
Q Favourite kitchen gadget?
A My mind. Because it never lets me down.
Q Favourite music to cook to?
A Iggy Pop – Lust for Life. It's real and gets me started but I don't listen to music whilst cooking, it distracts me.
Q Perfect menu?
A Mine, at all times, always.
Q Favourite country for food?
A Italy. Everything is done so well from street pizzas to dinner.
Q Favourite chef, alive or dead?
A Marco Pierre White. For starting fine dining and ending fine dining. "Nouvelle cuisine is dead."
Q Favourite culinary season?
A Winter. Because food becomes comfort food, warming and wholesome.
Q Salt or pepper?
A Salt. Because without it it is missed, Pepper takes the flavour somewhere else.
Q Favourite herb?
A Basil. Because of the freshness it suggests.
Q Favourite spice?
A Cinnamon. It's exotic, erotic and very sexy.
Q Favourite way to cook the humble potato?
A Mashed.
Q Favourite go-to recipe if you're in a hurry?
A The venison dish I cooked with Jean-Christophe Novelli – braised venison and spring greens.
Q Favourite naughty nibble?
A The Townhouse lava cake.
Q Favourite health food?
A Whole raw cashew nuts.
Q Ideal picnic dish?
A Pork pie and pickle.
Q Ideal BBQ food?
A Pork fillet.
Q Are you critical of the food when you're dining out?
A Only if I'm lied to.
Q Do you tip in restaurants?
A Yes.
Q Top tip for failsafe cooking?
A Concentrate.
Q Worst cooking sin in your opinion?
A Menu engineering.
Braised venison and spring greens
Serves 4
Ingredients
8 slices of venison, cut across the grain from the leg, shoulder, haunch or loin
2 smoked bacon rashers chopped small
45g unsalted butter
1 head of spring greens very thinly sliced
2tbs of beef stock
A few black onion Seeds (Nigella seeds)
1tbs vegetable oil
Salt and freshly ground black pepper
Directions
Place the venison slices between 2 sheets of clingfilm and bash them with a rolling pin until thin, max of 5mm.
In a large frying pancook the bacon in 30g of the butter until crisp, then add the greens and stock. Cook, stirring until the greens are tender, season to taste, transfer to a warm dish and scatter the onion seeds on the top and cover.
Heat the vegetable oil and remaining butter in a large frying pan, season the venison and add to the pan. Fry over a medium-high heat for 30 seconds on each side and serve alongside the greens.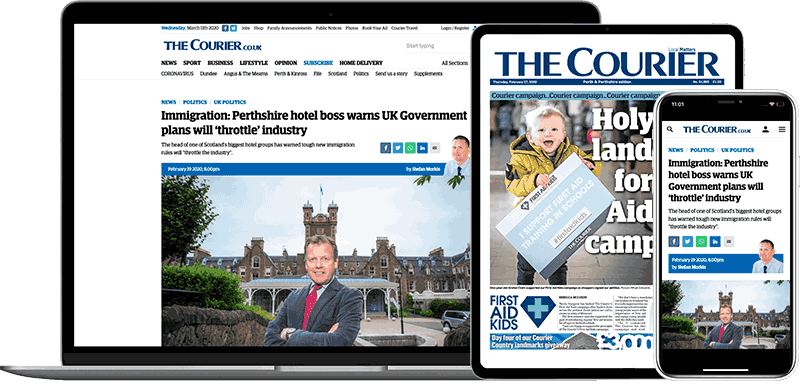 Help support quality local journalism … become a digital subscriber to The Courier
For as little as £5.99 a month you can access all of our content, including Premium articles.
Subscribe