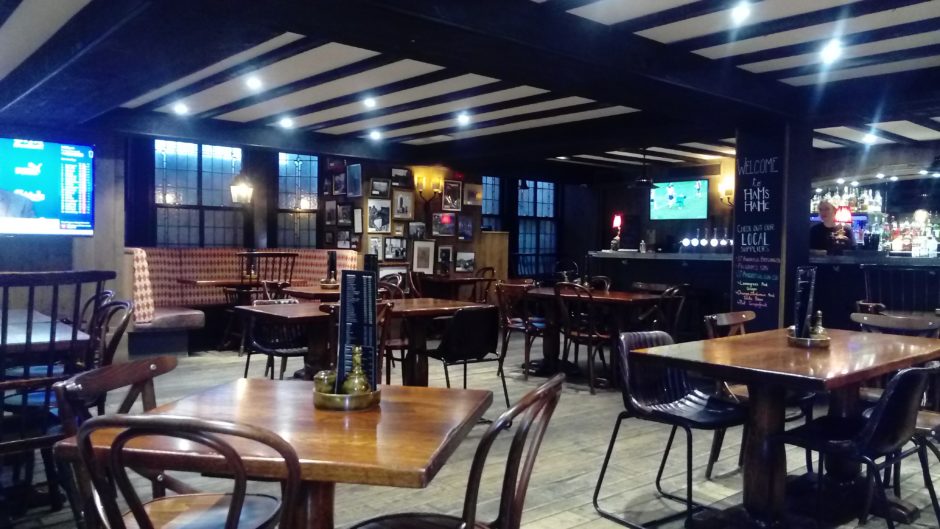 Down near the West Sands one Sunday afternoon, we realised we felt a bit peckish but as we had our hairy companion with us, needed to find somewhere that welcomed dogs. A quick check for dog friendly eateries revealed that Hams Hame, in the former Hamilton Grand, and part of the Old Course Resort, was literally a stone's throw away.
In we headed and were welcomed immediately by a cheery waiter who told us to pick any table we wanted. Ensconced in a cosy booth, a bowl of water appeared for pooch and, drinks orders taken, we settled down to study the menu. With prices starting at just £3.95 for soup of the day, a range of build your own burgers from £9.95, mains from £8.95 and sides starting at £3, we had plenty to choose from. In the end I opted for the haggis Scotch egg with bacon, roasted tomatoes, rocket salad and a whisky mustard dressing (£10.95) and my partner fancies a good old mac n' cheese with fried scallions, and a side salad at £8.95.
While we waited for our meals, we took in our surroundings – an upmarket sports bar with several TV screens, a hardwood floor complemented by wooden tables and chairs, and booths dotted around the sides. As it was nearer 3pm it was pretty quiet but it still took a good 15 minutes for our food to arrive. However, we took this as a good sign that the dishes were being individually prepared.
And our hunch was correct: the yolk in my haggis Scotch egg was just on the right side of hard-boiled, while the thick coat of haggis encasing it was delicious – spicy and, when combined with the breadcrumbs on the outside, pleasingly crunchy. The salad was beautifully dressed, and included chunks of haggis and bacon lardons artistically (and generously) arranged on the rocket leaves. Meanwhile my partner was enjoying the crispy breadcrumbed topping on his mac n' cheese combining with the creamy, cheesy interior. The cool side salad was a nice counterpoint.
The service throughout was spot on and we're really looking forward to heading back to try something else on the menu.
food: *****
service: *****
atmosphere: ****
value: *****
total: 19/20