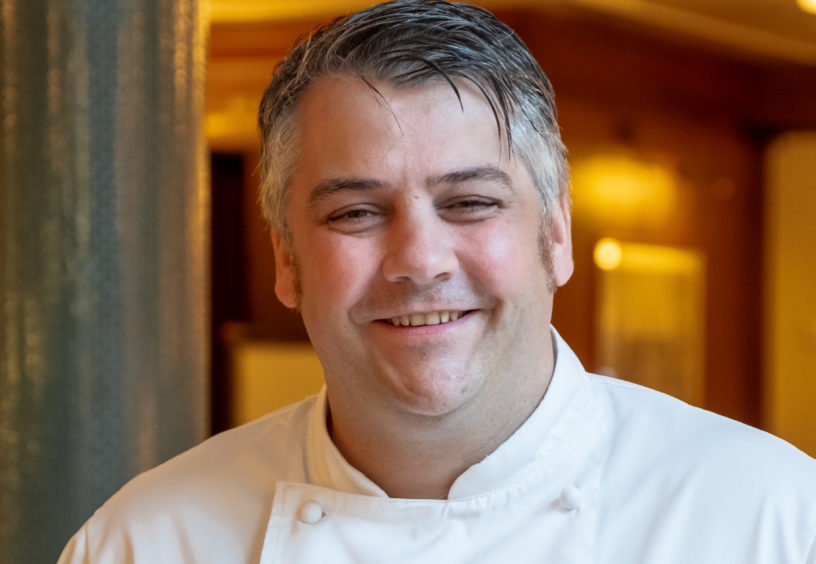 Give Paul Hart, executive sous chef at Gleneagles, a roast dinner and he's a happy man, discovers Caroline Lindsay
Q Desert island food?
A It would have to be a Sunday roast. Who doesn't love a roast dinner! Especially with loads of different veggies, roast meat and sauces to accompany it. Chuck a Yorkshire pudding on the plate and add lashings of gravy and you have the perfect meal.
Q Favourite TV chef?
A Gary Rhodes used to be my favourite TV chef, as I loved his passion and the way he liked to teach you about how and why you do things in certain ways. As he's not on TV any more, I would say Nigel Slater because he has a natural way of talking passionately about food and drawing you in. You always want to go and cook his recipes right away!
Q Favourite cookbook?
A I have so many (at least two book cases full), so it's difficult to choose. I do always refer back to the classics like Practical Cookery, which is what I used when I was in college and what I recommend to chefs just starting out. All the recipes work and it teaches you the basics, giving you a solid foundation for learning.
I love Thomas Keller's collection of books, as they are inspirational. You'll always find a gem in there when you are stuck for ideas that spark your imagination.
Q Favourite ingredient?
A Pork is such a humble ingredient and probably the most versatile of meats. You can get so many amazing products from it like bacon, sausages, hams, salamis, all sorts of charcuteries, roasts and even croquettes. There is such a variety of tasty things you can do with pork. I've used every piece of it over the years, from the cheeks to the trotters and even the tongue and tail. Every country has different ways of utilising pork in their cuisine. You can use everything but the oink!
Q Most hated ingredient?
A I really don't like lavender in food. I'm not keen on most floral tasting ingredients in cooking but lavender is just so wrong in my opinion! I've never tried anything with lavender and enjoyed it.
Q Perfect dinner guest?
A JRR. Tolkien – the author of The Hobbit and Lord Of The Rings. I would love to talk to him about the world and characters he created. It would be fascinating to find out where the ideas came from and how he came to write such iconic books. I'd also like to know what didn't make it into the books. His dreams and nightmares must have been pretty intense.
Q Favourite kitchen gadget?
A  My wife says I'm obsessed with Tupperware. I like to have everything in tubs, all labelled up and have the fridge and cupboards all looking nice and tidy. I guess it stems from years in the kitchen. I'd be lost without my plastic tubs!
Q Favourite music to cook to?
A When I'm at home, I have Absolute 90s playing to remind me of my youth.
Q Perfect menu?
A I love offal and it is really under-used. I would like to experience a tasting menu with various offal cuts as the different courses… we'd maybe have to skip the dessert course though!
Q Favourite country for food?
A It has to be Italy. I've visited many times – they just have such a simple approach to food and ingredients, and it all tastes so good!  The kitchen is a central part of Italian life.
Q Favourite chef, alive or dead and why?
A Ferran Adrià – his food and books just blow my mind. When I discovered him and what he was doing, it opened up so many new and interesting doors in cookery for me. He looked at the culinary world in a new and innovative way and he has inspired so many people.
Q Favourite culinary season?
A I look forward to each of the seasons as they bring with them a renewed bounty of possibilities. Each season makes you think of what you can do with what's available. It brings challenges in the colder months but that should just inspire to make you think harder and be creative.
Q Salt or pepper?
A Always salt. It just lifts everything… and my favourite crisps are salt and vinegar!
Q Favourite herb?
A I really like to use lemon thyme at the moment. It has the lovely aromatic qualities of plain thyme but with an added citrus note. It can be used in meat and fish dishes to enhance the dish.
Q Favourite spice?
A Ras el hanout has a fantastic flavour. It's a North African spice and it has got lots of nice warmth to it. It's very versatile again with meat, fish and vegetables.
Q Favourite way to cook the humble potato?
A My go to dish is a dauphinoise. It has layers of potato with garlicky cream, baked in the oven until it goes crispy on top. It's just delicious with a roast!
Q Favourite go-to recipe if you're in a hurry?
A Risotto as it's an easy one-pot dish that can be simple or luxurious depending on what you put in it. The rice absorbs so much flavour and it's a great, satisfying meal. Just don't overcook it.
Q Favourite naughty nibble?
A Chocolate! I'm a total choc-a-holic. My kids have to hide their chocolate from me at home and I always find myself strangely drawn to the pastry at work!
Q Favourite health food?
A Like all cooking, it depends what you do with the ingredients that matters. We have some great superfood salads on the menu in the Garden Café at Gleneagles, which are so tasty and super healthy. They contain ingredients like beetroot, avocado, broccoli, kale, quinoa all of which on their own can be a bit of a challenge to enjoy eating, but together you get so many flavours going on with each mouthful.
Q Ideal picnic dish?
A It has to be sandwiches. They are so easy to prepare but can be so good. The key is fresh crusty bread, good quality butter and anything you can think of layered inside. I like to go for 'scooby snack' style sandwiches, with lots and lots of filling!
Q Ideal BBQ food?
A – I really like cooking on a proper, charcoal BBQ. You get a great flavour and there's something wild about cooking over fire. I cooked for some friends in the middle of winter last year and I was outside cooking sweet potatoes on the BBQ to get a smoky flavour to go into a feta salad – it was delicious!
Q Are you critical of the food when you're dining out?
A I can be, it depends how much I'm paying. Mostly I'm just happy to have someone else doing the work!
Q Do you tip in restaurants?
A Yes, as long as it has been a good experience and they have at least tried.
Q Top tip for failsafe cooking?
A My old lecturer at collage always used to shout 'KISS', meaning 'Keep It Simple Stupid'.
Q Worst cooking sin in your opinion?
A Not tasting food before it is served. Just tasting it first and making some simple adjustments can save a lot of bad dishes.
Rainbow vegetable and seed slaw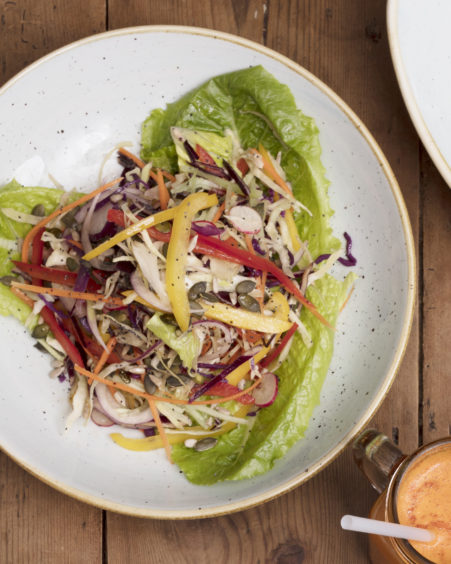 Makes 8 portions
Ingredients
225g red cabbage, thinly sliced
225g white cabbage, thinly sliced
250g carrots, peeled and julienned
150g red onion, thinly sliced
5 celery sticks, peeled and julienned
100g radishes, sliced
1 red pepper, deseeded and julienned
1 yellow pepper, deseeded and julienned
2 heads of Cos lettuce
200ml lemon dressing
10g poppy seeds
10g pumpkin seeds
10g sunflower seeds
10g black sesame seeds
10g hemp seeds
10g celery seeds
Directions
Mix all the seeds together and place in the oven at 150C for 8 to 10 minutes. Remove the seeds from the oven and then leave to cool.
Cut the Cos lettuce into individual leaves then wash and dry.
Mix all the vegetables together and place in iced water for an hour. Drain and dry on a towel.
To serve, dress the Cos leaves with half of the lemon dressing and place into individual serving bowls or one large bowl if you prefer.
Take the vegetables and toss with the rest of the lemon dressing and place on top of the Cos lettuce. Sprinkle over a spoonful of the cooled toasted seeds and serve.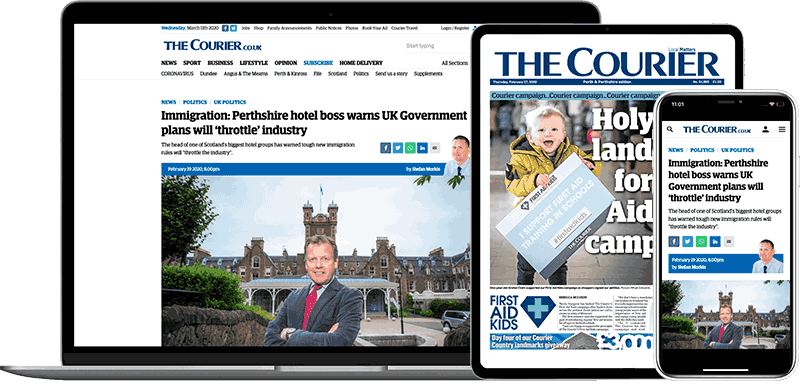 Help support quality local journalism … become a digital subscriber to The Courier
For as little as £5.99 a month you can access all of our content, including Premium articles.
Subscribe