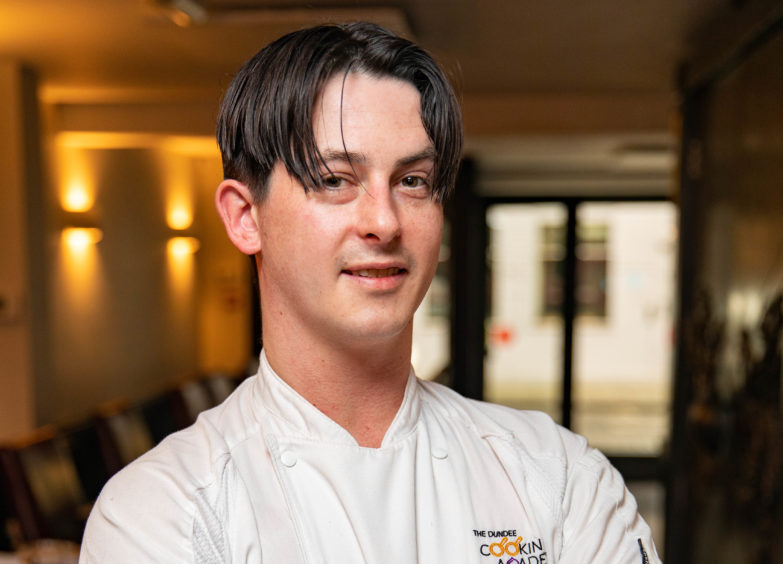 Lewis Donegan, owner of the Dundee Cooking Academy and Tayble, tells Caroline Lindsay why ​bananas and Happy Hippos make him happy
Q Desert island food?
A Anyone in the Tayside area will definitely know what I mean when I say just about anything from the Agacan Restaurant in Dundee.
Q Favourite TV chef?
A I've been lucky enough to meet and work with a few over my time but I'll have to go with Tony Singh. He's extremely knowledgable, superb at what he does, absolutely hilarious even off camera and so down to earth.
Q Favourite cook book?
A Smile or Get Out of the Kitchen by Adam Handling. Having worked with Adam for a short period of time in our younger years and developed a friendship, I was excited to buy his book. The recipes are brilliant and I find it totally inspirational.
Q Favourite ingredient?
A Cooking with pigeon is my strong suit and probably what I've received most praise for throughout my career.
Q Most hated ingredient?
A Has to be turkey. If its not cooked properly I find it dry, horrible and boring but it keeps making an appearance year in and year out like an unwanted cold caller.
Q Perfect dinner guest?
A My gorgeous fiancée! I wouldn't want to dine with or cook for anyone else before her. Plus I'll be in big trouble if I don't answer this question correctly.
Q Favourite kitchen gadget?
A Thermoprobe – every kitchen should have one even at home. Take away tricky guess work, improve food safety and build confidence.
Q Favourite music to cook to?
A Most tell me I have a bad taste in music but of course I disagree! I love music from Elton John, Snow Patrol and Mumford and Sons. I recently discovered Your Song by Billy Paul.
Q Perfect menu?
A I'm not a big eater so I wont thank you for a massive plate of food. I much prefer a tasting menu style of dining and if there is shellfish, meat, and cheese on the menu then I'm sold.
Q Favourite country for food?
A I love all cuisines and eat everything but has to be Scotland as we have some of the greatest produce in the world.
Q Favourite chef, alive or dead?
A Adam Newth from the Tayberry Restaurant in Broughty Ferry. I love what he does, he produces tasty food and is, I quote, "the biggest thing to hit Dundee since Desperate Dan". Oh and I was not bribed to say this!
Q Favourite culinary season?
A Summer as the sun definitely brings out the best in a lot of produce and I absolutely love Scottish berries.
Q Salt or pepper?
A Salt – seasoning with salt is a must to improve and enhance flavours. Also it can be used moderately with a healthier approach if people are shown and educated.
Q Favourite herb?
A Coriander. I think the flavour is fantastic and cooking at home I will add to anything. My three-year-old boy refused one of his favourites, Bolognaise, as it had no coriander through it.
Q Favourite spice?
A Cracked black pepper – absolutely love it and lots of it. Things like steaks for example I lather it on. Some say don't use pepper before the cooking process as it can burn but I love roasted cracked black pepper.
Q Favourite way to cook the humble potato?
A 100% mash! Not a huge fan of baked or boiled so has to be buttery, creamy mash. Mash with herbs, mash with spring onions, mash with jalapeños and cheese. Mash!
Q Favourite go-to recipe if you're in a hurry?
A A good, tasty prawn cocktail is my favourite go to dish to eat and a nice, simple recipe for a Marie Rose sauce is not breaking barriers but it's my favourite.
Q Favourite naughty nibble?
A Kinder Bueno Happy Hippos – they're magic!
Q Favourite health food?
A Bananas – high in potassium and vitamin B6, my kids absolutely love them too. I passed my driving test back in the day as a result of eating a banana beforehand.
Q Ideal picnic dish?
A Weather it is made with pork, smoked salmon or even game. I really don't mind but I love a good Scotch egg.
Q Ideal BBQ food?
A Would love to say something like a nice bit of sea trout seasoned up and wrapped in tinfoil but it's got to be a couple of thick slices of Lorne sausage and then slapped on a buttered morning roll with lashings of sauce rouge.
Q Are you critical of the food when you're dining out?
A With two young kids at home, dining out is a very rare occasion for us so no, I like to make it about our experience together and the interest in the food comes second.
Q Do you tip in restaurants?
A Absolutely as a thank you for a good experience.
Q Top tip for fail-safe cooking?
A Try to use all your senses when you cook. See what's going on, smell, taste, even your ears can tell you a thing or two whilst you cook. Stay relaxed and have fun.
Q Worst cooking sin in your opinion?
A Not resting your meat before serving. Blood running on your plate or tough meat is just lack of attention or not enough understanding.
Fillet of beef with rumbledethump mash
Ingredients
Serves 1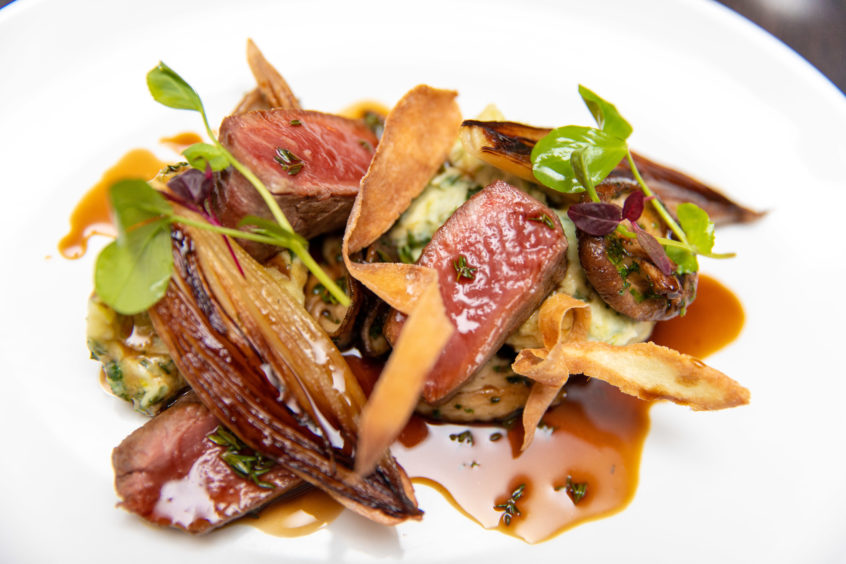 For the beef: 1 150g piece of aged fillet steak
30g unsalted butter
1 garlic clove
1 sprig of thyme
For the mash: 200g Red Rooster Potatoes
30g unsalted butter
30ml double cream
2 leaves of Savoy cabbage
6 spring onions
50g Isle of Mull Cheddar
For the sauce: 1 banana shallot
2 garlic clove
3 sprig thyme
1 bay leaf
80ml dry red wine
100ml quality veal stock
20g unsalted butter
40g bone marrow
directions
First bring the meat to room temperature, so you don't combat fridge temperature whilst cooking. Heat a large frying pan really quite hot, season the meat with a sprinkle of salt on both sides and a good covering of cracked black pepper (roasted black pepper is my favourite). Sear the steak on one side using a little vegetable oil and turn after 30 seconds to sear the other side. The more caramelisation you achieve at this stage leads to more flavour. Cook the steak to your liking adding in the butter, garlic and thyme to massively improve the overall flavour and baste the meat. I flip the steak every 30 seconds to achieve an even cook on both sides. Once cooked make sure you rest your meat off of the hot pan.
For the sauce, use the same pan and make use of all the meat flavours already present. Add in 1 chopped shallot and gently cook trying not the gain much colour. De glaze the pan with the red wine, lifting any of the flavours that may be stuck to the bottom of the pan. Add in the thyme, bay leaf and bruised garlic cloves. Reduce the wine by half the amount and add in the veal stock, butter and bone marrow and then reduce the sauce down to achieve a nice coating consistency.
For the mash, peel and cut the potatoes into 3 pieces. Pop them into seasoned, cold water and gently cook through until soft enough to mash. Fry the chopped cabbage and spring onions using a little vegetable oil and then add to your mashed potatoes and mix through on a very low heat. Add in the butter and cream along with the grated cheddar before tasting for seasoning.
I like to serve this dish with some sliced and fried shiitake mushrooms basted in butter and some caramelised shallots. For this I just cut the shallot in half longways, season and place into an oiled pan to gently let the shallot juices run out and caramelise on the pan and then finish in the oven until cooked through.
Have your mash, sauce, mushrooms and shallot hot. Place your steak in the oven for no more that 2 minutes to warm through. Slice the steak, plate up and enjoy.
https://dundeecookingacademy.com/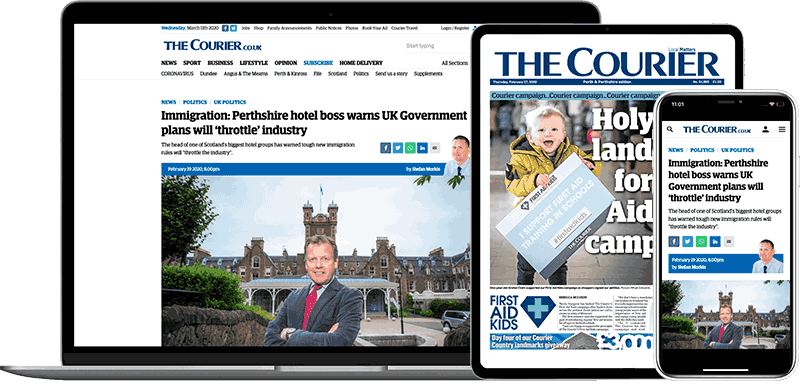 Help support quality local journalism … become a digital subscriber to The Courier
For as little as £5.99 a month you can access all of our content, including Premium articles.
Subscribe