Scott McMillan, head chef at the Boathouse in Kinross tells Caroline Lindsay ​why Scotland is his favourite country for food and why he always makes sauces from scratch.
Q Desert island food?
A Mac and cheese – the ultimate comfort food.
Q Favourite TV chef?
A Gordon Ramsay – for his quintessential use of the English language!
Q Favourite cook book?
A Kitchen Confidential by Anthony Bourdain – the truth about the kitchen trade.
Q Favourite ingredient?
A Spices – hundreds of ways to use them to enhance the aroma of the dish.
Q Most hated ingredient?
A Bought-in sauces – only for cheats.
Q Perfect dinner guest?
A Sally – cos she's my boss and she's watching me write this…
Q Favourite music to cook to?
A Oasis: they're rock and roll – like chefs.
Q Perfect menu?
A One with five starters, five mains and five desserts to choose from.
Q Favourite country for food?
A Scotland – the produce is second to none.
Q Favourite chef, alive or dead?
A Ian Davidson – my old college lecturer. He was cool, calm and an amazing chef.
Q Favourite culinary season?
A Spring – the freshness of the new season's produce.
Q Salt or pepper?
A Pepper because it enhances most dishes.
Q Favourite herb?
A Coriander – I just love the smell after chopping it.
Q Favourite spice?
A Smoked paprika – I love the deep smoky aroma.
Q Favourite way to cook the humble potato?
A Dauphinoise.
Q Favourite go-to recipe if you're in a hurry?
A Cheesy beanos – baked beans on toast with melted grated cheese on top.
Q Favourite health food?
A Chickpeas.
Q Ideal picnic dish?
A A ploughman's sandwich.
Q Ideal BBQ food?
A Spare ribs.
Q Are you critical of the food when you're dining out?
A No.
Q Do you tip in restaurants?
A Always.
Q Top tip for failsafe cooking?
A Never rush yourself.
Q Worst cooking sin in your opinion?
A Dirty chef clothes.
Beef cheeks with bacon
Ingredients
Serves 4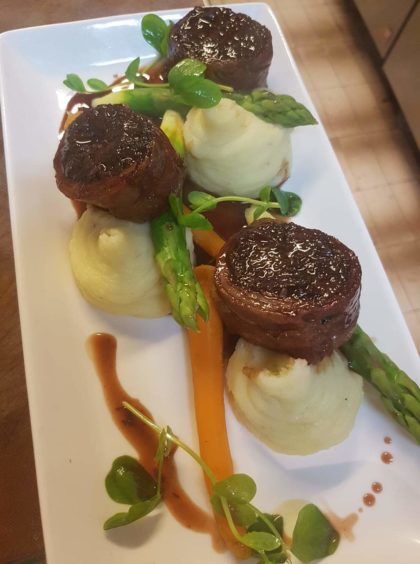 2 x beef cheeks
10 rashers of smoked bacon
200ml of beef jus
Directions
Braise the beef cheeks for four hours. Remove, shred in a mixer. Add jus.
Place a sheet of cling film on preparation surface, layer out bacon, place beef cheeks on bacon and roll tight into a sausage shape.
Place in baking tray with water.
Seal with tinfoil and bake in the oven for 1 hour.
Remove from oven, allow to cool. Cut into slices and reheat in jus.
Serve with pomme puree, asparagus and carrots.