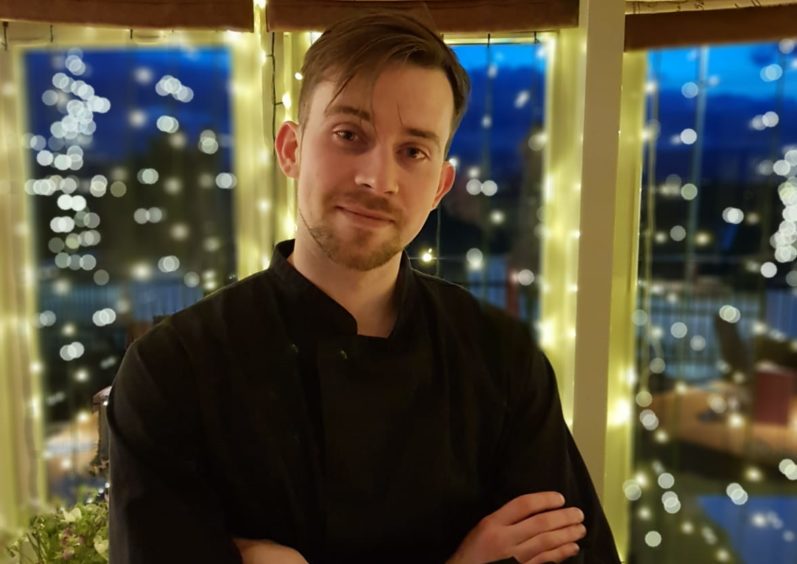 It's coconuts all the way for Wojciech Ojdana, head chef at The Meadowpark Pub & Kitchen in Stirling, as Caroline Lindsay​ discovers.
Q Desert island food?
A Coconuts, because you can eat them, you can drink them and you can wear them.
Q Favourite TV chef?
A Marco Pierre White – the godfather of modern cooking. As the youngest chef with 3-Michelin-stars, he is like a rock star amongst chefs.
Q Favourite cook book?
A An old Polish cook book given to me by my grandmother. It is missing the first few pages but this book and my granny are two of the reasons why I became a chef.
Q Favourite ingredient?
A Clarified butter, everything tastes better with a dash of it.
Q Most hated ingredient?
A The combination of flavours in liquorice. It has a rooty flavour, tasting almost a blend of fennel and aniseed-sharp that is bitter and almost salty.
Q Perfect dinner guest?
A It would have to be my idol, Kobe Bryant. His hard-working mentality inspired me as a young basketball player to always push myself harder, complementing the way I work in the kitchen. It is also because his first name is the same as my favourite type of beef!
Q Favourite kitchen gadget?
A A blowtorch. It's diverse, quick to caramelise and crisp up a dish. Everyone should try blowtorched marshmallows – they're delicious.
Q Favourite music to cook to?
A Italian artists such as Ludovico Einaudi. The artistic and classic melodies influence my passion to cook various dishes that I put my whole heart into.
Q Perfect menu?
A A combination between tapas and French brasserie. Based around small dishes with a variety of decent steak cuts.
Q Favourite country for food?
A Italy. I love the simplicity of Italian cuisine. Most dishes contain no more than just four ingredients. The cuisine is diverse and uses high quality and locally sourced products that give incredible flavour.
Q Favourite chef, alive or dead?
A Massimo Bottura, 3-Michelin-star chef who has ranked as one of the top 10 chefs in the world for many years. Along with his genius in the kitchen, I have great admiration for the work he does empowering communities to fight food waste through social inclusion.
Q Favourite culinary season?
A Definitely spring, everything comes back to life including vegetables, fruits and herbs. Everything that grows in spring tastes more flavourful and is full of colour.
Q Salt or pepper?
A Both! My grandad used to say "food and life have no flavour without salt". It's important to spice things up with some pepper.
Q Favourite herb?
A Lovage – it is a perfect addition to most soups. I've also heard that loveage can act as an aphrodisiac!
Q Favourite spice?
A Saffron. Its taste is unique; it's hard to describe the exact taste of saffron, metallic with honey tones, hay-like, seashells, mushroomy and smoky. You discover new flavours every time you try it.
Q Favourite way to cook the humble potato?
A Definitely cooked on a bonfire, wrapped in tin foil with a pinch of sea salt, or spoonful of sour cream to finish. You can't beat it!
Q Favourite go-to recipe if you're in a hurry?
A King prawn linguine – a simple yet consistently tasty dish. A knob of butter, chilli slices, a few quartered cherry tomatoes, a dash of freshly squeezed lime juice, king prawns, a handful of spinach, pasta and that's it!  Finish it off with some seasoning and you have a great dinner that's full of flavour.
Q Favourite naughty nibble?
A Peanut butter ice cream. Yum!
Q Favourite health food?
A Juice from fermented grapes otherwise known as wine! There are plenty of antioxidant benefits…
Q Ideal picnic dish?
A A stuffed focaccia with spinach, mozzarella, olives, roast peppers and artichoke. It's basically an antipasti sandwich.
Q Ideal BBQ food?
A Steak, steak and more steak – it's all about the meat!
Q Are you critical of the food when you're dining out?
A I'd rather look for inspiration than be critical when dining out.
Q Do you tip in restaurants?
A Every time. I like to show appreciation for the hard work that's gone into both the food and the service as I know how hard the industry is.
Q Top tip for failsafe cooking?
A Be focused at all times is my number one tip.
Q Worst cooking sin in your opinion?
A I hate steak to be cooked anything more than medium.
White Chocolate and Baileys Cheesecake
Makes One Cheesecake
Ingredients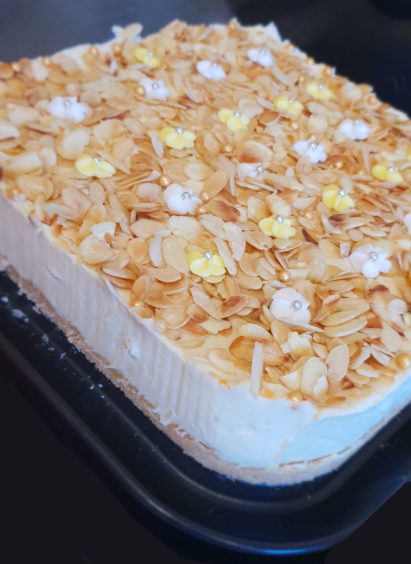 To make the base: 250g digestive biscuits, crushed
100g butter, melted
To make the cheesecake: 500g cream cheese
500g mascarpone
150ml Baileys Irish Cream Liqueur
150g icing sugar
1kg white chocolate
To garnish: Flaked almonds
Directions
First, make the cheesecake base. Combine the biscuits and the melted butter together in a bowl and mix until the butter is evenly distributed. Transfer the mixture to a loose-bottomed baking tin. Using your fingers, press the biscuits into the bottom of the tin. Once the base is evenly covered, place the tin into the fridge to let the base set.
Next, melt the white chocolate. You can do this in the microwave or in a bain-marie. If you're melting the chocolate in the microwave, be careful not to overheat it so stir it regularly. Once the chocolate is fully melted, set it aside to cool.
Next, prepare the cheesecake filling. Start by combining the cream cheese and mascarpone. Slowly add the icing sugar and then finally the Baileys. Continue to mix until everything is fully combined. Pour in the cooled white chocolate into the cheesecake filling and stir again.
Pour the mixture over the biscuit base, sprinkle the top with flaked almonds and place in the fridge to set for a minimum of an hour before serving.
www.themeadowparkstirling.co.uk