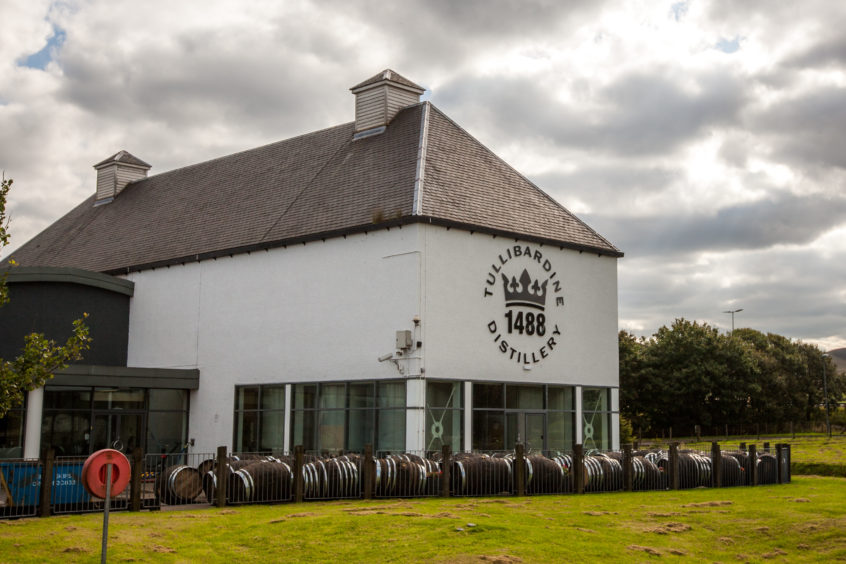 One growing phenomenon in the whisky industry is special cask finishes—after 10 years or whatever in standard bourbon casks, a single malt is transferred into a port, sherry or other cask for its final year or two of maturation. Those last two years give the spirit the extra colour and deep taste which adds that final panache to what is already a fine whisky.
For years the most popular finishing casks tended to be port or sherry, particularly the dark, rich varieties that added the most punch. However, in recent years French wine casks have increasingly been used, of both red and white varieties, as have ex-brandy and rum casks. It's all part of the quest for that perfect mix of flavours to produce a whisky that will please both the cognoscenti and the general public.
Tullibardine at Blackford (pictured) have recently been at the forefront of using novel and unusual cask finishes to create interesting new flavours and colours. About a year ago, they produced a fine single malt finished in Chateauneuf-du-Pape casks, that Rhone valley wine giving the whisky a distinctive reddish colour and a rainbow of flavours to delight those who compile tasting notes.
Now Tullibardine has launched The Murray single malt finished in Marsala casks. Marsala is a white wine from a town in Sicily, fortified with brandy. In 1773, English trader John Woodhouse brought Marsala to Britain, where it proved very popular, so he returned to Sicily and vastly increased production. Around 1806, Benjamin Ingham from Leeds started distributing Marsala in Europe and the Americas.
Available as dry, medium and sweet, the latter the most popular here, Marsala is enjoyed as an aperitif or with cheese or in desserts such as tiramisu.
Going by its honey-smooth mouth feel, the Marsala-finish The Murray spent its final year in sweet Marsala casks, producing a single malt that bit different and special. I tried it late one evening with a coffee and found it so devilishly smooth I drank far more than I intended. Well, that's my excuse anyway.
Distilled in 2006, bottled at 46% abv and bearing a distinctive purple label, The Murray Marsala is priced around £49, available at the distillery – just beside the A9 – and at various online and retail outlets.