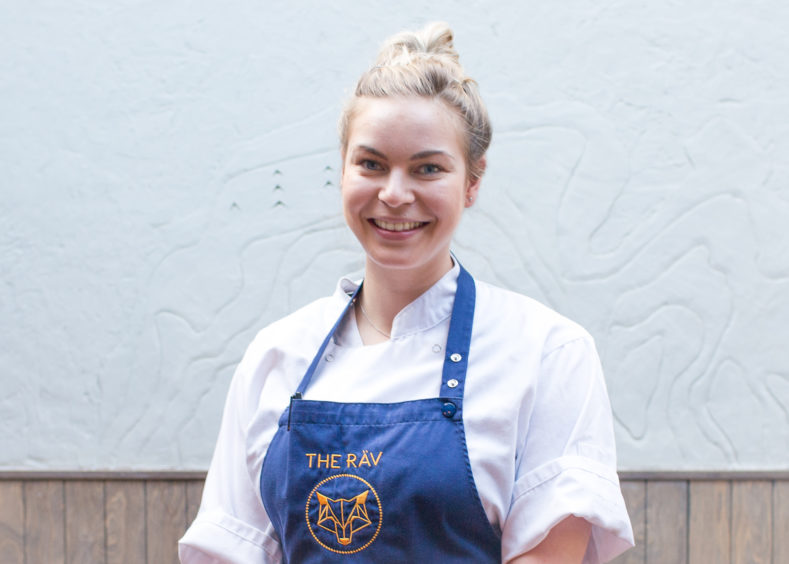 Elina Makkonen, head chef at Nordic restaurant The Rav in St Andrews, tells Caroline Lindsay why she loves liquorice – and why criticism is good.
Q Desert island food?
A Salty liquorice! Liquorice is very popular in Finland where I am from; it has a "complex" taste and is a real childhood favourite for me. We use it in a signature cocktail at The Räv. Its called the "Loki" – it's a real trickster one!
Q Favourite TV chef?
A  Gordon Ramsay is a British chef who inspired me, even when I was younger in Finland. He demands the best; the determination he shows to always have high standards is to me what being a great chef is about.
Q Favourite cook book and why?
A The Nordic Cookbook by Magnus Nilsson. It has all the recipes from home and Scandinavia, as well as the stories and landscapes behind our dishes. It really shows how diverse Nordic cuisine can be.
Q Favourite ingredient?
A Salmon. It is so versatile. We bake it; we grill it; we cure it. We eat it raw. The constant is that it always tastes delicious!
Q Most hated ingredient?
A Tongue, It is very high in fat, and is really the opposite of the clean, fresh flavours I look for in my ingredients.
Q Perfect dinner guest?
A Somebody who loves food, comes to the table with an open mind, and is able to teach me something new! I love combining classic and contemporary flavours; I am always looking for new inspirations, so the perfect dinner guest would inspire me!
Q Favourite kitchen gadget?
A My Thermomix – it's a real magic hand in the kitchen, used in the construction of so many of my dishes.
Q Favourite music to cook to?
A We have a young team at The Räv.. we cook to everything from classic jazz to 90s hip hop. There are a lot of different influences in our team – and that also accounts for the music!
Q Perfect menu?
A Scotland and the Nordics both share a passion for great fish and seafood, and this is a huge inspiration for me. My perfect menu would include the impossible – a sample of everything from the sea. We'd have to think about what to do for dessert, though!
Q Favourite country for food?
A Away from my Nordic and Scottish inspired cooking, I have a real passion for great sushi and tapas. Nowhere does sushi like Japan, and nowhere does tapas like Spain – so they are my favourites.
Q Favourite chef, alive or dead and why?
A I come from a family of chefs (my brother – Kimmo – also works with us at The Räv). However my dad is especially a favourite chef for me. It is amazing to see someone who is so passionate about food and flavours.
Q Favourite culinary season?
A Summer. I love all the berries and garden peas, and also that in the summer you can go fishing. One of our team at The Räv has a little boat, and we are planning to go fishing for mackerel.
Q Salt or pepper?
A Salt. Salt has had a big part to play in the history of Nordic cooking. Of course, there can be no cooking without seasoning
Q Favourite herb?
A Thyme is a real favourite of mine at the moment – it has a unique aroma and taste.
Q Favourite spice?
A Chilli. I love spicy food.
Q Favourite way to cook the humble potato?
A Jansson temptation-style (see recipe)! It's a popular dish during festive periods in Nordic households.
Q Favourite go-to recipe if you're in a hurry?
A Frankfurter soup. I especially grew to love this during my first winter in Scotland!
Q Favourite health food?
A Avocado.
Q Ideal picnic dish?
A Berries, fruit and a bacon and avocado sandwich. A real picnic "smorgasbord"!
Q Ideal BBQ food?
A Ribs, Finnish sausage and filled mushrooms.
Q Are you critical of the food when you're dining out?
A I think that it is important to approach everything with a critical mind; it is through criticism that we understand what works well, and what can be improved. I always try to be critical of food when I am dining out, as I find it helps me understand the inspiration behind the dish I am eating, and the effect that the chef is looking to create.
Q Do you tip in restaurants?
A Yes – the way we work at The Räv is that the whole team receives the tips. A great restaurant is a team game and not built on any one individual; I think it is really important to recognise that, and it is because of this especially that I tip!
Q Top tip for failsafe cooking?
A Using a timer – otherwise even the most seasoned chefs will forget some of the things, some of the time!
Jansson's Temptation
Ingredients
Serves 4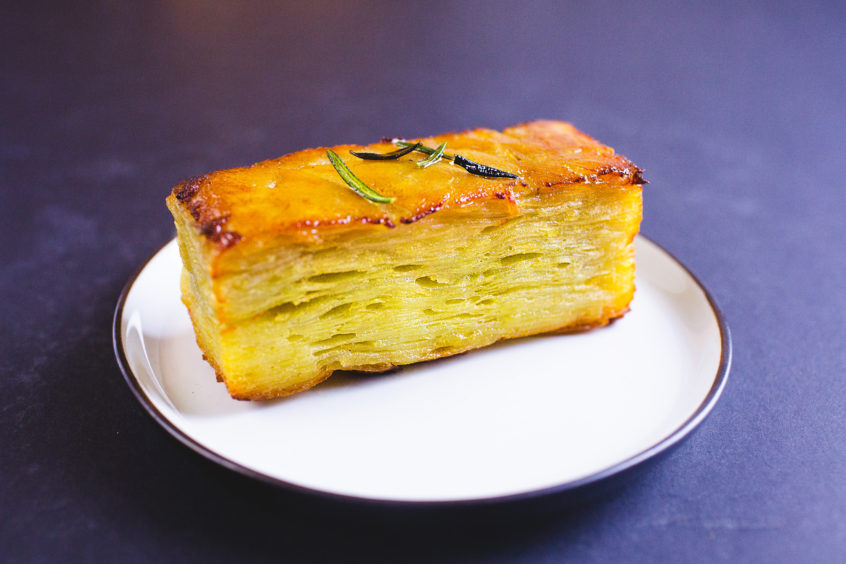 5 large potatoes
90g double cream
90g milk
30g pickled herring
1 clove of garlic
1/3 of a bunch of fresh thyme
Directions
Peel the potatoes and slice them thinly with a mandoline.
Place the milk, double cream, pickled herring, cloves of garlic and thyme into a pot, and bring it to a boil. When the mixture begins to boil, turn the temperature down to low and slowly infuse flavours for 20 minutes.
Line an ovenproof dish with baking paper. Arrange the potatoes in layers on the dish, seasoning every second layer with salt.
Strain the infused mixture, and then pour the mixture over the potatoes. Cover the dish with foil and bake in the oven at 170C for 35 minutes. Next, remove the foil and cook for a further 20 minutes at a temperature of 191 degrees until the Jansson's Temptation reaches a golden brown colour.
Cool down the gratin and cut it into portions.
Delicious when served with lamb for Easter lunch!