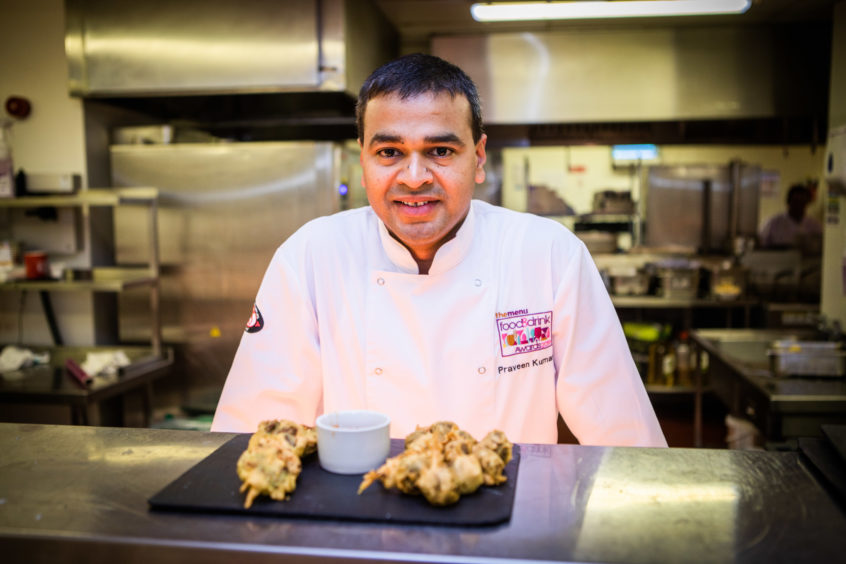 Chef Praveen Kumar, owner of Tabla Restaurant and Indian Cook School, may be based in Perthshire but, as he tells Caroline Lindsay, his food uses spices grown at his family home in rural India.
Q Desert island food?
A Kodi koora (a South Indian curry), a taste of home which I have brought with me to the UK – so good that it was voted Scottish Curry of the Year 2018.
Q Favourite TV chef?
A Being a TV chef myself I know how much work and pressure goes into a production. I loved doing my appearances but I would have to pick Rick Stein for his natural ability in front of the camera.
Q Favourite cook book?
A Madhur Jaffrey, she's a very experienced Indian chef whose books I studied as part of my training.
Q Favourite ingredient?
A Cumin – its magic is in its ability to bind flavours together.
Q Most hated ingredient?
A Supermarket curry powder, it's just so bland. I import all the spices used in my cooking directly from my own family farm in India. This means that alongside the vegetables grown in my own market garden, and meat and fish from Scotland, I can trace the provenance of every ingredient used in my cooking.
Q Perfect dinner guest?
A I'm honoured to feed about 20,000 guests a year in my restaurant and Indian cook school but I would have to say my own mum because I have never ever cooked her a meal as an award-winning chef – to her I'm just a wee village boy.
Q Favourite kitchen gadget?
A My tandoori oven as it's easy to use and gives food a smoky flavour, a taste that reminds me of my childhood.
Q Favourite music to cook to?
A AR Rahmen who is an Indian classical music producer, composer and singer. His music is relaxing and touches the soul.
Q Perfect menu?
A Crispy okra (kurkuri bhindi). Kurkuri is the sound your mouth makes when eating this dish. Lamb on the bone, Railway Boti, a dish traditionally served on long railway journeys. Gajar ka halwa, which is reduced carrots and local milk, which I serve with ice cream made in Perthshire.
Q Favourite country for food?
A India – it's a real taste of home. However, with a population of 1.3 billion people it has the colourful mix of food you would expect of such a multi-cultural society.
Q Favourite chef, alive or dead?
A Andrew Fairlie. I worked with Andrew at Gleneagles Hotel and he gave me some great tips and advice. The one piece of advice I always remember was when I spoke to him about opening a second restaurant and he said: "Having a second restaurant is like having a second wife whilst still keeping your first." I did not open that second restaurant after that very clever piece of advice.
Q Favourite culinary season?
A Spring, due to the earthy flavours that come from all the fresh new produce, making for wonderful colour and taste in cooking.
Q Salt or pepper?
A Salt for me because it does enhance many spices and allows for a better-flavoured dish.
Q Favourite herb?
A Coriander – quite simply, it tastes great.
Q Favourite spice?
A Home-produced curry powder. My family plant, grow and produce my curry powder in India. It's loved by my friends, family and customers.
Q Favourite way to cook the humble potato?
A Potato tikki. It's a world-famous Indian snack – potatoes mixed with spinach and green peas. It is absolutely delicious and I like it crispy.
Q Favourite go-to recipe if you're in a hurry?
A Vegetable pakora, anything left in the cupboard or fridge mixed with gram flour and spices, cooked in minutes and loved by all. Pakora is an Indian dish known to the majority of people in Scotland. However, in England many people know the dish as onion bhaji. I prefer pakora as it allows for a better mix of foodstuffs.
Q Favourite health food?
A Tandoori chicken tikka, zero fat cooked in a tandoori clay oven – one of the best-selling dishes in the UK. Although marinated for over 24 hours the oven allows the dish to gain that much-needed smoky finish.
Q Ideal picnic dish?
A Chapati rolls, called roti by some. They can be easily filled with a variety of sweet and savoury fillings. My kids love them and many of my friends now use them in their packed lunches.
Q Ideal BBQ food?
A Marinated lamb chops or lamb shish kebab. Wonderful in the sun with a cold Cobra beer.
Q Are you critical of the food when you're dining out?
A No, not at all. I'm always aware of the preparation that goes into a dish and I know that at times things can go wrong. My wife Swarna, however, says I'm a bit soft and should complain more.
Q Do you tip in restaurants?
A Yes always, at least 10% and, if it's really great, 20%. I think it's an important part of eating out and rewarding staff for their efforts.
Q Top tip for failsafe cooking?
A Marinade in advance. It gives a dish deep flavour and it's failsafe.
Q Worst cooking sin in your opinion?
A Salad? Really, is that cooking?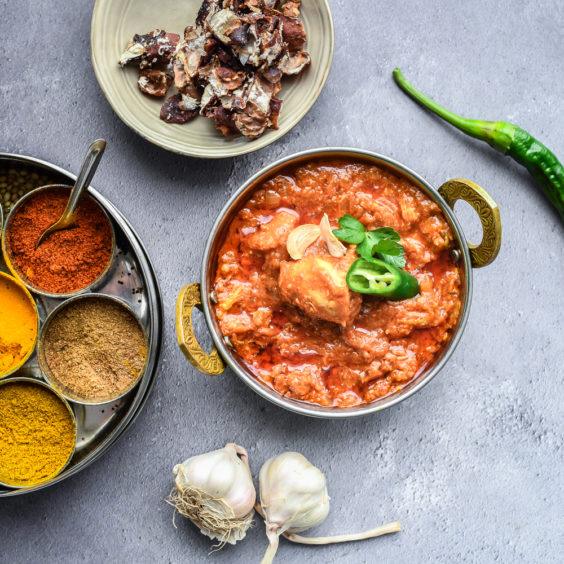 Kodi koora
Ingredients
Serves 4
350g chicken breast, cut into two-inch pieces
5g rapeseed oil
50g ginger & garlic paste
50g tamarind paste
20g rapeseed oil
Salt to taste
5g curry powder
5g chilli powder
5g garam masala powder
2g turmeric powder
15g rapeseed oil
10g fresh garlic & ginger, diced
10g fresh curry leaf
10g cumin seeds
10g coriander seeds
10g mustard seeds
100g onion diced
75g fresh tomatoes diced
20g coriander leaf fresh
100ml water
directions
Marinate chicken with oil, ginger & garlic paste, tamarind paste, salt, curry power, chilli powder, garam masala powder, salt and turmeric powder for 1 hour.
Cooking: Heat the pan on full flame, add 15g of oil, allow oil heat up for 5 seconds. Fry diced ginger & garlic, for 5 seconds, add fresh curry leaf, fry cumin seeds, coriander seeds, mustard seeds for 5 seconds. Now add diced onion, cook for 5 minutes without lid, onions should now turn in to golden brown.  Now add diced tomatoes, stir in and cook for 5 mins with lid on.
Once tomatoes go soft and juicy, add marinated chicken, water and cook for 15 minutes in a low heat. After chicken is cooked transfer to serving dish and garnish with fresh coriander.
Recipe courtesy of Praveen Kumar, who has just launched his Authentic Indian Food Range.