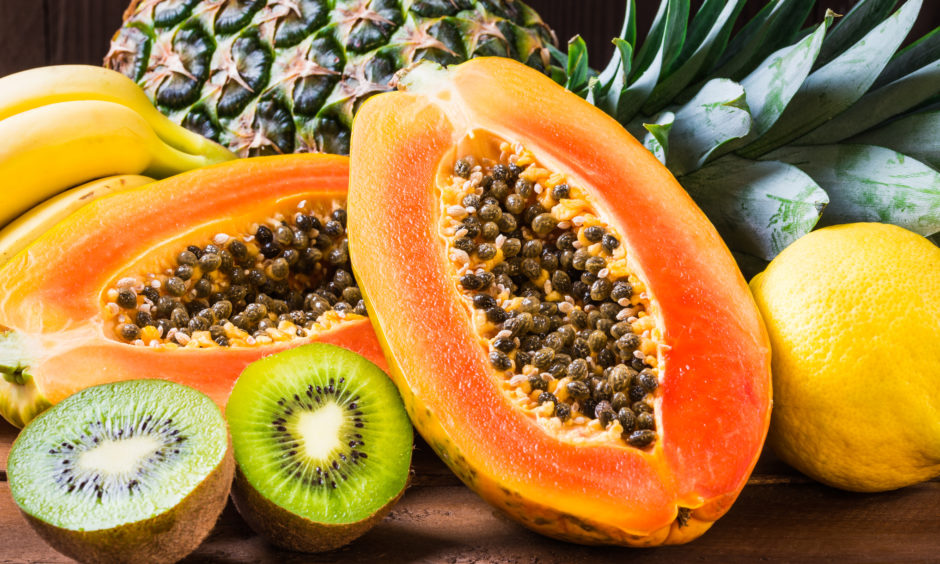 Old Course executive chef Martin Hollis offers us a hint of a tropical summer with an exotic recipe with pineapple and kiwi fruit.
Pineapples and kiwi fruits are the epitome of a tropical summer for me so even if we don't get the weather to go with it, we can pretend with my recipe for caramelised pineapple and kiwi kebab with coconut rice pudding and fresh mango sorbet.
This delicious summer dish is packed with health benefits – pineapples contain high amounts of vitamin C and manganese while kiwis contain more Vitamin C than an orange, possibly help lower blood pressure and boost the immune system too.
As for the Malibu – that just makes it taste delicious!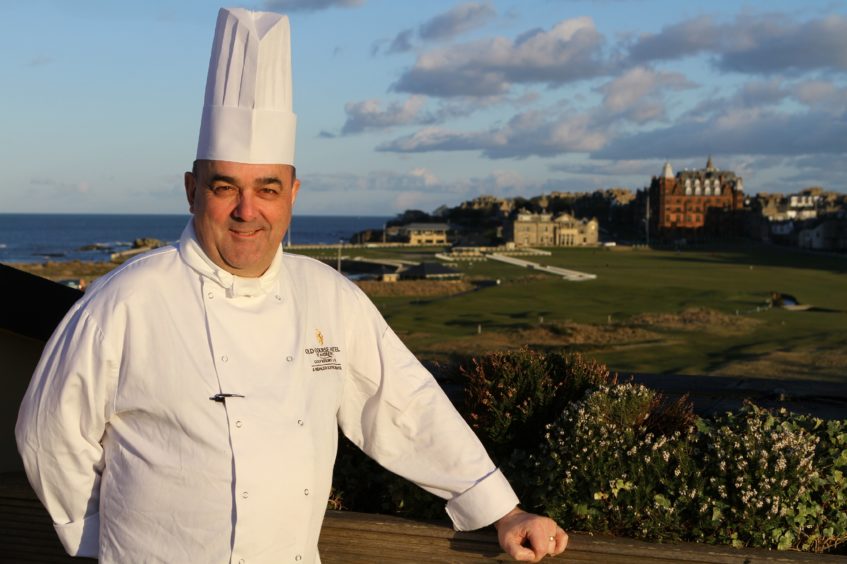 For the caramelised pineapple and kiwi kebab you'll need 10 x 1" square pieces of pineapple, 10 x 1" pieces kiwi fruits, 1 oz butter, 1 oz sugar.
For the coconut rice pudding: 1 oz pudding rice, 5 oz double cream, 5 oz coconut milk, 1 oz sugar, 1 vanilla pod, 1 fl oz Malibu.
For the mango sorbet: 2 oz sugar, 2 oz mango puree, 2 limes, juiced 8 oz water
For the basil syrup: 1 oz sugar, 2 oz water, shredded basil leaves
To make the pineapple and kiwi kebabs: Thread pineapple pieces onto wooden kebab skewer alternating with the kiwi. Melt the butter with the sugar in a frying pan and add the kebab. Gently fry until caramelised, and keep hot until ready to serve.
For the coconut rice pudding: Place all the ingredients into a pan and cook very slowly until the rice is cooked to a nice creamy consistency. Keep warm until ready to serve.
For the mango sorbet: Boil the sugar and water together for 4 minutes, allow to cool, then add the mango puree and lime juice, and churn them in ice cream machine until it has set.
Spoon the hot rice pudding onto the plate and top with the pineapple kebab, place a scoop of the mango sorbet on the side and serve immediately.
Chef's tip: You can buy frozen bags of fruit from your local supermarket, or fresh fruit can be diced and frozen in sealed freezer bags and used as and when you need it, this is a great way of getting more fresh fruit into your diet – add them into your blender for smoothies, as the fruit is frozen, you will have a lovely iced smoothie to enjoy!