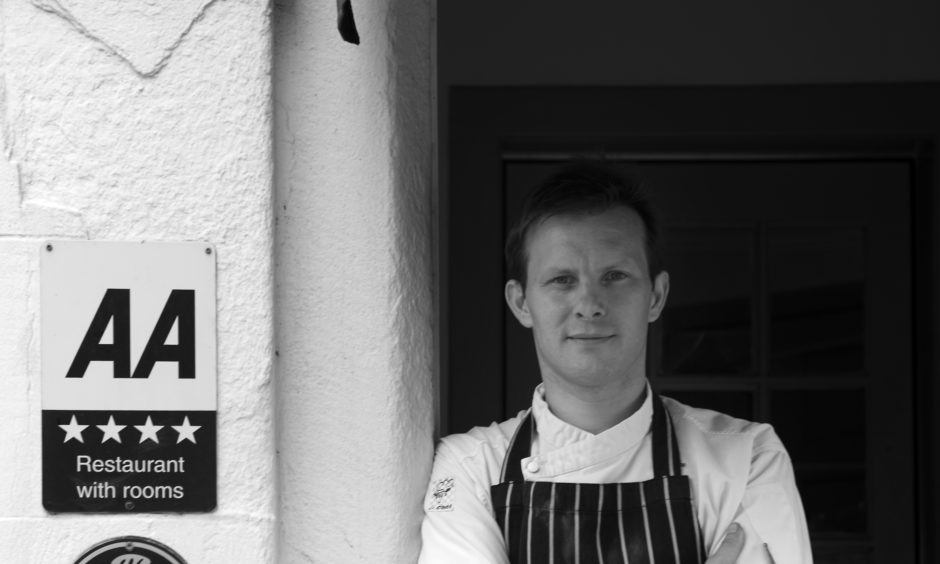 Fabrice Bouteloup, chef patron of Barley Bree Restaurant with Rooms in Muthill, tells Caroline Lindsay about his favourite seasons, and most hated ingredients
Q Desert island food?
A Roast chicken has to be one of my favourite things to eat. A great free-range bird, and served with roast potatoes and a salad makes a great feast anytime.
Q Favourite TV chef?
A I loved Yottam Ottolenghi's Mediterranean series, exploring the cuisine of Turkey, Israel, Morocco and Tunisia. Very simple fresh flavours, the wonderful local and organic produce, the markets and street food. It was fascinating to watch, and I love that style of food.
Q Favourite cook book?
A Larousse Gastronomique – it has everything you need to know about the basic, classic cooking techniques. But I also really enjoyed Ferran Adria's book about El Bulli just for the sheer creativity.
Q Favourite ingredient?
A Chocolate – just because.
Q Most hated ingredient?
A I do not enjoy the flavour of goat cheese – I just don't like the taste – but if it was served to me in a dish I would eat it , very reluctantly.
Q Perfect dinner guest?
A Stephen Fry – for his wit, and guaranteed interesting conversation.
Q Favourite kitchen gadget?
A At the moment the Thermomix – excellent for making crème anglaise, and it reduces the amount of utensils required.
Q Favourite music to cook to?
A I don't usually have music in the kitchen at work, but at home maybe some Leonard Cohen – depends on the mood.
Q Perfect menu?
A Radishes from the garden with butter and a sprinkle of salt, followed by my wife's spaghetti carbonara, maybe crème brulee for dessert, all at home with my family round the table – the best way to enjoy food.
Q Favourite country for food?
A Well, I should say France, and I do think that some of the best classic dishes have come from France but Scotland has such wonderful produce, it comes very high up my list.
Q Favourite chef, alive or dead?
A I don't think I can pin that down to just one chef, as I have found a lot to learn from many over the 30 years I have been cooking. I enjoyed my time working for Anthony Demetre in London, and I admire Marcus Wareing as well. In recent years, Andrew Fairlie was a great source of advice in many ways and a real inspiration not just for me but for so many in the industry.
Q Favourite culinary season?
A Definitely summer for the abundance of fresh fruit and vegetables, especially all the berries here in Perthshire and Angus, but I also really like cooking game – so autumn is also a pleasurable time to be in the kitchen.
Q Salt or pepper?
A Always salt – it helps to lift and enhance flavours.
Q Favourite herb?
A Lemon verbena because it has the most wonderful distinctive aroma, and such a subtle flavour. I use it sometimes instead of vanilla to flavour crème bulée and it is utterly delicious.
Q Favourite spice?
A Piment d'espelette – a type of chilli pepper which has become a speciality of the Basque country in France. It is very distinctive but adds a subtle pleasant heat to dishes such as piperade, and is not as fiery as cayenne.  Good for pepping up meat or fish but not too hot. And saffron is also a favourite – so versatile.
Q Favourite way to cook the humble potato?
A  Mash – with loads of butter! And roast – cooked in duck fat, or perhaps dauphinois, pommes frites are pretty good too – do I have to choose just one?
Q Favourite go-to recipe if you're in a hurry?
A Risotto, quick, easy and great for using up bits and pieces from the fridge, and so versatile as just about anything can be used to enhance and flavour the basic dish. I love using flaked smoked haddock and a good grating of Parmesan.
Q Favourite health food?
A Bananas.
Q Ideal picnic dish?
A Food always tastes better eaten outside, so a great crunchy baguette, spread with homemade pork rillettes and sliced cornichons – tasty and simple.
Q Ideal BBQ food?
A Good quality butcher sausages – everyone loves sausages.
Q Are you critical of the food when you're dining out?
A Not really – I don't go out very often, so I am usually very relaxed and happy that someone else is doing all the work for a change.
Q Do you tip in restaurants?
A Yes but depends on food and service.
Q Top tip for failsafe cooking?
A  Be prepared! Preparation is everything, take your time weigh your ingredients, read the instructions, have everything you need to hand – if something does go wrong, don't panic, give yourself a minute or two to get your head together, and then start again.
Q Worst cooking sin in your opinion?
A Crème brûlée badly done – I can't bear it. Don't make it if you can't do it properly.
Melting chocolate pudding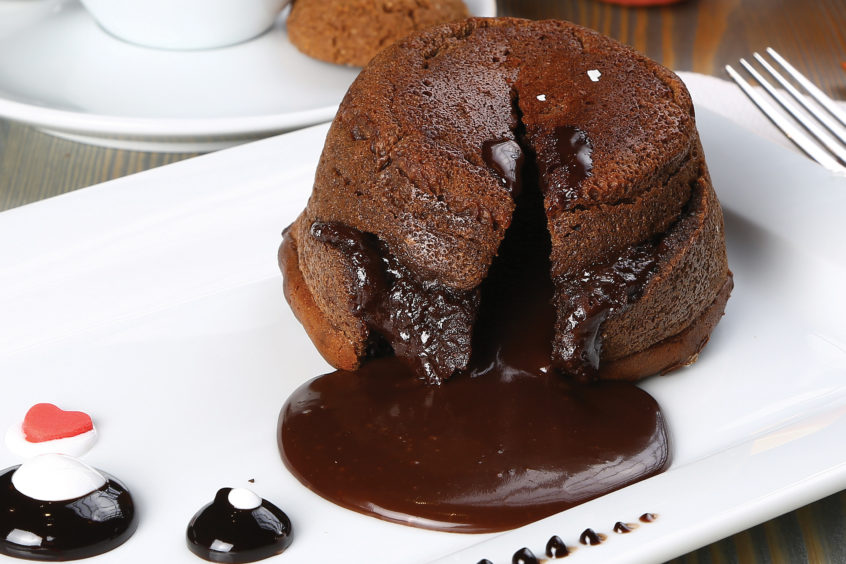 Ingredients
Makes 6
250g unsalted butter
5 eggs
5 egg yolks
125g caster sugar
250g 70% dark chocolate
50g plain flour
6 small pudding moulds
Directions
Heat oven to 180C. In a bowl whisk together the eggs, yolks and sugar until pale.
Meanwhile melt the chocolate and butter gently in a bowl set over a pan of hot water.
Remove the chocolate from the heat and slowly add to the egg mixture, beating until it is smooth.  Then carefully fold in the flour.
Pour the mixture into pre-buttered moulds before it begins to firm up.
Allow to chill – preferably overnight.
To cook place into a preheated oven at 180C for 10 to 15 minutes – the centre should form a dome and feel dry to touch.
Turn out and serve with vanilla ice-cream, or whipped cream or creme fraiche.
If you wish when filling the pudding moulds, stop halfway and put a couple of fresh raspberries in the middle, then finish pouring in the chocolate mixture.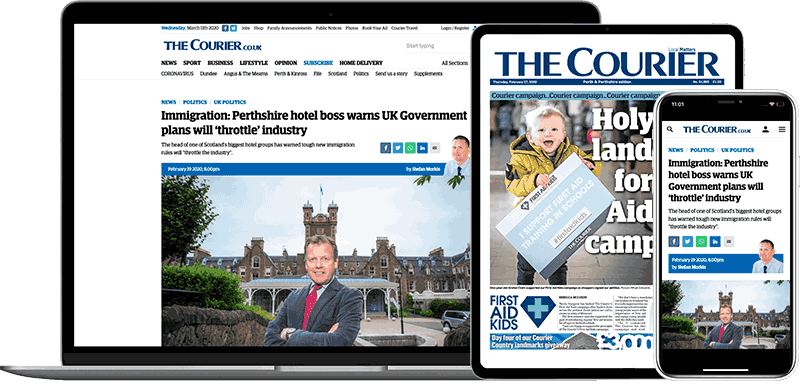 Help support quality local journalism … become a digital subscriber to The Courier
For as little as £5.99 a month you can access all of our content, including Premium articles.
Subscribe