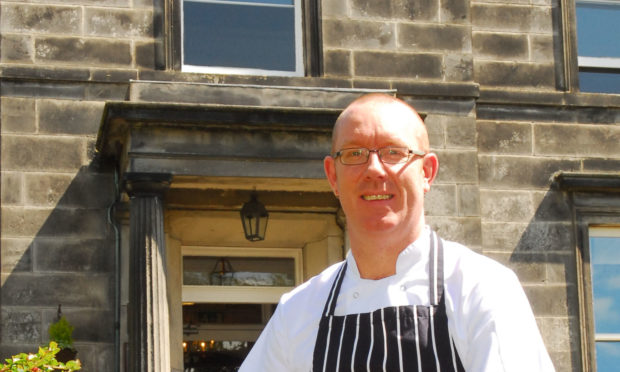 Stephen Ravenscroft, head chef at the Garvock House Hotel in Dunfermline, tells Caroline Lindsay why it's just as well he doesn't cook to music…
Q Desert island food?
A Cheese and biscuits – something I eat a lot after work.
Q Favourite TV chef?
A Marcus Wareing. Such a talented chef, enjoy watching him on MasterChef: The Professionals.
Q Favourite cook book?
A White Heat by Marco Pierre White – the first cook book I ever read as a young lad. It was such a huge inspiration to me.
Q Favourite ingredient?
A All types of fresh herbs, for the amazing flavour they add to dishes, bringing everything alive.
Q Most hated ingredient?
A Saffron – I find it expensive and overpowering.
Q Perfect dinner guest?
A Complete no brainer – my wife.
Q Favourite culinary season?
A Autumn – so much local produce becomes available at this time. We can also start putting comfort food dishes on the menu which I particularly like preparing – comfort food delights diners.
Q Salt or pepper?
Salt – can't beat it for adding to a dish, and bringing it alive – it's very clever how it works on the taste buds but it must be used correctly.
A Favourite herb?
Q Coriander – such a powerful herb, which can be used in so many dishes.
Q Favourite Spice?
A Mixed spice – I like to use it in chutneys and marmalades.
Q Most way to cook potato?
A Boiled, fried, confit, steamed, shallow fried…The list is endless.
Q Perfect go-to recipe?
A Chicken liver parfait.
Q Favourite healthy nibble?
A  Poached fish, green vegetables and salad.
Q Favourite picnic dish?
A A fresh open sandwich is delicious outdoors.
Q BBQ food?
A Not really my thing to eat, but if I was having to cook on a BBQ it would be fish parcels in foil.
Q Are you critical when dining out?
A Not really unless it's exceptionally poor and I then know mayor things have gone wrong in the kitchen.
Q Do you tip when eating out?
A Yes, all the time!
Q Tip to ensure failsafe cooking?
A Season everything and always taste, taste, taste.
Q Favourite kitchen gadget?
A  My pastry knife.
Q Favourite music to cook to?
A I don't cook to music, but if I did it would be indie or heavy metal music – maybe just as well I don't!
Q Perfect menu?
A Lunch at a Michelin-starred restaurant.
Q Favourite country for food?
A Scotland of course, for its wide range of local produce, closely followed by India!
Q Favourite chef dead or alive?
A Marco Pierre White.
Q Worst cooking sin?
Q Cornflour or thickening agents added to sauces.
Poached chicken ballotine with herb mousse
Ingredients
Serves 4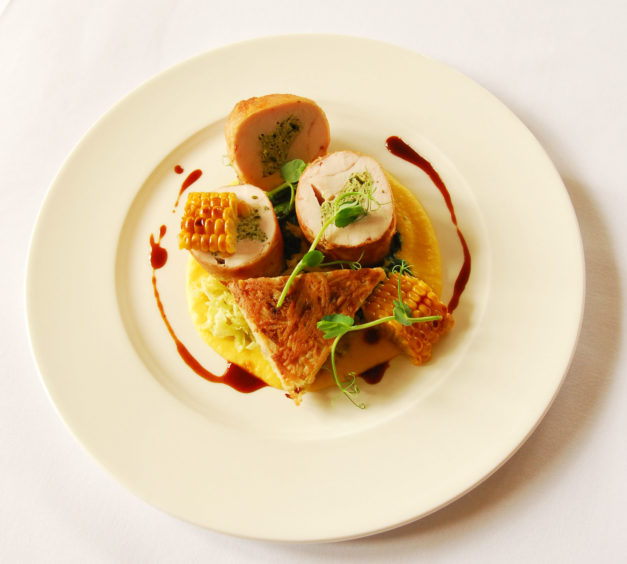 4 chicken breasts
4 egg yolks
400 ml double cream
4 sprigs parsley
8 slices parma ham – 2 per ballotine
For the rosti: 6 potatoes
4 rashers of unsmoked bacon, cooked and diced
4 red onions, diced
Salt and pepper
4 small corn on the cobs
Drizzle olive oil
For the sweetcorn veloute: 8 tablespoons of cooked sweetcorn
2 large white onions, chopped
Butter for frying
600ml good chicken stock
Directions
Remove any bone or skin from chicken breasts. Take off the fillets and put to one side, then butterfly the breasts with a sharp knife. Place a layer of clingfilm and baton the breasts out with a rolling pin until flat and then season lightly with salt and pepper.
Make a light mousse with any excess chicken and the fillet by placing in a food processor and blitzing with the egg yolks, cream and parsley. Season again lightly.
On a separate piece of cling film lay the parma ham slices vertically,  placing a piece of chicken flattened out on top of the ham, then evenly spread the mousse on top of the breasts. Gently roll each one up until it forms a large sausage. Then use the cling film to re roll and tighten, tying both ends of the cling film so you end up with a large chicken sausage.
This will take roughly 15-20 mins to cook in boiling water. You can then take out of the cling film, and fry each one in a large knob of butter, to crisp up before slicing and serving.
To make the rosti, grate the potatoes and squeeze out any water. Divide into four and mix with sliced cooked bacon and pan fried red onion plus salt and pepper – fry each one in melted butter in a small omelette pan until golden brown on both sides, then cook for a further five minutes in the oven to avoid the potato discolouring in the middle. Cool on a wire rack and gently reheat at time of serving.
For the charred sweetcorn simply boil the corn on the cobs and then chargrill in a chargrill pan with small drizzle olive oil.
For sweetcorn velouté, dice the two large white onions and sweat off in butter, then add the chicken stock. Gently simmer, then add the cooked sweetcorn, cook for a couple of minutes, then blitz with a hand held blender, and add some seasoning.
Arrange and garnish dishes to serve.