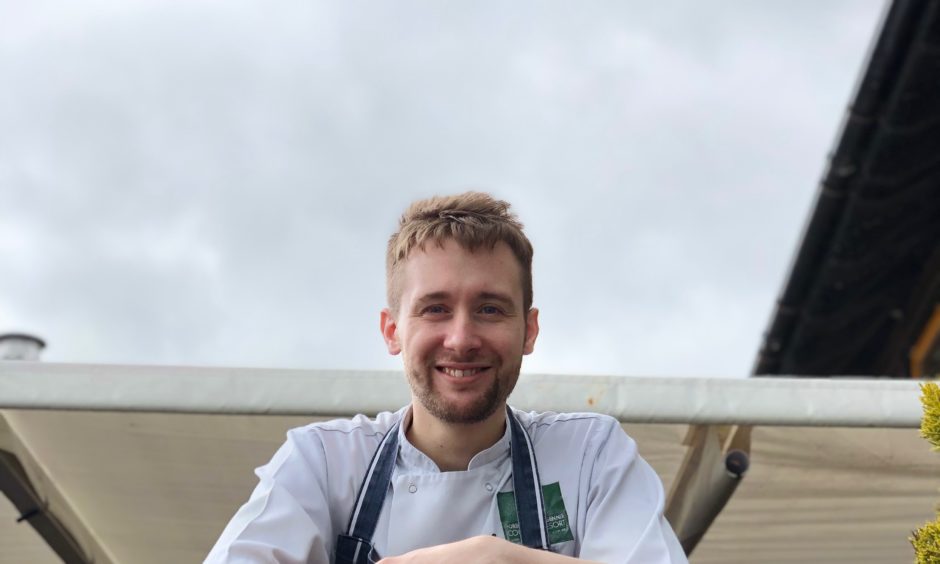 Scott Davidson, head chef at Forbes of Kingennie Country Resort, is a stickler for timing everything he cooks although, as Caroline Lindsay discovers, he has no time for parsley!​
Q Desert island food?
A Pizza as it's my favourite. Who doesn't like pizza?!
Q Favourite TV chef?
A Gordon Ramsay because he is a great chef and sets the bar for other chefs to follow.
Q Favourite cook book?
A The MasterChef Cook Book as it allows you to make difficult and easy dishes at home.
Q Favourite ingredient?
A Butter as it adds that last-minute flavour to meat and fish – a couple of cubes to baste before serving.
Q Most hated ingredient?
A Parsley as it is bland and over-rated.
Q Perfect dinner guest?
A Sir Alex Ferguson – the boss of football. Haha no explanation required.
Q Favourite kitchen gadget?
A A timer so that you can be aware of timings when you're cooking – you can't work without them when preparing several different dishes at the same time.
Q Favourite music to cook to?
A Dance music as it is upbeat and keeps you going as well as making the clean down at the end of the night quicker.
Q Perfect menu?
A Anything that is fresh, local and in season.
Q Favourite country for food?
A Scotland as food is fresh and local.
Q Favourite chef, alive or dead?
A Alan Gibb as he taught me everything I know and was a great teacher.
Q Favourite culinary season?
A Spring as you get a large selection of fresh produce.
Q Salt or pepper?
A Salt because it complements the food and enhances dishes.
Q Favourite herb?
A Rosemary – it is exactly what your roasties need.
Q Favourite spice?
A Smoked paprika as it adds flavour and works well with most meat dishes.
Q Favourite way to cook the humble potato?
A Roasties with lots of rosemary and duck fat.
Q Favourite go-to recipe if you're in a hurry?
A Spaghetti carbonara with lots of garlic bread as it is quick and easy to make.
Q Favourite health food?
A Strawberries.
Q Ideal picnic dish?
A Caesar salad with extra anchovies.
Q Ideal BBQ food?
A Chicken wings with BBQ sauce.
Q Are you critical of the food when you're dining out?
A I like to observe when dining out to see what works and doesn't work.
Q Do you tip in restaurants?
A Yes.
Q Top tip for failsafe cooking?
A Plan your dish in advance and manage your timings.
Q Worst cooking sin in your opinion?
A Bought-in food. Fresh and homemade is so much better.
Roast cod with Arbroath smokie pommes dauphine
Ingredients
Serves 1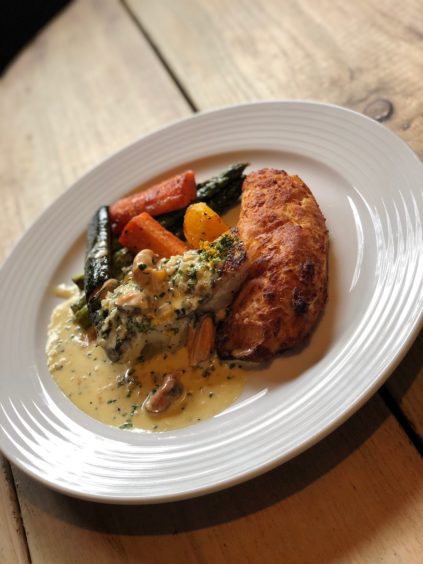 150g potatoes
25g butter
For the choux pastry: 25ml milk
25ml water
For the roux: 20g butter
30g plain flour
1 egg
Seasoning
1 Arbroath smokie
Selection of seasonal roasted vegetables
1 tbsp honey
For the cod: I cod fillet
For the mussel cream sauce: 1 shallot finely diced
1 clove of garlic finely diced and pasted
10ml white wine
30ml double cream
Finely chopped chives
5 pieces of mussel meat
For the gremolata: Finely chopped parsley
Zest of orange/lemon/lime
Directions
Firstly begin by cooking the potatoes in salted water until soft. Once cooked, drain off and mash. Melt the butter and add into the mash potatoes. To make the choux pastry gently warm the water and milk together. Melt the butter in a separate pan then add in the flour to form a roux. Cook out for around 5 minutes on a low heat. Add in the milk and water whisking all the time. Cook out for a further 5 minutes then remove from the heat. Beat in the egg until smooth. Set mixture aside too cool. Next pick down the Arbroath smokie meat insuring you remove as much of the bones as possible. To make the pomme dauphine, mix the mash potato, choux pastry and Arbroath smokie meat together. Add in seasoning. Flour your hands then beginning rolling into whatever shape you desire and place onto a tray with greaseproof paper. Repeat until the mixture is all gone and then place into the freezer.
Blanch your vegetables in salted water and refresh into ice cold water. Once drained heat a non-stick pan with a little oil and honey (ensure the honey does not burn) and gently roast off until you get a nice golden colour. Keep warm until ready to plate.
Season the cod then gently heat a non-stick pan. Sear the cod skin side first until skin is crispy and golden. Turn over and remove pan from the heat.
For the sauce, heat oil and a knob of butter in a small pan. Gently fry the shallots and garlic until soft. Add the white wine and reduce. Add the double cream and reduce to sauce consistency. Add in the mussel meat and chopped chives at the end. Gently simmer. Season.
Make the gremolata by mixing the chopped parsley, and the zest of the fruit.
Before plating, remove one of your dauphines from the freezer. Deep fry in a 180 degree fryer until golden. Then place in the oven and cook for around 10 minutes. When the dauphine is a few minutes away from being ready place the cod in the oven.
To serve place your smokie pomme dauphine and vegetables on the plate. Once the cod is removed from the oven, add in a nob of butter to the pan and baste for a few seconds. Remove from the pan and place onto a tray. Coat the cod in the gremolata and place on to the plate. Drizzle the mussel sauce over the cod and around the plate.
Bon appétit!
http://forbesofkingennie.co.uk