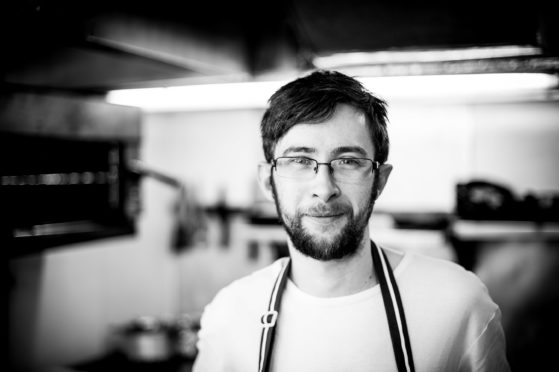 Andrew Moss, chef patron of the North Port in Perth, ​tells Caroline Lindsay why hogweed can have its place in the kitchen.
Q Desert island food?
A Cheese. Any type, I don't discriminate
Q Favourite TV chef?
A Hugh Fearnley-Whittingstall. He champions local and seasonal ingredients, keeps dishes simple and makes the most out of the raw product.
Q Favourite cook book?
A Either Relae, A Book Of Ideas by Christian Puglisi or La Grenouillère by Alexandre Gauthier. Both are full of absolutely beautiful food photography and show how simplicity and respecting the ingredients are key to making delicious plates of food.
Q Favourite ingredient?
A I love using cauliflower. It is very versatile and every part of it from the stalk to the leaves can be used in  some way.
Q Most hated ingredient?
A Cheap/fake truffle oil.
Q Perfect dinner guest?
A Someone who gets excited by food.
Q Favourite kitchen gadget?
A A Thermomix. It just makes life so much easier.
Q Favourite music to cook to?
A I am a big fan of electronic music. Jamie Lidell is a favourite of mine to listen to.
Q Perfect menu?
A Cheese, a knife and a box of oatcakes.
Q Favourite country for food?
A I love Spanish food for its simplicity and bold flavours.
Q Favourite chef, alive or dead?
A Rene Redzepi, the chef and owner of Noma in Copenhagen. No one can deny the massive influence he has had on cooking. He has encouraged chefs all around the world to use what is on your doorstep rather than importing produce from all around the world. It is something I have always been taught from day one as a chef and still follow to this day.
Q Favourite culinary season?
A Early autumn is my favourite time of year. You are spoilt for choice with produce. There is the tail end of the summer fruit and vegetables along with wild mushrooms, autumn fruit and the start of game season.
Q Salt or pepper?
A Definitely salt. Without it food would be bland and boring.
Q Favourite herb?
A Sweet cicely. It is a wild herb that grows abundantly by riversides. It has a sweet anise flavour and we use it in both savoury and sweet preparations.
Q Favourite spice?
A We have been using the seeds from hogweed a fair bit this year. We collected them off the plants and dried them out. A very unique flavour reminiscent of citrus and cardamom in a way.
Q Favourite way to cook the humble potato?
A Mash, with so much butter and cream it should be a dairy product rather than a vegetable.
Q Favourite go-to recipe if you're in a hurry?
A Macaroni cheese. It is simple and delicious.
Q Favourite health food?
A Sea buckthorn. It is a tree that grows on the coast. The berries are bright orange and have an almost tropical fruit flavour. It is full of of vitamins, antioxidants, amino and fatty acids and minerals. And most of all it is delicious.
Q Ideal picnic dish?
A You cannot have a picnic without a sandwich so it would definitely be that. Ham, cheese, lettuce, mayonnaise and a wee touch of mustard for me.
Q Ideal BBQ food?
A I find that barbecues can be a bit protein heavy, baby gem lettuce and corn on the cob are always great on a barbecue.
Q Are you critical of the food when you're dining out?
A Yes, but when you work in the restaurant industry you almost can't help.
Q Do you tip in restaurants?
A Yes, always.
Q Top tip for failsafe cooking?
A Add butter and salt.
Q Worst cooking sin in your opinion?
A Serving haggis, neeps and tatties with a sauce. It is perfect the way it is.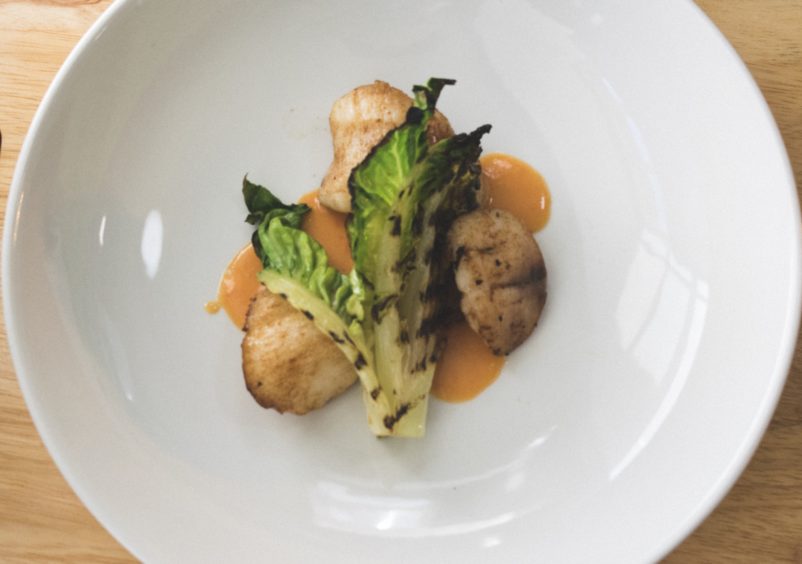 Monkfish cheeks with bacon jam
Ingredients
Serves 4 as a starter
For the bacon jam: 1 medium onion
130g smoked streaky bacon
Oil for frying
25g brown sugar
30g cider vinegar
For the monkfish: 4 vine tomatoes
Squeeze lemon juice
100g butter, cubed
Pinch salt
800g monkfish cheeks, cleaned of any sinew
1 baby gem lettuce
directions
For the bacon jam: Finely dice the onion and bacon. Cook in a pan with a bit of oil until soft.
Tip the contents into a sieve to get rid of the excess fat. Return to the pan and add the sugar and vinegar.
Cook until it has thickened up then set aside to cool.
Blitz the tomatoes until smooth. Pass through a fine sieve into a pan. Reduce the liquid by half. Set aside and allow to cool.
Warm the tomato puree in a saucepan with a squeeze of  lemon juice.
Once hot, take off the heat and whisk in the butter gradually until emulsified and season with salt. Put a frying pan on the heat with a bit of oil and a knob of butter.
Once hot, season the monkfish cheeks with salt and add to the pan. Cook for 2-3 minutes on each side depending on size then allow to rest for a few minutes.
Quarter the baby gem, rub with oil and season with salt. Char on a griddle pan for two minutes on each cut side.
Place some of the bacon jam on the plates, followed by the monkish and baby gem.
Drizzle the tomato butter sauce and serve.