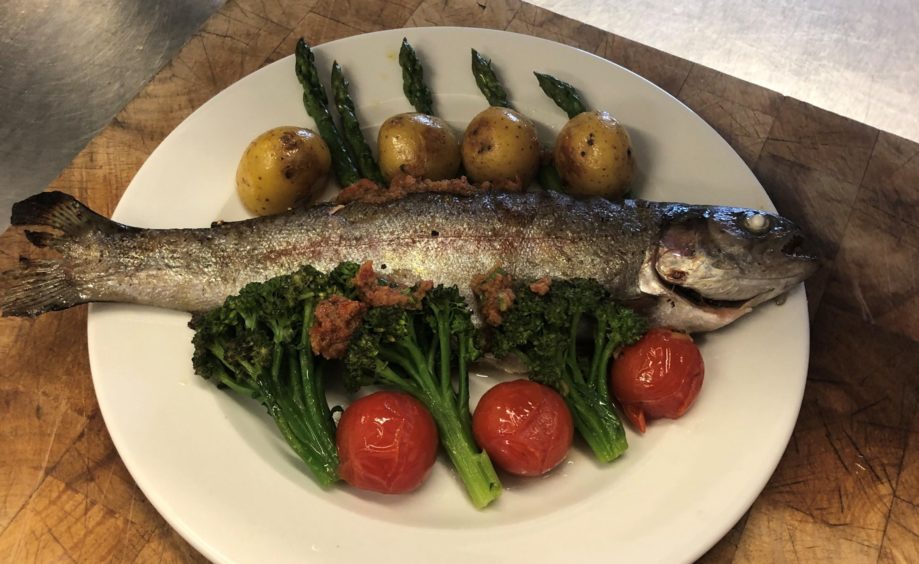 Ross Morrison, head chef at the brand new Silverwood Lodges and Bistro in Perthshire, tells Caroline Lindsay why he's looking forward to winter.
Q Desert island food?
A Plums – as well as being wonderfully sweet and refreshing in a variety of desserts, they are great as a flavourful accompaniment to a range of savoury dishes. A small plum and tarragon salad goes really well with a roast chicken.
Q Favourite TV chef?
A Rick Stein for his straightforward, no-nonsense approach to cooking. He produces some top class dishes without overly complex recipes.
Q Favourite cook book?
A Any of Rick Stein's seafood recipe books are always near at hand when I need some extra inspiration.
Q Favourite ingredient?
A Chicken as it's such a versatile protein that can be used for a wide range of meals to suit any occasion, and with very little wastage when prepared properly.
Q Most hated ingredient?
A Okra, although the leaves work well in salads I'm not a fan of the texture that is produced from the seed pods as they break down through the cooking process.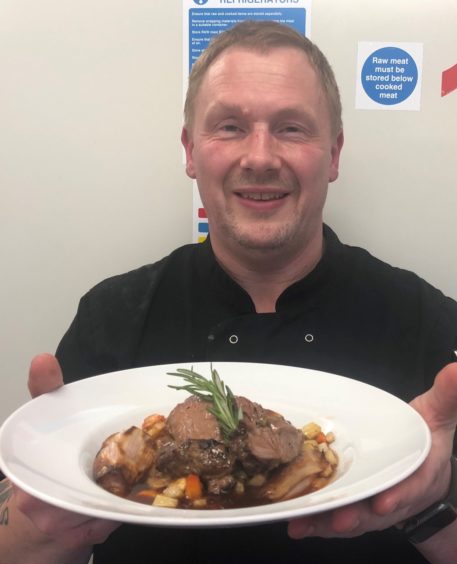 Q Perfect dinner guest?
A Rod Sim with this new venture at Silverwood. Rod has been closely involved in developing menus and is open to all the ideas I've thrown at him. It would be great to give him a break from all this work to bring the project to this stage,  and see him sit back and relax for a night with a good meal and a drink.
Q Favourite kitchen gadget?
A A Rational self-cooking centre combination oven. This machine seems daunting to use at first but once you get to grips with it there is no end to what can be produced. I've used these to produce everything from breads and pastries, to full roast dinners and even smoked my own fish and game with them. It's just a pity they are a little too big for my kitchen at home.
Q Favourite music to cook to?
A Nothing beats some classic rock tunes. Often at breakfast times you'll hear Bon Jovi or similar coming from the kitchen and you'll know I'm on shift.
Q Perfect menu?
A I can't say there's any one perfect menu. I'm constantly adapting and changing menus to take advantage of the freshest ingredients available, depending on season and location. I would hope to
see the same on the menu of any restaurant I visit.
Q Favourite chef, alive or dead and why?
A Antonio Carluccio. As Italian cooking is my favourite, could this be anyone other than the godfather of Italian cuisine? It was a great loss to the profession when he passed away.
Q Favourite culinary season?
A Although summer is nice for the fresh fruits and salad produce, my favourite in Scotland has to be the winter for the game season. We have such an abundance of game and based where we are in Perthshire we are surrounded by some of the best.
Q Salt or pepper?
A Although both are vital, if I had to pick only one then I'd go with salt to help enhance the flavour profile of a dish. Alternatives  for pepper can be found in some other spices and herbs.
Q Favourite herb?
A Rosemary pairs well with a lot of the fresh game we get around here and it has such a complex and strong flavour profile, it can really make a dish sing when used with care.
Q Favourite spice?
A Going a bit further afield for this one I would have to say my go-to spice is smoked paprika – that rich smoky flavour is a great addition to dishes from soups through to barbecued meats, without being too overpowering.
Q Favourite way to cook the humble potato?
A Over the warmer months we've had recently I've been using Lyonnaise potatoes a lot – new potatoes are sliced and sautéed off with some red onions,
bell peppers and a dash of salt and pepper. A lighter option for the warmer weather and goes well with grilled fish.
Q Favourite go-to recipe if you're in a hurry?
A Herb roast chicken. A quick and simple dish that can be produced in minutes but still packs a real punch in flavour especially when paired with the right sauces.
Q Favourite health food?
A Any fresh fruits that I can grab and eat on the go.
Q Ideal picnic dish?
A The humble Scotch egg combines the best bits of a sausage roll with that hidden golden treasure inside.
Q Ideal BBQ food?
A Steak. Ideally a medium rare rib eye.
Q Top tip for fail-safe cooking?
A Taste constantly as you go and keep adjusting the seasoning to suit – don't leave it all to the end.
Silverwood baked trout
Ingredients
Serves 4
For the pesto: 2 red bell peppers
1 garlic clove
50g pine nuts
30g basil leaves
Salt and pepper to season
Olive oil
For the baked trout: 1 rainbow trout
3 garlic cloves
25g basil leaves
4–6 cherry tomatoes
100g purple sprouting broccoli
100g asparagus spears
150g baby new potatoes
20g garlic butter
Directions
For the pesto dressing:
Preheat oven to 200C/180C (fan).
Deseed bell peppers and slice into large sections.
Place skin side down on baking sheet and drizzle with olive oil and a sprinkle of salt. Place in oven until peppers are soft to touch and skins start to blacken where touching the baking sheet.
Toast pine nuts gently in skillet/frying pan on medium heat.
Put garlic, basil, roasted peppers and pine nuts in a food processor and blitz together adding olive oil until a smooth consistency. Season to taste with salt and pepper.
For the baked trout:
Clean trout and remove innards.
Mince garlic gloves and basil leaves and mix together. Stuff cavity of trout with the mixture.
Baste with olive oil and season with salt and pepper. Wrap in tin foil and bake in oven at 200C/180C (fan) for
15 minutes until cooked through.
Trim ends of asparagus and broccoli and blanch in boiling salted water until tender.
Boil new potatoes in salted water for 5-8 minutes until fork tender. Drain and coat in garlic butter
Roast cherry tomatoes under a grill on high heat for
3-5 minutes until skins start to burst.
Carefully unwrap trout and plate with vegetables before drizzling with pesto.