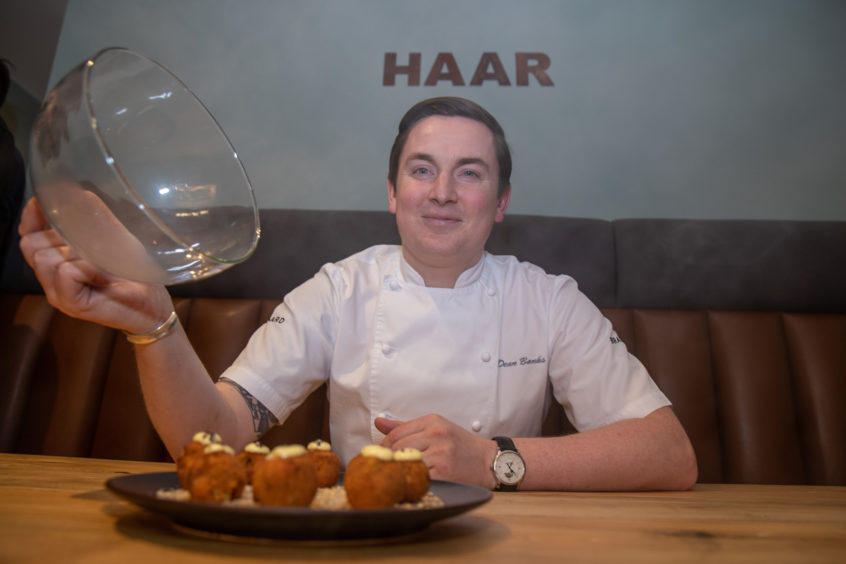 Dean Banks, chef patron of Haar in St Andrews, tells Caroline Lindsay about his foodie loves – and what makes him cry.
Q Desert island food?
A Duck gochujang. It's the best dish I've ever tasted.
Q Favourite TV chef?
A Gino D'Acampo. Great banter he combines humour and a passion for food.
Q Favourite cook book?
A Rick Stein's Seafood Odyssey.
Q Favourite ingredient?
A Chilli. It works with everything including desserts.
Q Most hated ingredient?
A Celery. It overpowers everything it touches.
Q Perfect dinner guest?
A My fiancée Isabella. She is the perfect dinner date.
Q Favourite kitchen gadget?
A Konro Grill. Indoor Japanese BBQ makes everything taste better.
Q Favourite music to cook to?
A Feel-good dinner playlist with the sound of summer birds playing over it – we play it at Haar.
Q Perfect menu?
A A surprise menu, something we will be doing at the restaurant very soon.
Q Favourite country for food?
A Spain. Massive flavour and simple cooking methods.
Q Favourite chef, alive or dead?
A Rick Stein because he's my hero.
Q Favourite culinary season?
A Summer. Fish is at its best and a lot cheaper.
Q Salt or pepper?
A Salt is a season! Pepper is a spice.
Q Favourite herb?
A Coriander. It works with every cuisine in the world
Q Favourite spice?
A Sichuan pepper. It's floral and spicy and I will be using it in my new gin Lunun.
Q Favourite way to cook the humble potato?
A Chipped, because who doesn't love a chip?
Q Favourite go-to recipe if you're in a hurry?
A Simple stir-fry. Ginger, chilli and any protein will do.
Q Favourite health food?
A Black garlic. It has mega flavour and doesn't taste like garlic.
Q Ideal picnic dish?
A Pork pie. Meat+pastry+jelly= heaven.
Q Ideal BBQ food?
A Duck. With a BBQ smokiness, it's the best.
Q Are you critical of the food when you're dining out?
A Sometimes, if I'm in a restaurant that claims to be great.
Q Do you tip in restaurants?
A Always 15-20%.
Q Top tip for failsafe cooking?
A Keep it simple. Don't over complicate food!
Q Worst cooking sin in your opinion?
A Carton hollandaise makes me cry.
Beef and black garlic
Ingredients
Serves 2
For the beef: 400g flank steak
1tsp black pepper
1tsp fennel seeds
Maldon salt 1tsp
For the black garlic puree: 100g black garlic
50ml water
Pinch salt
For the coriander: coriander powder
50g fresh coriander
For the coriander oil: 50g coriander
200ml sunflower oil
Pinch salt
Directions
Portion the beef into 100g portions, dry roast the black pepper and fennel seeds then blend in a small spice blender until coarse. Add the salt to the spices to create your seasoning for the beef.
Place the black garlic, water and pinch of salt into your spice blender and blend until a smooth paste. Set aside.
Warm the sunflower oil until 55C then roughly chop the coriander and place inside a jug along with the warm oil. Blend with a stick blender for a minute or so until a bright green. Place a small piece of muslin or a kitchen cloth over a colander and sit inside a bowl. Pour oil into cloth and leave to drip through the cloth.
Place the coriander onto tray lined with parchment paper leave in an oven with the door open on the lowest setting over night to dry out. . (Top tip: if it's a sunny day leave outside in the sun to dry.)
Place into a spice blender and blend until a fine powder.
Preheat oven to 180c. Season the beef with your spice mix and place into a hot pan with a drizzle of oil. Sear on all sides then remove from the pan and place the beef into the oven for 7 mins. Once cooked leave to rest for 5mins.
Place a dollop of the black garlic onto the plate. Using a plate knife swipe the dollop of black garlic. Slice beef and place next to garlic. Dust beef with coriander powder and drizzle with coriander oil. Garnish with a few sprigs of coriander.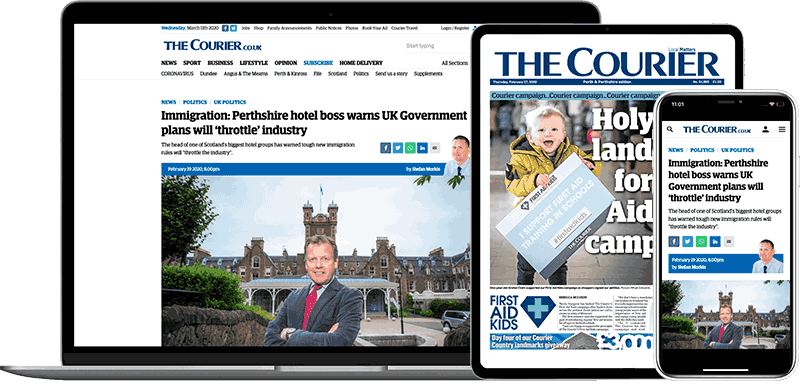 Help support quality local journalism … become a digital subscriber to The Courier
For as little as £5.99 a month you can access all of our content, including Premium articles.
Subscribe