 Simon Buckby, chef at Boat Brae in Newport-on-Tay, tells Caroline Lindsay why you might find him humming an Andy Williams song as winter approaches…
Q Desert island food?
A Potatoes as they're so versatile. They're such a boring vegetable on their own, yet they can be transformed into so many different styles of cooking.
Q Favourite TV chef?
A Delia Smith. My granny always swore by a Delia recipe, and Granny's cooking was always good. She brings back nostalgia.
Q Favourite cookbook?
A I don't have one – too many people have too many good ideas. Some of the best recipes can be found in a local charity shop bookshelf.
Q Favourite ingredient?
A Onions, so many different types for different dishes.
Q most hated ingredient
A Truffle, it's like posh people's Marmite: unique and overpowering.
Q Perfect dinner guest?
A Gino D'Acampo, but he would have to bring Fred Sirieix and Gordon Ramsay for the banter.
Q Favourite kitchen gadget.
A A robot coupe. It can save time for big prep jobs, like grating cheese, shredded cabbage, or blending parfait.
Q Favourite music to cook to?
A If I was to choose a song it would be Andy Williams' It's Beginning to Look a Lot Like Christmas, although I like anything that has a happy feeling to it, a lot of the time when working in an open kitchen you just have to make your own music with sizzling meat, boiling water and chopping of foods to bring in the percussion.
Q Perfect menu?
A It doesn't exist, there is no one or thing that is perfect. However, that doesn't mean you can't strive for it.
Q Favourite country for food
A Thailand – the street food is tasty. So many different spices and flavours.
Q Favourite chef.
A Peter Darnet, he opened my eyes to the amount of knowledge that can be obtained in cooking, how to treat food from the source all the way to the plate. Showed me how to forage and be respectful to the environment.
Q Favourite culinary season?
A Winter, it's such a busy time of year with Christmas parties, it can get pretty stressful, it's the best time of year as it has Hogmanay. It's the one time of year where people make the most effort to get together and enjoy good company and good food.
Q Salt or pepper?
A Pepper. Personally I think we consume too much salt – lots of foods are salty without having to add more.
Q Favourite herb?
A It would have to be mint because it brings such a freshness to a nice salad, and tastes amazing in tartare sauce.
Q Favourite way to cook the humble potato
A Roasted with a nice fluffy centre and crispy edges.
Q Favourite go-to recipe if in a hurry?
A Mushrooms on toast.
Q Favourite health food?
A Tartex Vegan Pate from the health food store – it tastes amazing and surprises me every time.
Q Favourite picnic dish?
A A good old-fashioned crusty pork pie.
Q Ideal BBQ food
A Dry-cured ribs smothered in a homemade hickory smoked BBQ sauce.
Q are you critical of the food whilst dining out
A I find it difficult to eat in some places as everyone in hospitality shares the same experiences. It's hard to switch off and enjoy food when you see people having a bad shift or if an error is made with an order. I can relate to the stresses in the trade.
Q Do you tip in restaurants
A Yes, probably a little too much. It's not an easy job – it can look or sound like it's simple but there is so much more behind the scenes that goes on.
Q Worst cooking sin in your opinion?
A Cooking fish in a cold pan has to be up there. But the biggest sin in my opinion is cooking steak past medium.
Sourdough with mushrooms and prosciutto
Ingredients
Serves 4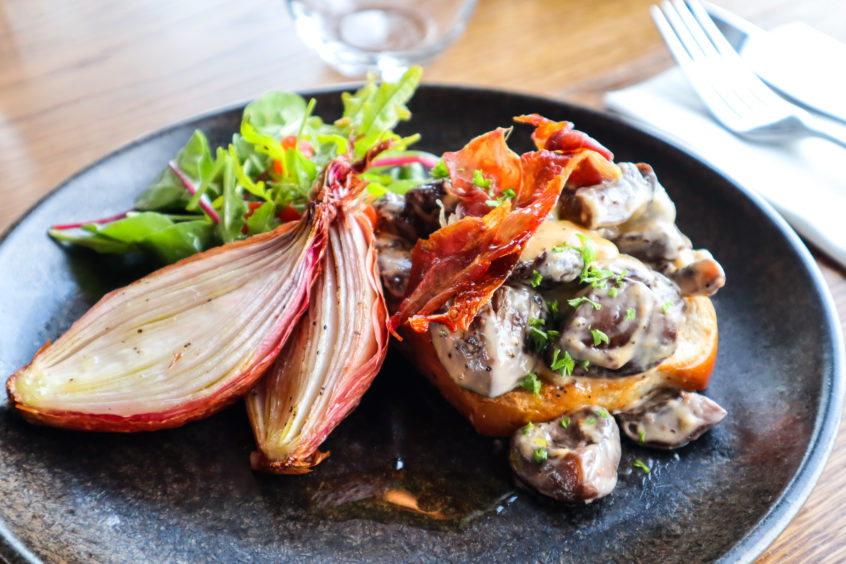 4 large slices sourdough bread
1 tbsp olive oil
4 slices prosciutto
Knob of butter
350g mixed mushrooms
1 garlic clove, crushed
4 tbsp crème fraîche
Handful finely chopped parsley
Directions
This is a quick and tasty dish for anyone in a hurry, and also a great starter for a dinner party.
Toast the sourdough bread, cut each slice in half, then set aside. Heat a large frying pan with the olive oil. Fry the prosciutto in the pan for about two minutes on each side until golden and crisp.
Break into large pieces and set aside on some kitchen paper.
Add the butter to the pan followed by the mushrooms. Cook for two minutes, then add the garlic and crème fraîche.
Cook for three to five minutes more until the mushrooms are soft and lightly coated in the crème fraîche.
Stir through a little parsley.
Pile up on the toasts and top with the prosciutto and more parsley.
boatbrae.com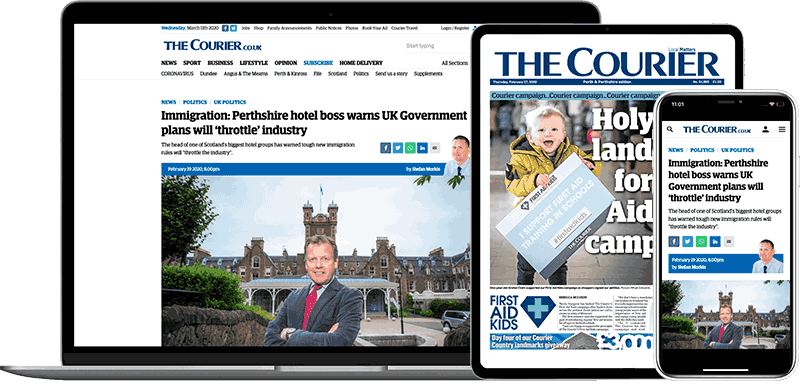 Help support quality local journalism … become a digital subscriber to The Courier
For as little as £5.99 a month you can access all of our content, including Premium articles.
Subscribe