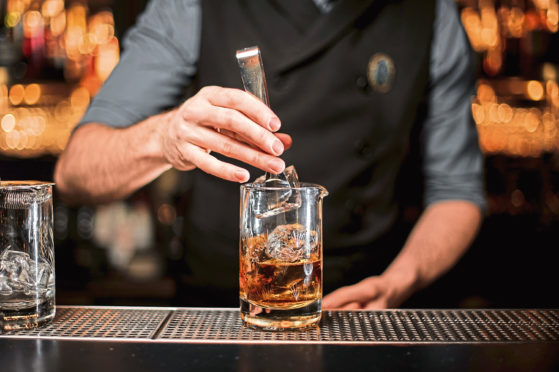 Spirits tend to fall into several well-defined categories – whisky, rum, gin, vodka, brandy, tequila and others, plus innumerable liqueurs flavoured with fruit, herbs or spices. However, occasionally a spirit pops up that has a "foot in two camps", says Brian Townsend.
Such an example has just come my way. It is called Fifty/50/Gin – an intriguing hybrid between gin and whisky.
It is a half-half mix of gin matured for 20 years in virgin oak and ex-bourbon barrels, and newly-distilled gin. It comes in a barrel-shaped bottle holding 50 centilitres and it is 50% alcohol by volume. Its price is a little over the £50 mark.
It is the brainchild of an independent, family-run, Renfrew-based blending and bottling firm, Cumbrae Supply Co Ltd, run by Jane Macduff and her son Ian.
So how did Fifty/50 come about? Well, 20 years ago they decided to mature a batch of newly-distilled gin in whisky casks to see what the result would be. Back then, of course, the current eruption of new gin labels was but a dot on the horizon.
The casked gin slumbered in their warehouse for two decades, possibly while the family pondered what to do with it. Finally, after 20 years, they adopted the idea of mixing it 50-50 with new gin and bottling it at 50% abv in specially-made half-litre bottles.
So what is it like? Drunk neat, it strikes one more as a whisky, but with fascinating fruity-spicy undertones that linger in the mouth and provide a long finish.
It is strong (its alcohol strength is 25% up on standard whiskies) and struck me almost as a refined but non-sweet whisky liqueur.
I later sampled it with four different mixers (tonic, lemonade, ginger ale and apple juice).
All four were pleasant, but I felt it definitely mixed best with the apple juice.
However, I found Fifty/50 was at its best by itself with ice. It is subtle and smooth and can be enjoyed either as an aperitif or after-dinner.
I see some other gin distillers, such as Pickering's, are also doing whisky-casked gins, although more quickly matured and bottled at 37.5% or 40%.
Keen to try it? Fifty/50 can be ordered from Cumbrae Supply/House of Macduff on the internet or is available at selected retail outlets.