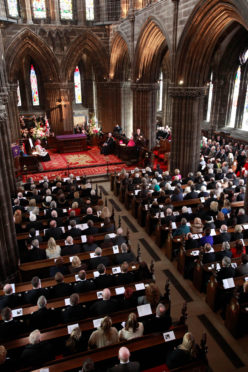 Today (March 28) marks the 60th anniversary of Britain's worst firefighter tragedy since the Second World War, when a Glasgow whisky bond exploded, killing 19 men, 14 of them firefighters, as well as five members of Glasgow Salvage Corps.
An early-evening fire broke out in the Arbuckle Smith and Co whisky bond in Cheapside Street, north of the Clyde, on March 28, 1960.  A foreman at the adjacent Eldorado Ice Cream factory noticed smoke and flames emerging from the second-floor windows, dialled 999 at 7.15pm and two fully-crewed fire engines arrived soon afterwards.
The warehouse contained 21,000 casks of whisky—holding more than a million gallons—plus an estimated 20,000 gallons of rum.
The fire officer in charge soon realised the severity of the blaze and ordered more fire engines and crews to assist. As some crews tackled the blaze from Cheapside Street, others tackled it from the parallel Warroch Street.
They had been at scene for about half-an-hour trying to contain the fire when at 7.50pm the bond exploded, blowing the building's thick walls into the street, crushing men and machines. The blast ruptured ever more casks and a vast sea of blue flames leapt 40-50 feet (12-15 metres) into the sky and could be seen for miles around.
By the end, some 40 fire engines and hundreds of firefighters were fighting the conflagration. It took three days to recover the bodies of the victims and a week before the fire was finally extinguished, after it also destroyed the ice cream factory, Harland and Wolff's engine shop and a tobacco warehouse.
The Cheapside Street fire remains Britain's worst firefighter tragedy, although later events such as Grenfell Tower have seen a greater loss of life.
The tragedy led to several notable developments, including better fire detection and prevention systems throughout the whisky industry and bonded warehouses shifting from dense urban areas to out-of-town industrial estates.
Cheapside and Warroch Streets, lying just downriver from the Kingston Bridge, are today completely changed, the damaged buildings long razed.
The victims are buried under a vast granite cross in Glasgow's Necropolis, where every year they are remembered in a special ceremony attended by firefighters and dignitaries. Among firefighters, the Cheapside Street disaster will never be allowed to be forgotten.