 I am often intrigued by little details of the whisky industry. One is why it doesn't take a leaf out of the brewing industry's book and remove all yeast from the wash before pumping it into the wash stills.
The brewers remove yeast residue from beer by filtering or centrifuging, or a combination of both. At Penderyn distillery in Wales, clean, no-yeast wash is pumped into the stills and their whisky tastes none the worse for it. That illustrates the point: Penderyn's wash was for years made at Brain's brewery in Cardiff and the yeast removed before it was tankered up to Penderyn for distilling.
I've often thought yeast-free wash would speed up wash-still distillation, leaving just a watery residue, not glutinous pot ale, and might well lengthen the stills' operational life. Also, the used yeast left in the washbacks could go to a central factory to make the whisky equivalent of Marmite. Maybe it could be called Scotchmite?
I asked someone in the industry and his response was, er, most unexpected. For generations, he said, most distilleries recycled their yeast. It was called barm, and would be re-used up to four times before it was finally pensioned off.
Essentially, yeast consumes sugar voraciously to help it grow and bud and, in the process, it creates alcohol and carbon dioxide (CO2), which keep the liquid in the washbacks frothing and churning until all the sugar is used up and the yeast sinks, exhausted, to the bottom as barm.
In the past, once the fermented wash was drained from the washback, fresh sweet worts would be poured on to the barm to perk it up and, once that happened, the washback was refilled and fermentation begun again.
Two factors have contributed to barm's demise — more reliable modern yeasts that are generally used just once. And speed. Today, just like airliners at airports, washbacks need emptying and refilling as quickly as possible. So the wash is pumped to the stills and the yeast hosed away into sediment tanks or down the drains.
So now I know — but I still think Scotchmite has sales potential.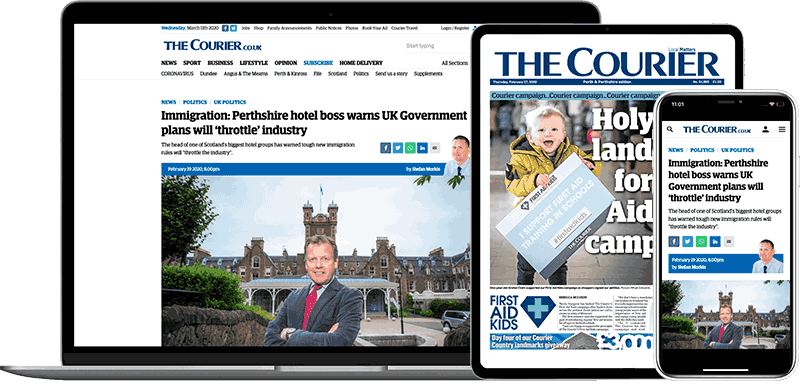 Help support quality local journalism … become a digital subscriber to The Courier
For as little as £5.99 a month you can access all of our content, including Premium articles.
Subscribe