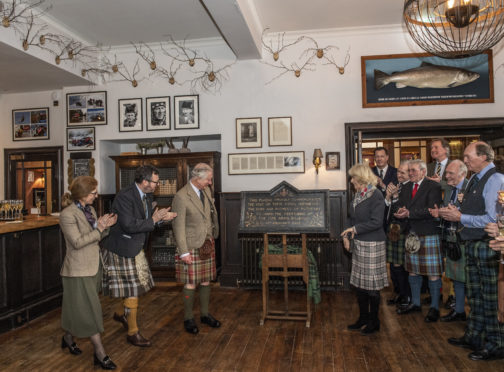 When historic hotels get a facelift, all too often the interior is remorselessly gutted and starkly modernised, with just the façade and possibly the cellar bar left unaltered.
Not so the famous Fife Arms at Braemar, which re-opened at Christmas after a three-year, multi-million makeover. The owners, Swiss art dealers Iwan and Manuela Wirth, have restored the hotel to its original Victorian splendour, with ornate cornices, walls clad in the house tartan, period furniture and deep red oriental carpets and rugs. Noted artists were invited to help create the décor and many paintings, including a Picasso, hang on the walls.
Best of all, at least for me, the hotel has two bars stocking 182 different whiskies, and the list grows by the week. Among the innumerable fine whiskies are five 40-year-old malts, including Dalmore, Glenfiddich and Bunnahabhain, which would delight the most demanding of connoisseurs.
The main bar is the Flying Stag pub, with a white-winged stag suspended above the bar and the gantry topped by a vast collection of antlers. Another stag on a plinth is the centrepiece of the large dining room overlook the fast-flowing Clunie on its final yards to the Dee. Beside the dining room is a 1930s-ambience cocktail bar, again with a splendid array of malts.
The 36 bedrooms have individual names and décor, all with local Braemar or Deeside connections. The 90-strong staff come from several nations, although some are local. Housing them all (their influx boosted Braemar's population by 20%) has been a challenge, with two new residences being built and two local boarding houses converted to staff accommodation.
The hotel aims to be one of the finest in Scotland, although with a difference. Rather than unalloyed luxury, it will emphasise the Highlands, local history and character – and its fascinating menu and wonderful line-up of whiskies reflect that long tradition of Highland hospitality.
The original upgrade plans included a whisky distillery at the rear of the hotel. That idea has been shelved for the moment, but I heard whispers that it might be built elsewhere in Braemar.
All in all, the Fife Arms is well worth a drive over the Cairnwell or Cairn O' Mount, whether for a weekend stay or just for lunch.