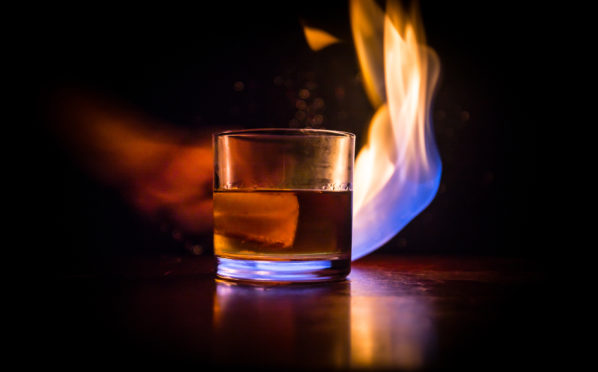 Distillery fires are a very rare occurrence these days but a century and more ago, they were painfully frequent.
Many distilleries were damaged or destroyed by fires, some of them more than once.
Bluntly, whisky making is hazardous and involves a lot of heat – to dry the malt, heat the mashing water and, above all, heat the stills.
Today, all that is done under strict safety conditions and indeed, in 99% of modern distilleries, there is just one heat source – the fully enclosed boiler, which heats the mashing water and supplies steam to the pipes and pans in the stills or, increasingly, to heat-exchangers beside them.
However, in bygone times, malt was dried on-site by coal or peat fires and stills boiled by coal fires or gas rings beneath them. Both were potential sources of fire.
Also, alcohol itself is highly flammable – indeed the worst fires were often in bonded warehouses. If a warehouse fire started, casks could rupture, sending rivers of flaming spirit flowing across the floors, down stairs and into the drains.
Indeed, Scotland's worst such fire was almost 60 years at a million-gallon warehouse at Cheapside Street, Anderston, Glasgow, on March 28, 1960. Following a 999 call, fire and salvage crews in several vehicles had arrived and were assessing the situation when a huge blast blew out the warehouse walls, killing 19 men and injuring many more.
Blue flames leapt 40 feet in the air, and eventually 450 firefighters were involved as the fire spread to an ice cream factory, tobacco warehouse and shipyard engine shop.
That fire prompted local authorities and the industry to move bonded warehouses out of city centres to remoter industrial estates and to install, or improve, firefighting systems.
Distillery fires in the Victorian era are too numerous to list and, unlikely as it seems, many started in the mash house.
Why? Well, today the grist and water are pre-mixed and poured directly into the mashtun as a wet gooey mass. Back then, grist was shovelled or scooped into the tun or tipped from wheelbarrows on a ramp. It created a white starchy mist that was highly explosive.
An unthinking worker lighting his pipe – or even scuffing the stone floor with his tacketty boots – could cause a blast and fire…