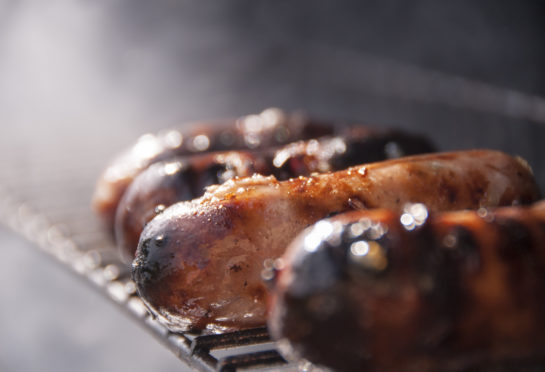 Sausages are marvellous – that's the message from Graeme Pallister, chef patron of 63 Tay Street in Perth
The humble sausage. Is there anything more marvellous than this genius culinary creation?  From cheap skinny links, all pinky-white middle and oozing with fat – incidentally, the best hangover cure of them all – to a meaty butcher's banger, I love them all.
For many years the sausage was held up as everything that is bad about the British diet. Fried in lard with all sorts of hideous imaginings stuffed into its synthetic skin, we were warned of the risk of arteries thick with fat. Whilst I can't suggest that a diet of sausages every day is good for you, I do know that a visit to the butchers for a good quality, meat-filled product is never going to be a bad thing.
The thing with a butcher's sausage is that everything goes in – and not in a bad way! If you want a flavoursome, meaty meal that is actually tasty then this is the way to go. There is only so much mince a butcher can sell and so along with the cheaper – read tastier! – cuts of meat you'll find trimmings from across the beast.
A couple of extra ingredients to hold them together and your butcher has conjured up one of the easiest, most convenient meals around. Stick a sausage casserole in a lunchbox for work and I guarantee you office food envy as soon as the microwave goes ping!
When I was growing up you thought you were Rockefeller if your mum made you toad in the hole – as a side note I made this for myself a couple of weeks ago and it was so good it prompted this entire column – and yet nowadays this modest staple comes in all sorts of varieties.
Butchers are offering seasonal flavours, with herbs, spices and other ingredients bringing new and imaginative choices to family meal times. Together with European influences – think chunky, hand chopped meats stuffed into dense sausages like chorizo and merguez – the sausage is now taking centre stage at the dinner table.
For me, sausages hit peak perfection in one of two ways. Take something like a venison sausage and serve with sweet potato mash and a good onion gravy. Comfort food of the new age. The other is my guilty pleasure: piping hot pork sausages, in a day-old breakfast roll with loads of brown sauce. Best served on a cold morning so you can see your breath and full appreciate the wonder of this most majestic of meals!