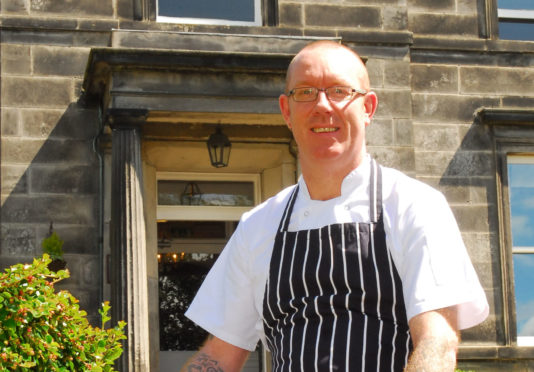 Stevie Ravenscroft, head chef at Garvock House in Dunfermline, creates a St Andrew's Day supper using local venison.
Treat yourself to the very finest quality venison you can afford for this special dish to celebrate St Andrews Day, which pairs venison with a carrot and orange puree, alongside celeriac dauphinoise and a thyme gravy.
This recipe uses saddle of venison to feed four. Depending on where you live you can perhaps buy your venison from a local deer farm.
Did you know there are around 30 Scottish deer farms that stretch from Orkney to the Scottish Borders, all farming red deer. The first commercial Deer Farm was started right here in Courier country, in Fife.
The UK still imports venison from New Zealand and Europe, but more recently Scotland has become one of the largest producers of this meat, with many deer farms operating a farm to fork policy – all very good news!
A very popular alternative to beef and lamb over recent years, venison is frequently found on restaurant menus, but is easy to master at home.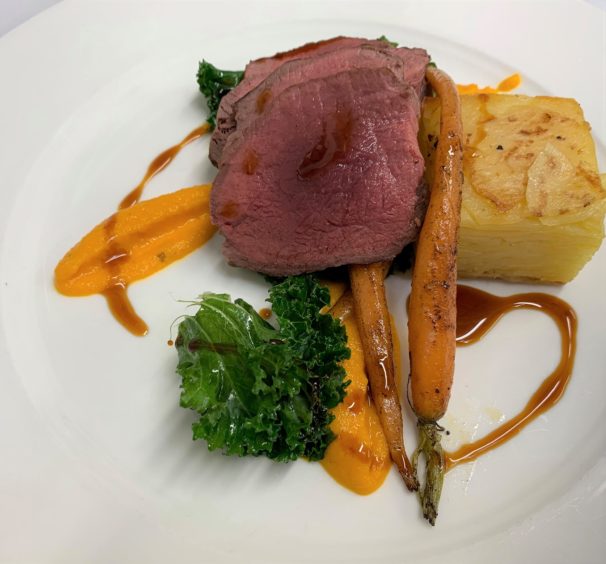 To prepare the dish, take the saddle of venison and remove the loin carefully, trimming off all the sinew and portioning the loin into 7oz pieces. Start on the dauphinoise by peeling and quartering one celeriac and 12 large potatoes on a mandolin.
In a pot, boil 600ml double cream, six cloves of garlic, and a sprig each of rosemary and thyme for a minute or two. In a bowl put the sliced potatoes, celeriac, and the boiled cream, seasoning well with salt and pepper. Press into a tray lined with greaseproof paper and press down with an appropriate tray whilst cooking. Once it's cooked, cover and press in the fridge with a good weight on it.
Peel six carrots and chop finely, cook with two parts of milk, approximately quarter of a pint, plus one part cream (150ml approx) until soft and then blitz with one tablespoon of honey.
Cook four baby carrots. Portion the now cold dauphinoise and heat it in the oven. Seal the venison and allow ten minutes to cook it, then rest. Use the juices from your pan to make the gravy, boiling it with two beef stock cubes and thickening slightly with one tablespoon of redcurrant jelly.
Once the dauphinoise is hot, glaze the carrots in a pan with a touch of honey, flash the venison under the grill and heat the carrot puree in the microwave. Slice the venison and allow to rest again for around 30 seconds so that there is no blood leaking onto the plate. Then assemble and serve the dish.
Chef's tip: juniper berries also make a delicious sauce for venison. Simply take six juniper berries, one clove, four allspice berries, and a cup of red wine. Heat, add 200ml each of chicken and beef stock, and reduce by half.
Add some lemon thyme sprigs, and a tablespoon of Dijon mustard to finish, passing through a strainer to serve. You can make the aroma stronger by crushing the fresh berries first before you use them, or add them whole. For a more subtle flavour, you can toast the berries, but be careful not to burn them or they'll taste bitter.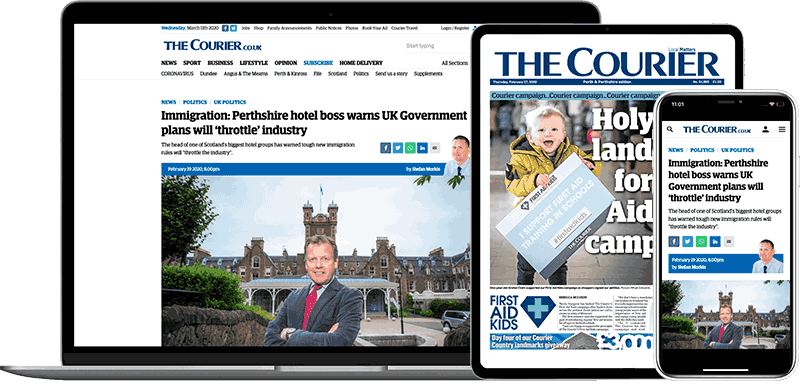 Help support quality local journalism … become a digital subscriber to The Courier
For as little as £5.99 a month you can access all of our content, including Premium articles.
Subscribe