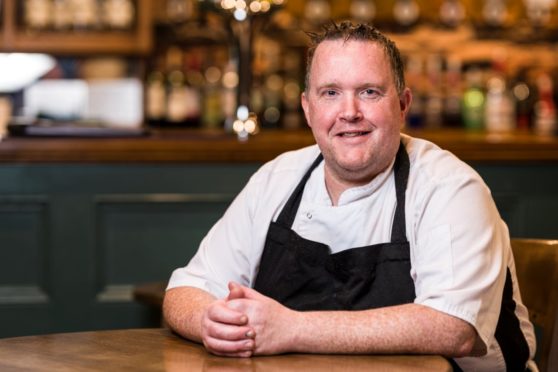 Iain Naysmith, head chef at the Dalmore Inn in Blairgowrie, shares his secrets for top class cooking
Q Desert island food?
A Some hand dived scallops to start, followed by a fillet of beef Wellington with a good red wine, followed by some apple tarte tatin with vanilla ice cream and  a glass of Tokaji Aszu ( a Hungarian sweet wine).
Q Favourite TV chef?
A Gary Rhodes, unfortunately no longer with us. He gave me my first job in London and taught me all about seasoning – taste, taste, taste! He also brought British food back to the fore.
Q Favourite cook book?
A White Heat by Marco Pierre White. It was the first proper restaurant cookbook I bought and is still with me. It still  inspires me to this day!
Q Favourite ingredient?
A Too many to mention! But venison, featured in my recipe, is a fabulous ingredient, as is Scotch beef!
Q Most hated ingredient?
A Halloumi cheese. Absolutely horrid and should never be classed as cheese in my opinion!
Q Perfect dinner guest?
A My wife and son, need I say more!
Q Favourite kitchen gadget?
A My Kitchen Aid – makes life a lot easier.
Q Favourite music to cook to?
A The Prodigy, especially when I was young – it got me going!
Q Perfect menu?
A A menu featuring local, seasonal produce and which has a good variety of dishes.
Q Favourite country for food?
A Scotland – we have some of the finest produce you can find, especially seafood, beef and game.
Q Favourite chef, alive or dead?
A Tom Kitchin – he focuses on using all the best local produce in Scotland and keeps it very simple – his philosophy is 'nature to plate'.
Q Favourite culinary season?
A Autumn- because the game season starts and there is much local, seasonal produce to work with and inspire me.
Q Salt or pepper?
A Salt brings out the flavour of the food, as pepper is a spice it can be intense sometimes.
Q Favourite herb?
A Thyme – used in my recipe here.
Q Favourite spice?
A Vanilla pods – so fragrant!
Q Favourite way to cook the humble potato?
A You can't beat a good mashed potato with plenty of butter and cream, plus a generous dash of seasoning!
Q Favourite go to recipe if you're in a hurry?
A Cheese and coleslaw roll.
Q Favourite naughty nibble?
A My wife, haha.
Q Favourite health food?
A I don't really have any, but if forced to choose it would be raw vegetables to nibble on.
Q Ideal picnic dish?
A I never really go on picnics, a busy man, but I would certainly take my cheese and coleslaw rolls, and maybe a game pie!
Q Ideal BBQ food?
A I'm not massively into BBQs as I tend to find the food overdone. But a juicy steak would do it for me.
Q Are you critical when dining out?
A Not particularly.
Q Do you tip in restaurants?
A Yes, unless it is really bad.
Q Top tip for failsafe cooking?
A Keep it simple and don't stress too much – it shows on the plate.
Q Worst cooking sin in your opinion?
A Overcooking and under seasoning.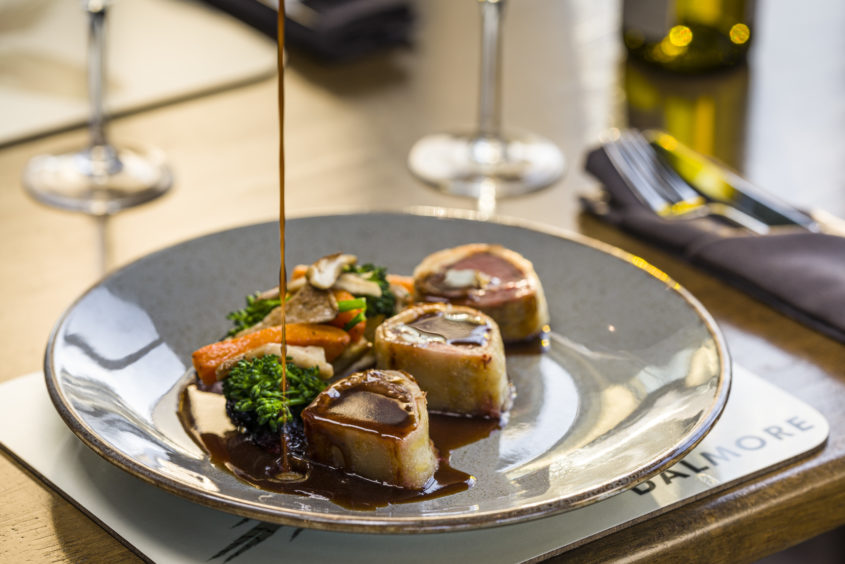 Venison Wellington
Ingredients
Serves 6
700g trimmed loin of venison
1tbsp rapeseed oil
1 & a half tbsp Arran mustard
50g butter
1 large shallot, finely chopped
1 garlic clove, crushed
500g wild mushrooms, very finely chopped in food processor
1 tbsp finely chopped thyme leaves
1tsbsp finely chopped tarragon
12 slices prosciutto ham
Plain flour, for dusting
375g pack of all buyer puff pastry
2 egg yolks, beaten
Directions
Make the mushroom mixture using the shallot, mushrooms and thyme by sweating off in pan in butter and cooking until the moisture has evaporated, then add tarragon to the mix and leave to cool.
Seal the venison in a hot pan all over and season with salt and pepper, leave to cool.
Overlap 2-3 sheets of cling film and lay the ham in 2 rows. Spread the duxelle all over the ham creating a thin layer.
Place the venison in the centre and wrap the ham around the venison until you form a sausage shape. Tie tightly and leave in fridge to set for about 30 minutes.
Next roll out the puff pastry to a rectangle
Unwrap the venison parcel and lay in the middle of the pastry
Fold over the bottom hall of the parcel, lightly brush the rest of the sheet with the beaten egg.
Roll the whole thing around the meat to encase. Neatly fold under the shorter edges to create a parcel.
Transfer to a baking sheet and brush with egg yolk, chill for 30 minutes.
Put Wellington on the tray and bake for 30 minutes, rest fort 20 minutes beefier carving.
To serve: Some roasted root vegetables, some sautéed potatoes and a red wine gravy.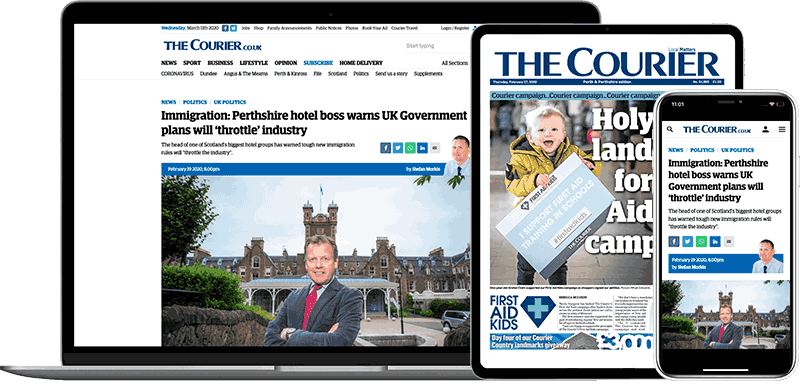 Help support quality local journalism … become a digital subscriber to The Courier
For as little as £5.99 a month you can access all of our content, including Premium articles.
Subscribe