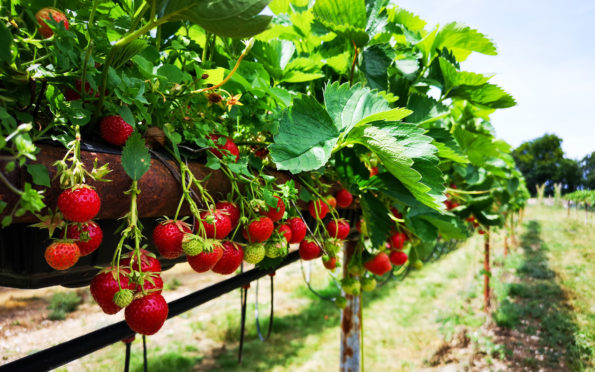 Garry Watson, chef proprietor of Gordon's in Inverkeilor, ​makes a fruity cheesecake using local strawberries and raspberries
Summer fruit is in abundance just now and we are spoilt here in Angus, surrounded as we are by some of the best fruit farms in the world.
I often cycle past the polytunnels on my way to beautiful Lunan Bay and see the beautiful strawberries being grown and picked. This then gets my chef brain going on a journey of what I could be preparing with them.
Ironically I thought of a dessert after my main reason for cycling was to burn off some pounds! I suppose it cancels it out – that's my excuse anyway.
My strawberry, raspberry and lemon cheesecake is even simpler to prepare than the usual biscuit base mousse like cheesecake. This is a New York-style one that's baked in the oven and soufflés up golden, then cooled down to set.
Preheat oven to 180C. Whisk together 500g mascarpone cheese with 150g caster sugar and whisk for about 2 minutes, then gradually whisk in 3 large eggs (one at a time until fully incorporated).
Next, sift in 2 heaped tablespoons of plain flour and mix well so no lumps. Finely grate the zest of one lemon and stir into the mixture.
Finally gently fold in 100g of the chopped strawberries (husk removed) and 100g of raspberries.
Pour mixture into a greased 22cm cake tin with removable a base and bake for 30-35 minutes until risen and golden on top. Remove from the oven and allow cool to room temperature.
You can eat it at this stage; however, I much prefer to cover with foil and refrigerate overnight.
Serve with more berries and perhaps a simple fruit coulis prepared by by heating 200g raspberries in a small pan with 1 tablespoon of icing sugar until the raspberries release their juices. Puree with a stick blender (don't be tempted to over-blend as this will break up the seeds and discolour the coulis), pass through fine sieve and reserve in fridge. You can also freeze coulis in batches so a good way to use up a glut of summer fruit.
Chef's tip: the best way to zest lemon is using a microplane grater its also great for many thing such as finely grated hard cheese like parmesan or  grate nutmeg, fresh garlic or ginger to name a few. This is one of my favourite kitchen gadgets, a must for any keen cook, well worth the investment.
---
Read more in this series…
Chef's Table: Tuck into a seasonal delight – globe artichokes made simple
Chef's Table: Delicious summer crumble connects us to the land