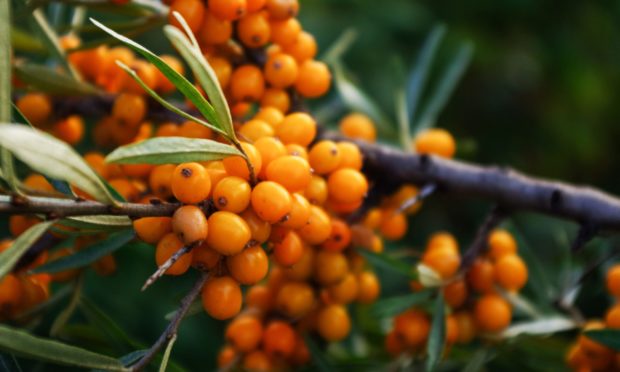 Garry Watson, chef proprietor of Gordon's Restaurant in Inverkeilor, looks at the culinary qualities of sea buckthorn​
Sea buckthorn, also known as sandthorn, seaberry and sallowthorn, is a spiny deciduous shrub that produces bright orange/yellow berries, commonly found along the east coastline, often in sand dunes.
Many people will be familiar with sea buckthorn berry and seed oils as ingredients in body lotions, skin care creams and lip balms but they may not know the sea buckthorn is a highly versatile culinary ingredient and very 'on trend' with chefs in top restaurants.
With a unique citrus/passion fruit flavour that's slightly tart due to the presence of a small amount of oxalic acid (also found in rhubarb, sorrel and spinach) the berries are packed with vitamins, minerals and antioxidants.
Sea buckthorn has more vitamin C than kiwi fruit and more vitamin E than a soya bean so it's no wonder it's gaining a reputation as the new superfood.
The juice from the berries can be taken on its own for maximum tang, or used in smoothies and other juice based drinks or cocktails. It goes especially well with seafood and game, in salad dressings and is amazing in desserts.
The best way to use sea buckthorn is to start by making a juice from the washed berries with an electric juicer or blending in a liquidiser and straining through a sieve and muslin cloth.
You can dilute with water and sweeten with honey and sugar and simply drink or add neat into recipes. However, you can now buy sea buckthorn juice readily from delis and health food shops.
For a super simple sea buckthorn cream posset dessert recipe boil 450ml of double cream with 110g caster sugar and cook for precisely 3 minutes, then add between 4-10 tablespoons of juice (adding juice to your own personal taste).
Then pass through a fine sieve into a jug. Allow to settle then skim any foam from the top  and decant into glasses or tea cups for serving, and chilling fridge – ideally overnight.
Serve with a few freshly-baked pieces of shortbread, and garnish a little crème fraîche and fresh mint sprig. For a little extra kick, add a tablespoon of sea buck thorn juice on the top of each posset.
Chef's tip: You can make large quantities and freeze juice in smaller amounts in freezer tubs and use whenever required.
Read more in this series:
Pudding tribute to Gary Rhodes, the chef who made cooking cool
Chef's Table: The Arbroath smokie is top local fare, says Garry Watson