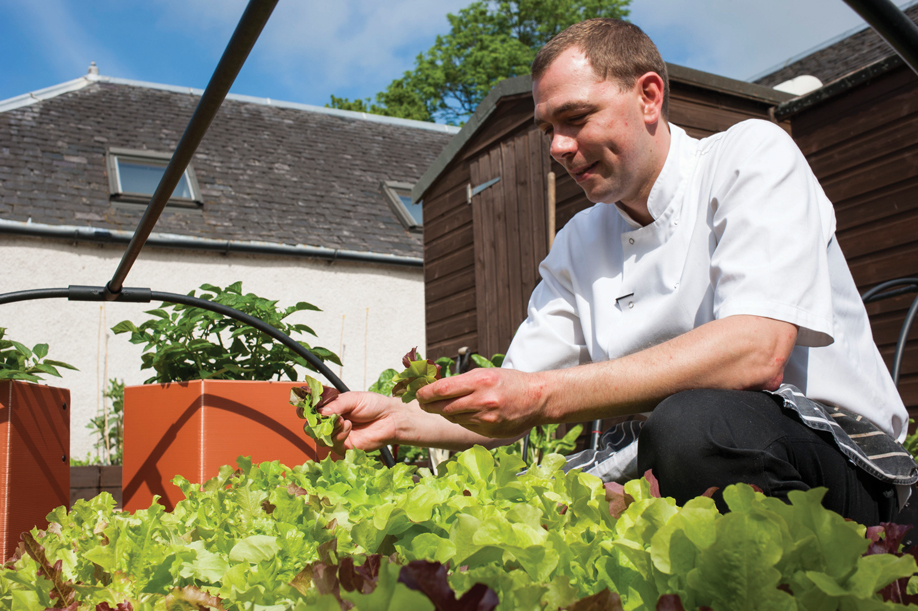 The recent warm weather has seen masses of gardeners planting for the season and at the restaurant we also have been getting busy in the garden, says Tim Dover, chef patron of The Roost restaurant in Bridge of Earn.
Every year I try to grow something different so this year I have chosen to add Romanesco broccoli (a brassica also known as Roman cauliflower) to one of my raised beds along with globe artichoke in another.
Both these veg will be perfect for the menus that I have planned for the restaurant this summer. The other change I have made to my kitchen garden this year is that I have moved the numerous perennial herb plants scattered around the garden to plant them all together in raised beds.
Culinary herbs are undoubtedly the champion of the kitchen garden and we continually gather various herbs throughout the season from the garden on a daily basis. Herbs are very easy to maintain and don't require the use of environmentally damaging chemicals to protect them from pests so they can be tended ethically without the worry of infestation.
I grow various varieties of herbs in the garden, from chives and rosemary to the more unusual hard to purchase herbs like lemon verbena and borage. Many, if not all my dishes in the restaurant contain a combination of our garden herbs which we use to add subtle aromas and flavours to our restaurant dishes which simply could not be achieved without them.
I also make various flavoured butters with herbs which we pair with some of our fish and meat dishes. This can easily be achieved in the home kitchen and really handy to have around to instantly add extra flavour to a dish. Simply soften some butter, add your selected herbs chopped finely along with some crushed garlic, a pinch of salt and some grated citrus zest if making to pair with fish. Then whip all the ingredients together and taste for seasoning. I usually roll my butters in a sausage shape using cling film but alternatively if you're going to freeze the butter an ice cube tray would work well.
Kept refrigerated, freshly made herb butter will last up to four days.
Chef's tip
Another great way to use herbs to flavour foods is as a rub. This is a mixture of chopped herbs rubbed onto the main ingredient just before cooking to enhance its flavour and give a wonderful aroma. It's a technique that can be used with an endless list of fish, meats and vegetables.
Once the meat or fish has been rubbed, roast it in the oven, loosely covered in tin foil to prevent the herbs drying out or burning. I often also add more fresh herbs right at the end of the cooking to really enhance the aroma.
Fresh herbs are also great for flavouring oils and vinegars – simply add your selected herb or herbs to a very clean, sterile bottle along with either olive oil or vinegar, a handful of peppercorns and a peeled clove of garlic. Leave this to infuse for a week or so or until you are happy with the strength and flavour.