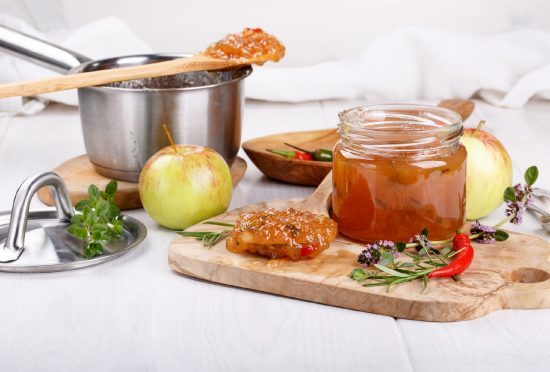 I always like chutney or pickle in a ham or cheese toasted sandwich, or with a ploughman's lunch, says Garry Watson, chef proprietor of Gordon's Restaurant in Inverkeilor.
Savoury chutneys, like jams, are also a great way of using up fruit glut and preserving for months ahead. There are many recipes, from a sweeter grape to a more savoury and sharper green tomato chutney.
Or try a piccalilli, a combination of both but also has a spicy finish. One thing's for sure, they're all delicious. My favourite is apple and grape chutney, a perfect way to use up spare apples from the garden. It's dark, spicy and delicious with cold meats, pork pies or sausages and goes splendidly with cheese, especially Isle of Mull Tobermory cheddar or grilled goat's cheese.
It's really versatile too: I use it in a luxurious starter in my restaurant along with smooth chicken liver parfait and freshly baked brioche. Peel, core and chop 10 green apples and simmer along with 2 finely chopped onions, 300ml of 5 year old balsamic vinegar and 300g of drinkable brandy in a large pot for 30 minutes. Stir in 2.25kg of picked and washed white grapes, 350g demerara sugar, pinch salt, 2 tsps mixed spice, 2 tsps ground cinnamon and 1 tsp ground ginger and continue to simmer for 1½-2 hours over a low heat until the mixture is thick and pulpy, stirring occasionally. Should the chutney still seem a little too liquid, boil on a high heat to allow the excess liquid to evaporate.
Let the chutney cool slightly then spoon into warm sterile jars. Seal then label and store in a cool, dark place until needed. This chutney improves with time and will be wonderful for Christmas feasting.
Chef's tip
As with making jams and marmalade, you will need a large thick-based pot or preserving pan for making chutneys. The best jars to use for this are Kilner jars with rubber seals. If you are using a screw-top lid, keep the chutney chilled and they will last longer. Do not use metal lids as they react with the acid in the vinegar.