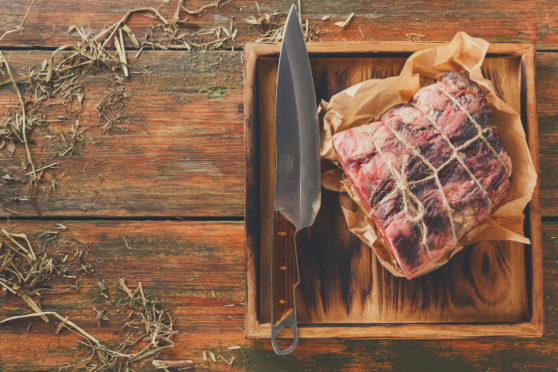 Martin Hollis of the Old Course recalls the Battle of Waterloo with a simplified version of a classic dish.
The origin of Beef Wellington comes from a man named Arthur Wellesley. Wellesley is famous for defeating Napoleon at the Battle of Waterloo and was dubbed the first Duke of Wellington. Beef Wellington was named in his honour.
Why not try my recipe for a beef Wellington? It makes 4-6 portions. For the pancakes you'll need 110g plain flour, pinch salt, 2 eggs, 300mls milk, 30g melted butter, 2g finely chopped chives. 650g fillet, 450g puff pastry rolled out to 3-4mm thick, 30mls cooking oil, salt & pepper.
For the stuffing: 400g mushroom Duxelles (or any mushrooms), 100g chicken liver parfait, 25g soft white breadcrumbs, salt and pepper. And lastly, for serving, 200mls red wine jus, plus a dot of cold butter, and a sprinkling of parsley and seasoning.
To make the pancakes, place flour and salt in a bowl, add eggs, milk and mix into a smooth batter. Stir in the melted butter and chives. Allow to rest for 20-30 mins. using a non-stick pan, heat and smear with oil, using a small ladle pour some batter into the hot pan, cook for 20 seconds then turn the pancake over and cook for a further 30 seconds, store on a plate, cover the plate with a damp cloth to prevent drying out.
For the beef, heat an ovenproof pan with the oil, sear the beef on all sides including ends, place in a pre-heated oven 200c to cook for 4-5 mins, remove the beef and allow to cool.
For the stuffing, mix the mushrooms with the parfait, mix well with the breadcrumbs and season.
To wrap the beef, remove the pastry from the fridge and layout on a table, place three of the pancakes in the centre of the pastry, spread a layer of the stuffing 2cm wider than the beef into the pancakes, top with sealed beef, then cover the beef with a good layer of the stuffing. Top with three more pancakes, make sure the beef and stuffing are well encased in the pancakes.
Brush the pastry with the egg wash and wrap the beef parcel tightly in the puff pastry. Cut away any excess pastry, make sure the pastry is well sealed and turn the parcel over and place on a non-stick sheet.
Mix 2 egg yolks, 15mls of single cream, with a pastry brush – glaze the puff pastry, place in the fridge to rest for half an hour, then repeat, make 2-3 holes in pastry which will allow steam to escape. Place in a pre-heated oven 200c for 25mins then remove the allow to rest for 5mins
Bring the sauce to the boil, add parsley and season, whisk in the cold butter and serve.