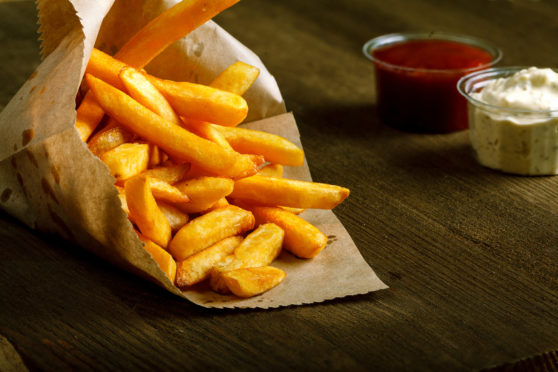 I've never been a big fan of chips when eating out. They always seem to be either too soggy, too undercooked or overcooked, too oily, too burnt or any combination of all the above.
But when I sampled triple cooked chips it turned my perspective on fried chips on its head. I realised fried chips, when cooked this way, can be non-oily, perfectly crisp on the outside, golden brown, fluffy in the centre and delicious bites of heaven.
My mission was to recreate the perfect triple cooked chip at home myself. First I had to source the correct potato. Maris Piper, Dutch Agria, Fontane and Maris Bard are all commonly used varieties but my favourite is Albert Bartlett Roosters that are grown locally here in Angus where the mild climate, coupled with our soil, makes the region of Angus some of the best potato production in Scotland.
Prepare by leaving the skin on 1kg of rooster potatoes and cut into even size chips 5cm to 7cm long and 2cm thick. Rinse well in cold water to remove starch and drain. Place in a pan with cold water, bring to a gentle simmer and cook until just tender.
Carefully drain, then dry on kitchen paper, place in a single layer on a wire cooling rack and place in the fridge for one hour. Heat three litres of neutral cooking oil for frying at 135C and fry in small batches until a light crust forms – this will take around five minutes. Drain, then place on kitchen paper and again place on a wire cooling rack then place in the fridge for one hour. At this stage, if you don't want to cook and serve immediately, the chips can be kept in the fridge for three days. Increase the oil temperature to 180C and fry chips until golden – around seven minutes. Drain and sprinkle with sea salt.
Chef's tip: You can add different flavourings to the chips. Here are two of my favourites: finish with some fresh Parmesan shavings and a drizzle of truffle oil. Or dry out some fresh rosemary (I use a dehydrator) but simply dry out on a wire rack in a warm place such as above your boiler or in the airing cupboard for a few weeks, then grind down in blender with sea salt and use to season the cooked chips. Delicious.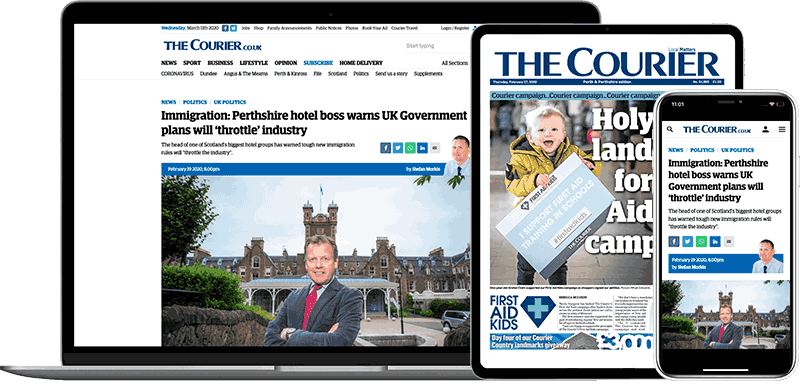 Help support quality local journalism … become a digital subscriber to The Courier
For as little as £5.99 a month you can access all of our content, including Premium articles.
Subscribe