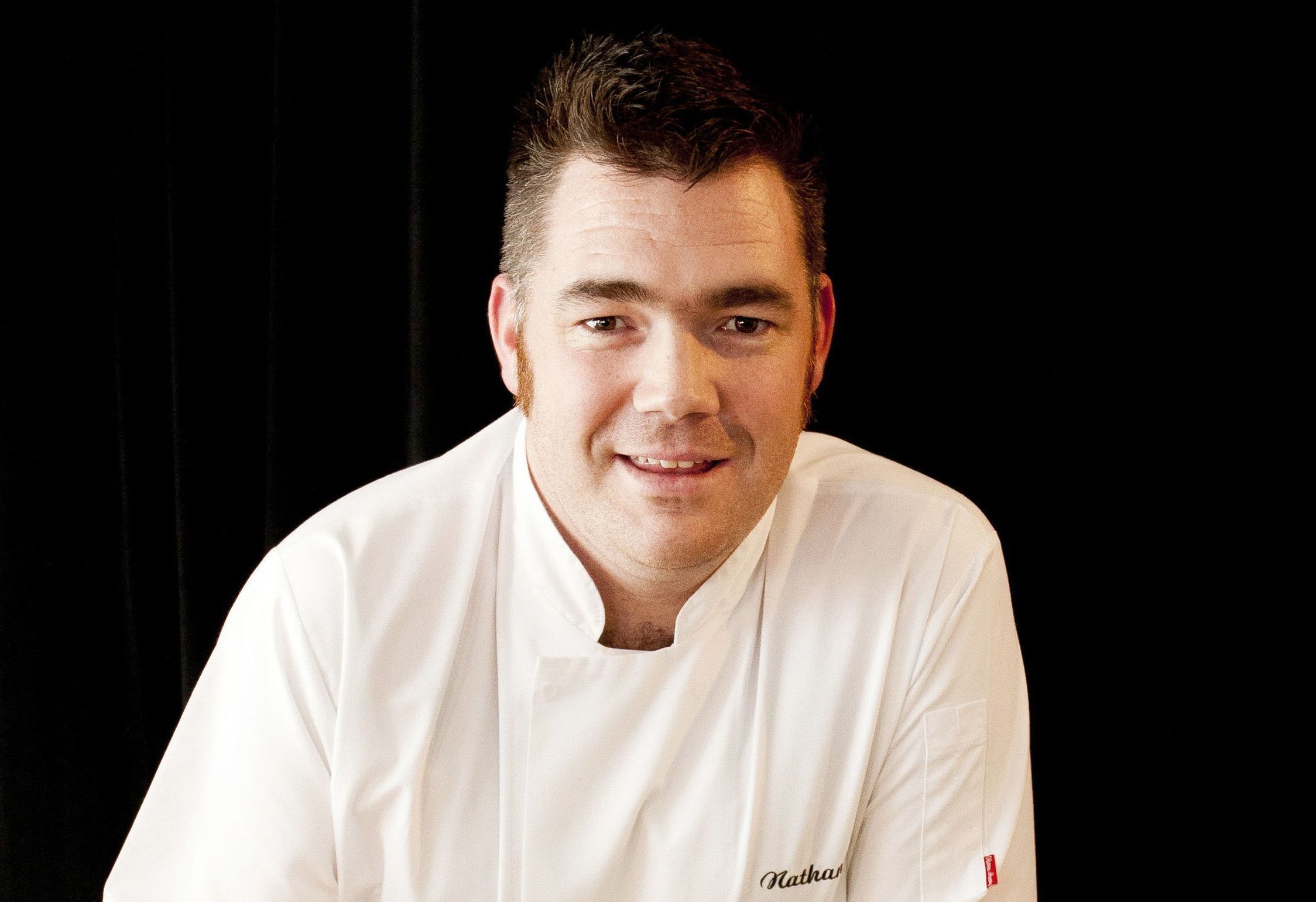 Want convenience food that's healthy and tasty? Nathan Outlaw tells Gemma Dunn why it's time to scale back on the ready meals and dip into fish
Nathan Outlaw's statement that "seafood is the best convenience food ever" may be bold – but the seasoned chef, for want of a better phrase, refuses to eat his words.
"Most seafood will cook within minutes – much faster than any ready meal – and that, for me, is what makes it such a great choice for everyday meal occasions," reasons the 38-year-old. "Just be brave; try something different!"
Documenting his ongoing mission to dispel the myth that fish is tricky to deal with is his latest book, Everyday Seafood, a collection of easy-to-prepare recipes especially for home cooks.
The aim, says Kent-born Nathan, is to "get people cooking simple, good, sustainable seafood".
"It's good for beginners, but there are also enough recipes in there for people that have followed my previous two books," he adds.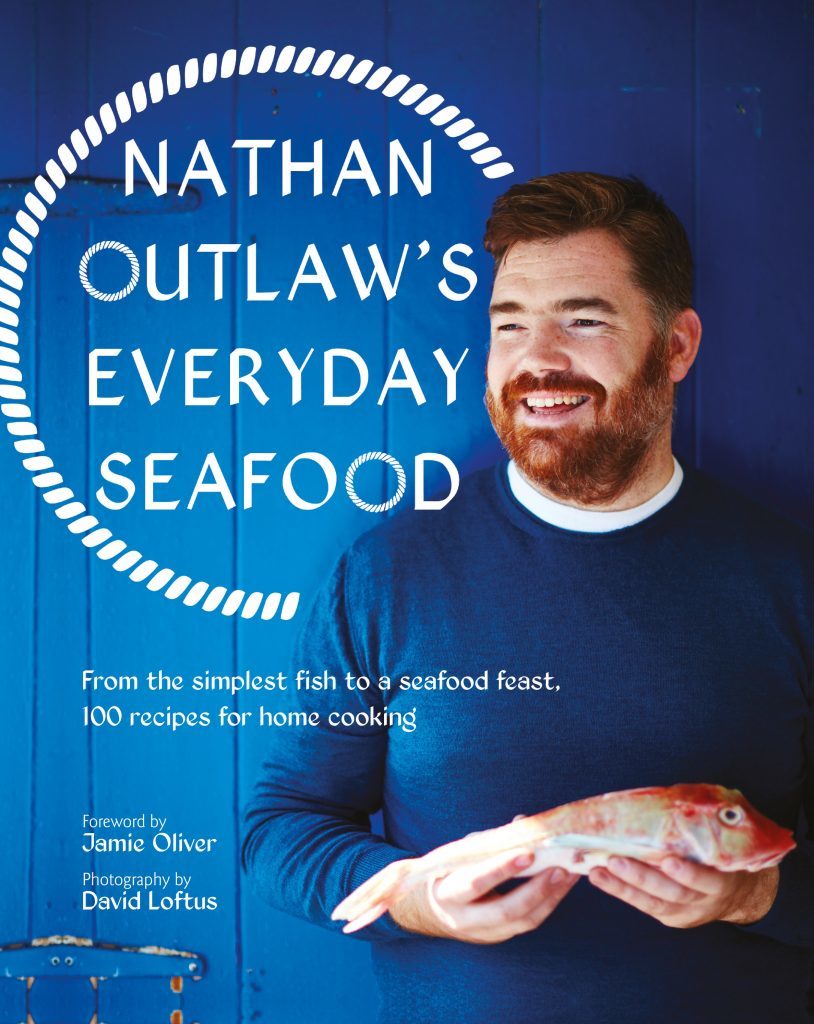 Simple and speedy may be the vibe for the recipes, but completing the book was a bit of a lengthy process – which Nathan admits was mostly down to his own perfectionism and busy schedule.
"I don't have the luxury of disappearing for a few weeks and just writing," he confesses, adding that he opted to cook and plate all the individual dishes himself, in order to ensure they taste exactly as they should.
"My publisher thinks I'm nuts because I don't use home economists and stuff, but I want to make sure it works," he says, chuckling. "And being the third book, I didn't want it to be like that third bad album."
On the contrary, Nathan's efforts have produced a refreshing focus on accessible ingredients, and vibrant dishes that require no special equipment and uncomplicated techniques.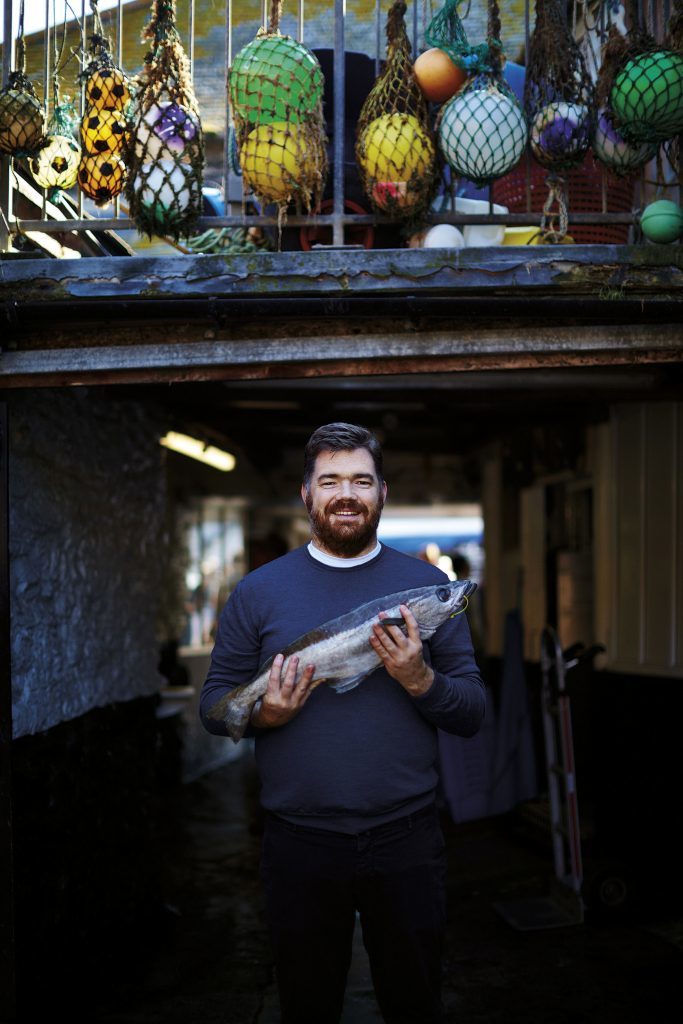 Catering for anything from light bites to leisurely lunches, summer barbecues and family-style entertaining, all bases are covered – and the book's peppered with Nathan's personal top tips, gleaned from years in the industry.
He credits his first stint at Rick Stein's The Seafood Restaurant in Padstow for his sea-to-plate love affair.
"Without really knowing, I just caught a bug for it, and then I didn't want to do anything else," he contends.
True to his word, Outlaw, who also enjoys living by the sea in Cornwall with his wife and two children, runs a successful empire, including Outlaw's Fish Kitchen in Port Isaac, The Mariners Public House in Rock, Outlaw's at The Capital in London, and his two Michelin-star flagship Restaurant Nathan Outlaw, also in Port Isaac.
It's the latter where he spends most of his days, "cooking and developing a lot of the recipes".
"The restaurant is paramount," he affirms, refuting the idea that some chefs simply put their name above the door. "I love cooking; I don't love it for the glamorous side of it."
And while Nathan's latest seafood venture in Dubai might just be that (he will be collaborating with the world-famous Burj Al Arab Jumeirah), he sees a much more modest future for himself.
"I don't plan much bigger than this, really," he confides. "I think, if anything, I'll work hard for another 10 years, and then I probably want to end up in Restaurant Nathan Outlaw.
"An old man behind the stove, cooking a bit of fish for people."
Why not cook up a bit of fish for yourself? Here are three of Nathan's recipes to try at home…
:: HOT SMOKED SALMON PATE, WHISKY JELLY
(Serves 6 as a starter)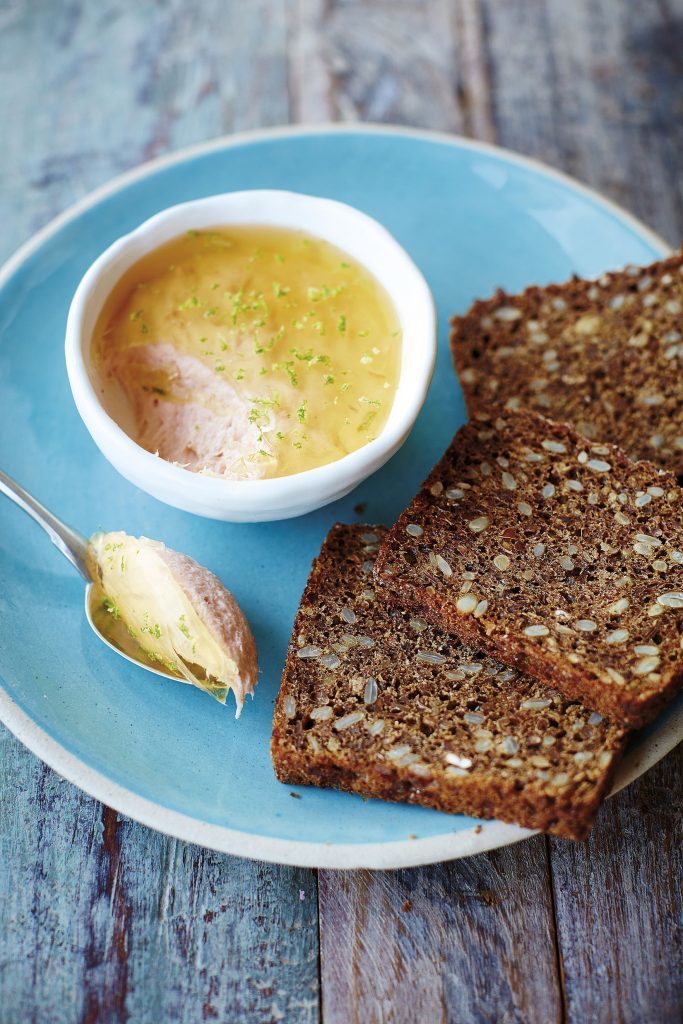 For the pate:
400g hot smoked salmon, skinned
Finely grated zest and juice of 1 lime
100g full-fat cream cheese
150g thick Greek yoghurt
1tbsp creamed horseradish
Sea salt and freshly ground black pepper
For the whisky jelly:
200ml Laphroaig whisky
40g caster sugar
2 sheets of bronze leaf gelatine
To serve:
Grated zest of 1 lime
12 slices of rye bread
Salted butter, softened, for spreading
To make the pate, put the hot smoked salmon into a food processor with the lime juice and blitz for 20 seconds. Scrape down the sides of the bowl and add the cream cheese, yoghurt, horseradish, lime zest and some salt and pepper. Blitz for one minute: you want the pate to be almost smooth, with a little texture from the salmon. Divide between six ramekins or other small dishes, cover and refrigerate.
To make the jelly, soak the gelatine in a shallow dish of ice-cold water for about five minutes to soften. Put the whisky and sugar into a pan and heat gently until the sugar has dissolved and the liquor is almost at a simmer then take off the heat. Remove the gelatine leaves from their dish, squeeze out the excess water, and then add to the whisky and stir until dissolved. Leave to cool completely, but don't let it set.
Pour the cooled, liquid jelly evenly on top of the pate and return to the fridge to set.
Take the pate out of the fridge around 20 minutes before serving, so that it comes to room temperature.
When ready to eat, toast the rye bread and spread with butter. Sprinkle the lime zest over the pate and serve immediately, with the buttered toast.
:: MONKFISH SATAY
(Serves 4)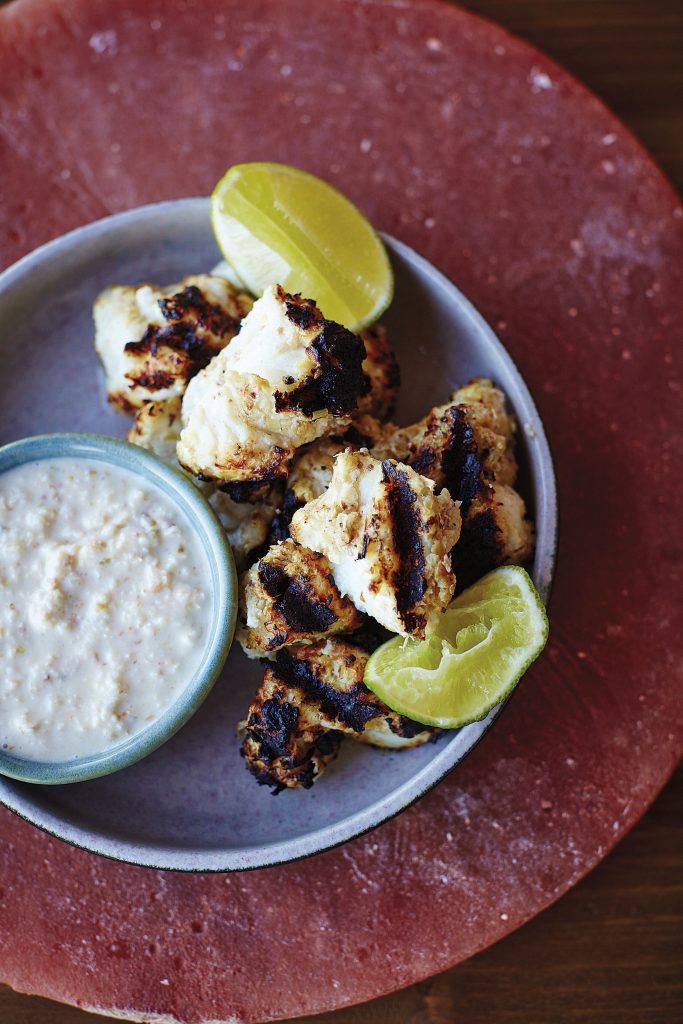 600g monkfish fillet, trimmed of sinew and skin, cut into chunks
2tbsp coriander seeds
2 garlic cloves, peeled and finely chopped
2tbsp finely grated fresh ginger
3 lemongrass stalks, coarse outer layers removed, finely chopped
2tbsp sunflower oil
2tsp soy sauce
2tsp fish sauce
Grated zest of 1 lime (use the juice for the sauce)
Sea salt and freshly ground black pepper
For the peanut sauce:
A drizzle of sunflower oil
6 shallots or 2 banana shallots, peeled and finely chopped
4 garlic cloves, peeled and finely chopped
2 red chillies, deseeded and finely chopped
2tbsp brown sugar
1tbsp fish sauce
200ml coconut milk
160g unsalted peanuts, roasted and finely chopped
Juice of 1 lime
To serve:
1 lime, cut into quarters
For the marinade, toast the coriander seeds in a dry pan over a medium heat for a minute or two, until fragrant. Using a pestle and mortar or spice grinder, grind the seeds to a powder. Add the garlic, ginger and lemongrass and grind again. Add the oil, soy sauce, fish sauce and lime zest and mix well.
Lay the monkfish chunks on a tray and coat all over with the marinade. Cover the tray with cling film and refrigerate for one hour. If you are barbecuing, light your barbecue 30 minutes before you intend to cook.
Meanwhile, make the peanut sauce. Heat a medium pan over a medium heat, then add the oil. When it is hot, add the shallots, garlic and chillies and sweat for three minutes. Stir in the sugar and cook for a further three minutes, then add the fish sauce and coconut milk. Bring to the boil and let it bubble for a couple of minutes. Stir in the peanuts and lime juice, then season with salt and pepper to taste. Keep warm (or allow to cool if preparing ahead and reheat to serve).
When the monkfish is ready, thread four to five chunks onto each of the four skewers. If using a char-griddle, heat up over a high heat. When the char-grill is smoking or the barbecue coals are white hot, carefully lay the monkfish on the griddle and cook for two minutes on each side.
Serve the monkfish on or off the skewers with lime wedges and the peanut sauce in a bowl on the side. Accompany with plain rice and a leafy side salad.
:: MESSY JESSIE COOKIES
(Makes 10)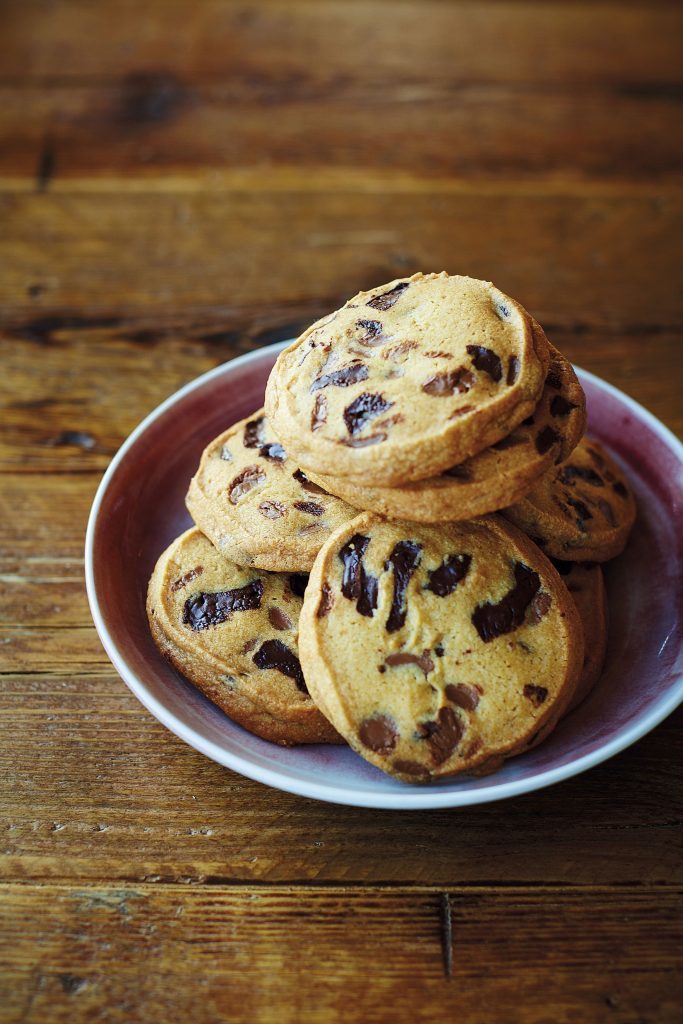 150g unsalted butter, at room temperature
80g soft light brown sugar
80g granulated sugar
A pinch of sea salt
1/2tsp vanilla extract
1 medium egg
250g plain flour
1/2tsp bicarbonate of soda
100g dark chocolate buttons
100g milk chocolate buttons
Using an electric mixer, beat the butter, sugars, salt and vanilla extract together until thoroughly combined. Add the egg and beat in well.
Sift the flour and bicarbonate of soda over the mixture and mix until evenly combined. Finally, fold in the dark and milk chocolate buttons.
Form the dough into a log, wrap in cling film and place in the fridge for three hours to firm up.
Preheat your oven to 170C/Gas 31/2. Line two baking trays with baking parchment. Divide the mixture into 10 equal pieces and shape into balls. Place on the baking trays, leaving enough room in between for spreading. Bake for 15-20 minutes until golden. Leave on the trays for a minute or two, then transfer to a wire rack and leave to cool – if you can resist eating them straight away.
:: Nathan Outlaw's Everyday Seafood by Nathan Outlaw, photography by David Loftus, is published by Quadrille, priced £20. Available now
THREE OF THE BEST… Cereal bars
:: Cinnamon, Plum & Apple Cereal Bars, £2 for a pack of three (Marks & Spencer)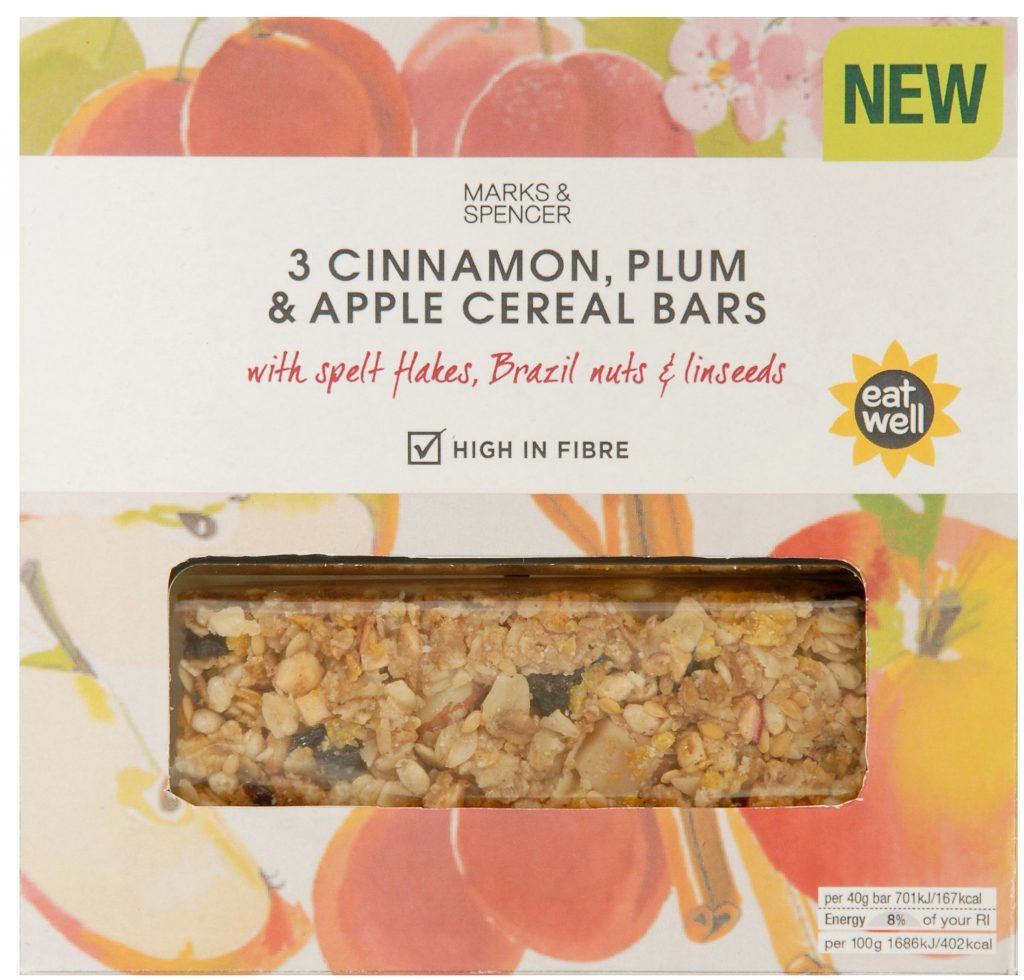 Part of M&S' Eat Well range, this bar is not only deliciously tasty but it's packed with 'good' ingredients too – including spelt flakes, Brazil nuts and linseeds for chewiness and crunch.
:: Crunchy Coconut Granola Bars, £1.40 for pack of four (Sainsbury's)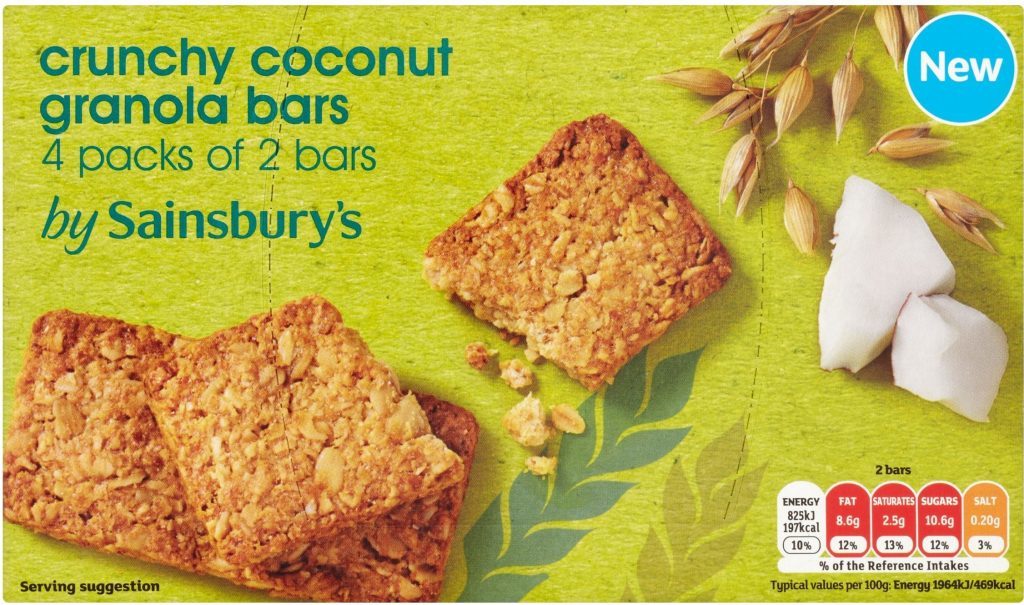 Crunchy and delicious, these desiccated coconut and honey bars provide the ideal snack for those who want to avoid chocolate but still enjoy some sweetness.
:: Eat Natural Bars with Benefits Chocolate Chunks, Peanuts and Seeds, £2 for a pack of three (Tesco)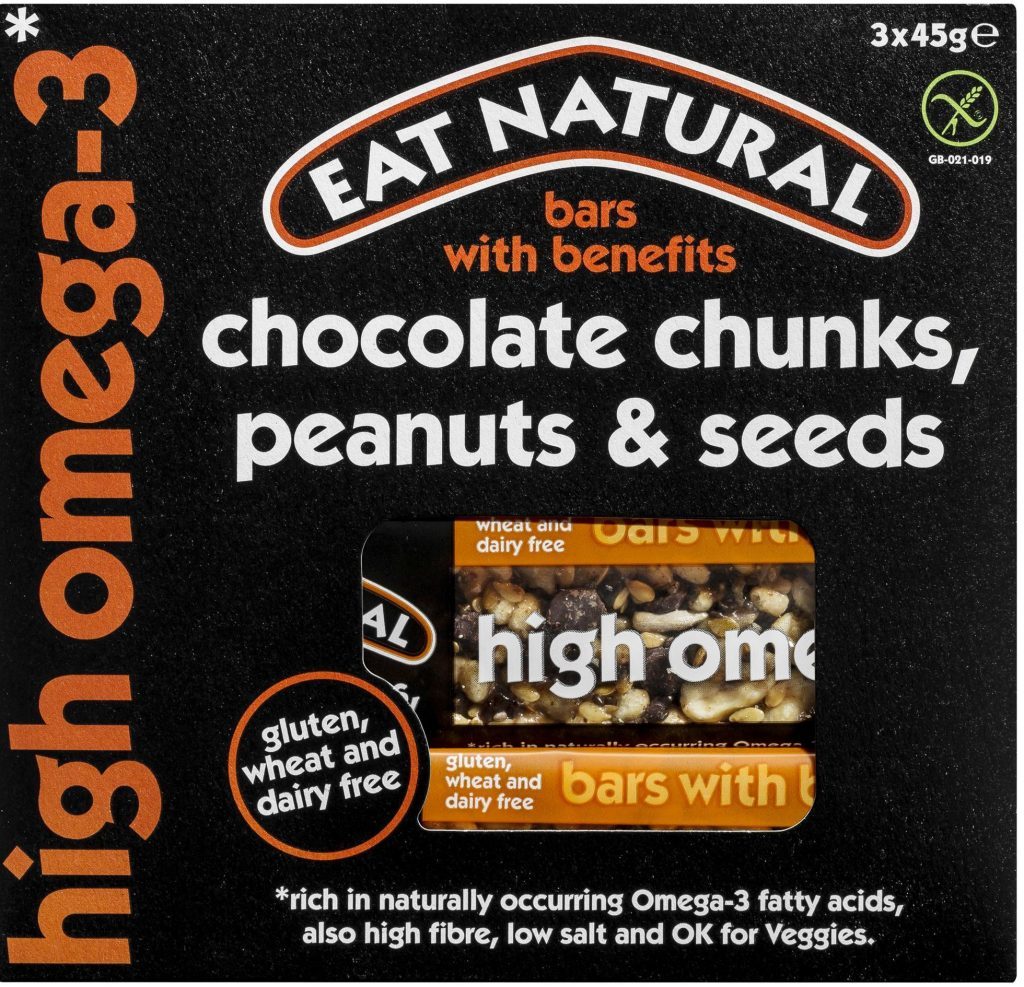 Eat Natural's Bars with Benefits are just as tasty as their traditional bars, but with added healthy goodness. These ones, packed with nuts, fruit, seeds, crisped rice, honey and dark choc chunks, are also rich in omega-3 and fibre, while low in salt and gluten, wheat and dairy-free.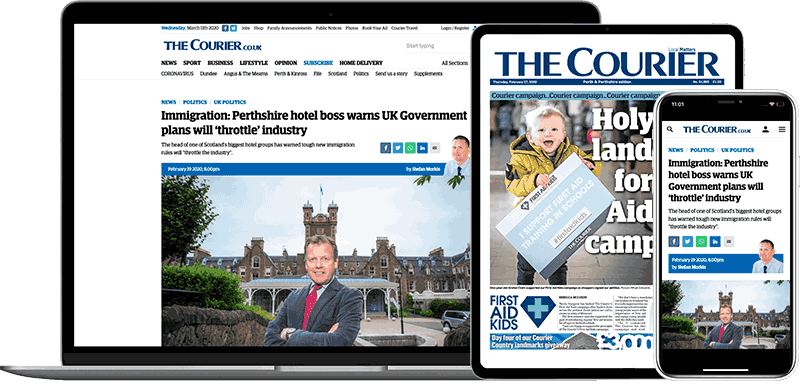 Help support quality local journalism … become a digital subscriber to The Courier
For as little as £5.99 a month you can access all of our content, including Premium articles.
Subscribe