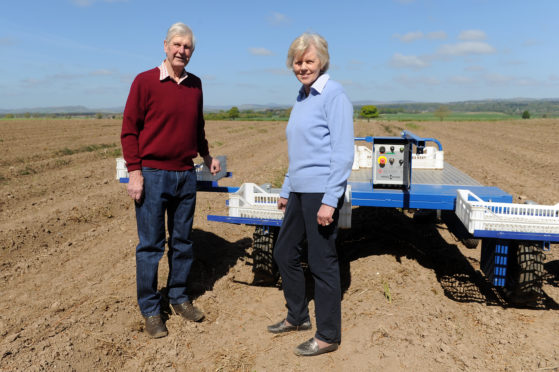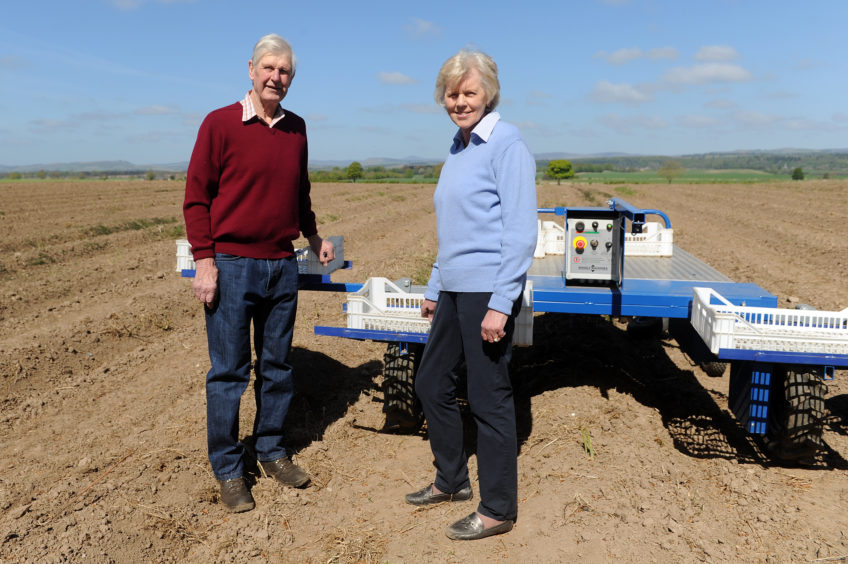 As we enjoy the short but sweet Scottish asparagus season, Angus farmer Sandy Pattullo tells Caroline Lindsay how the Covid-19 crisis has affected business…
For some people, being told they can't do something simply makes them all the more determined to succeed.
That was certainly the case for Sandy Pattullo, who was at college in the 1980s when a lecturer told him asparagus wasn't a viable crop in Scotland. Undaunted, he and wife Heather planted some asparagus in their garden.
It grew rather well and when farming friends from New Zealand visited and told them it was the easiest crop to raise on their farm, the Pattullos set their sights on producing it commercially.
That was 30 years ago and Sandy and Heather have been growing asparagus, and its close relative sea kale, on Eassie Farm by Glamis ever since. Spread over 12 acres, the asparagus season lasts for only six weeks, running from early May to mid-June.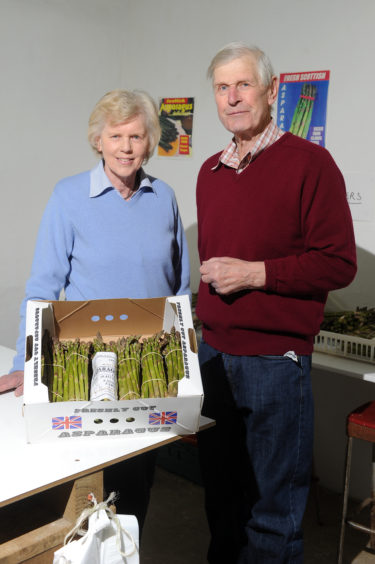 "Its natural habitat is the coast of the Mediterranean, so at our latitude we're at the limit," says Sandy, who grows a Dutch variety of asparagus called Gijnlim.
"You need 'free' soil – good and loamy, not hard and clumpy. It'll grow on sand quite happily because like sea kale, asparagus is naturally a beach plant."
The asparagus here is grown from crowns – the name for a one-year old plant – which come from Holland.
Its rapid growth has earned it the nickname the Usain Bolt of the vegetable world – it can shoot up 10cm in a day, with roots growing down three metres and some people swear you can actually see it growing if you watch closely enough.
Choosing the right variety to suit the climate and growing conditions is vital, as Sandy discovered to his cost when they first started out.
"Our friends thought New Zealand varieties would thrive here but unfortunately they didn't," he recalls.
"The weather is the main challenge because asparagus needs sun and warmth and a wet year can reduce production drastically – it hates getting its feet wet.
"Winter was maybe a bit wet for it but it's growing fine now – the recent warm sunny spell has brought it on nicely," he smiles.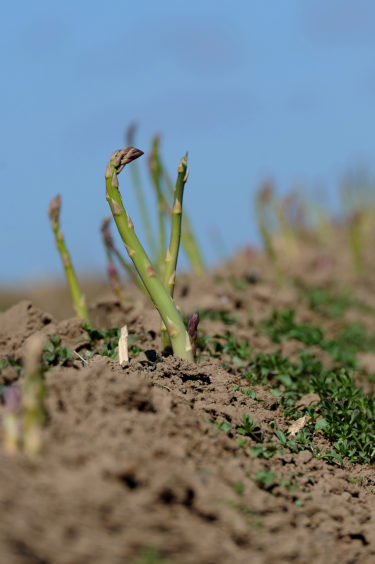 As soon as the asparagus is ready to be harvested, the asparagus is picked by hand with the aid of a self-propelled rig. Then it's electronically graded, and finally bundled.
"Our sea kale and asparagus are highly prized by visitors to our farm shop, and normally we would be supplying restaurants both in Scotland and across the UK," says Sandy.
However, the current Covid-19 crisis has put that on hold for this year unfortunately.
"Like everyone else, we've just had to go along with the situation and adjust," says Sandy.
"We can't supply restaurants or hotels at the moment but hopefully some of it will find its way to food shops and wholesalers, and we also have a few local chefs who are using our asparagus in their products for delivery. And our local customers have shown a lot of interest and are prepared to come here to buy it from the farm shop.
"It's so rewarding growing asparagus – it's a special vegetable owing to its short season and nothing beats the magical appearance of the first shoots.
"And I enjoy meeting the customers who come every year, as well as new ones. Socially it's very pleasant!"
The vegetable has been around since at least 3000BC when it appeared on an Egyptian frieze, while a recipe for asparagus is in the oldest surviving cook book, Apicius' 3rd Century AD De Re Coquinaria.
Sandy never gets tired of eating asparagus, although he shudders at the thought of eating it out of season.
"It's delicious steamed and served with hollandaise sauce or melted butter," he says with relish. "Alternatively you can toss it in olive oil, lightly season and roast in a hot oven or wrap it in tinfoil and cook on the barbecue.
"Homegrown asparagus tastes so sweet and succulent because it is so fresh – it starts to degrade as soon as it's cut."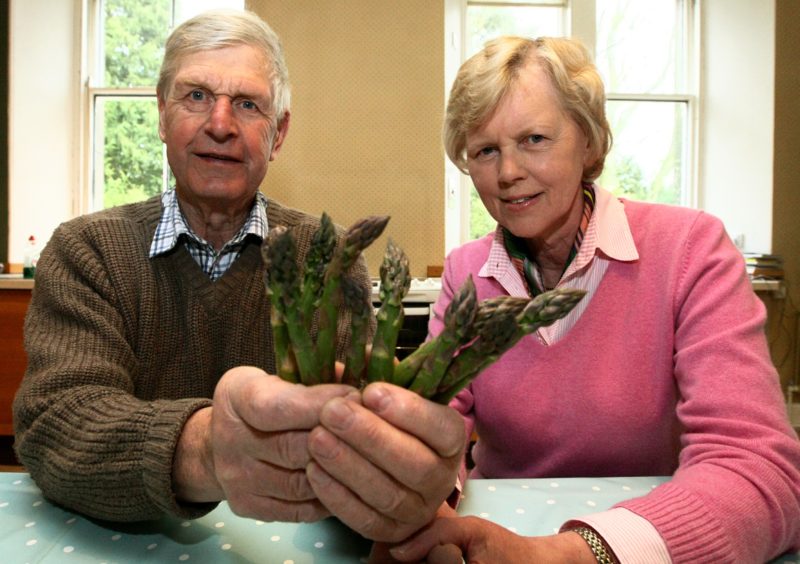 As well as tasting good, the vegetable is also valued for its health benefits, containing vitamin K, essential for healthy blood clotting and vitamin C, which boosts your immune system.
It's also a mild diuretic, can help cure hangovers and protect the liver against toxins. Oh and don't forget its aphrodisiac properties…
"We call it the king of the vegetables because it transcends most veg – there really is something very special about asparagus," says Sandy.
A 450g bundle of asparagus costs £5.50 from the farm shop at Eassie Farm in Glamis, eassiefarm.co.uk or call 01307 840303.
---
British asparagus one-pan chicken
(Serves 4 – This recipe can be easily doubled or halved.)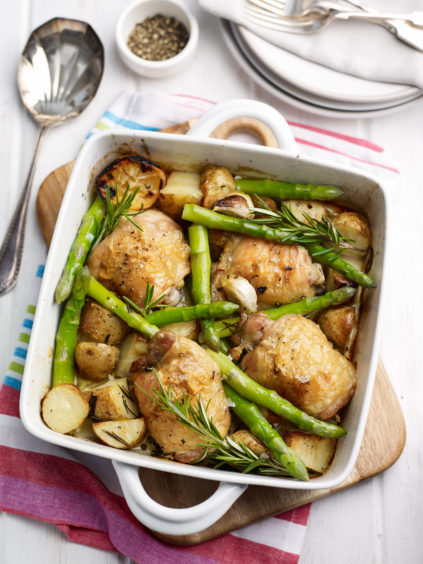 Ingredients
700g new potatoes, halved
1 tbsp rapeseed oil
8 chicken thighs
2 garlic cloves, unpeeled
4 sprigs of rosemary
1 lemon
1 bunch asparagus, trimmed
Directions
Heat the oven to 200C/180C Fan.
Put the potatoes and oil into a large oven dish and toss to coat well. Tuck the chicken in amongst the potatoes and do the same with the garlic and rosemary. Drizzle with the juice of half the lemon and add the squeezed lemon to the pan.
Season well and roast for 50 minutes.
After 50 minutes toss the asparagus into the pan and give it a shake so the spears nestle in amongst the cooking chicken and potatoes. Cook for a further eight minutes. Check that the chicken is cooked and the veg is tender.
Pick out the roasted garlic and squeeze the now melting centres into a small bowl, add the juice from the remaining lemon and season. Use a fork to mix the dressing and mash the garlic. Tip the chicken and potatoes onto a warmed serving plate and drizzle over the dressing.
---
Further reading…
Season's Eatings: spear a thought for asparagus as the green stuff sprouts into shops near you