It's time for another go-to freezer favourite – our version of Russian fish pie.
We are fortunate to have HS Murray in Inverkeithing delivering and I make sure it's worth his while with a decent-sized order as fish freezes so beautifully.
We have bundles labelled smoked haddock, hot smoked mackerel, fish pie mix and other delicacies all ready to pull out when peckish.
A wee bit of forward thinking is gold dust in lockdown menu planning.
Poach your smoked haddock in milk – I also add a knob of our chive butter. With smoked fish, skip adding any extra salt but add a generous grind of pepper.
Use the cooking liquid to make an over-thick white sauce, then add a cup of frozen peas (no need to defrost) and two roughly chopped hard-boiled eggs.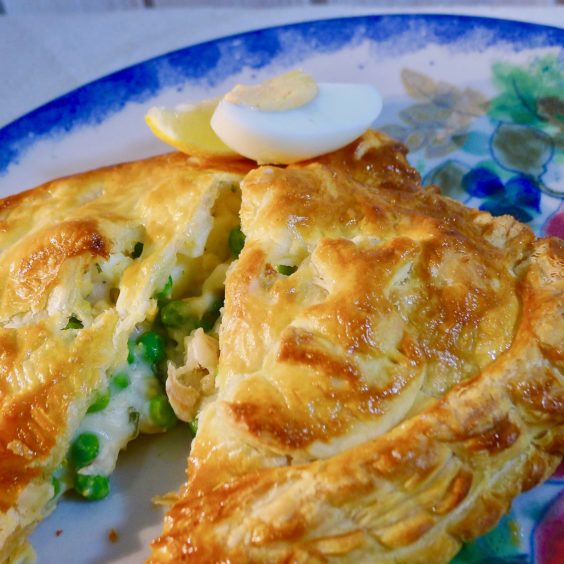 When folded together gently, set aside to cool while rolling out a packet of puff pastry – another freezer stand-by – and spoon on the filling. Create whatever shape you fancy, sealing edges and glazing with beaten egg. No need for rice, it is sufficiently filling and full of goodness.
Bake in a hot oven until well risen and golden for around 20 minutes. It is juicy, balanced and delicious.
Songs to cook to
Lara's Theme from Dr Zhivago – what else?!
Scottish Thistle Award Regional Ambassador (2018/19) for Central, Tayside & Fife
Founder & Director of award-winning www.scottishfoodguide.scot & www.scottishcheesetrail.com Leader in Scotland for Slow Food Ark of Taste & Member of Slow Food Cooks Alliance.
Recipes & Photos © Wendy Barrie
---
Read more from this series…
Food blogger: Catherine's Arbroath smokie pie is the perfect antidote to the stress of homeschooling