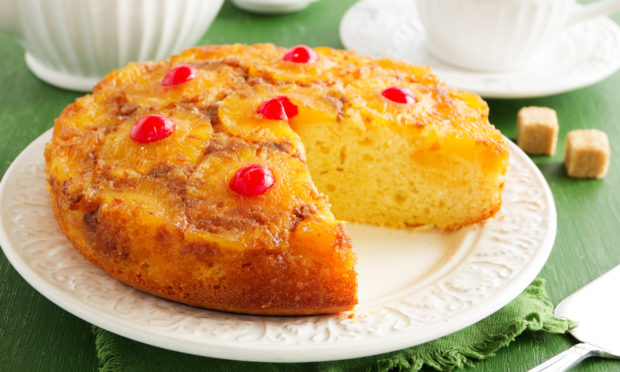 We're putting a tropical twist on a classic this week for Throwback Thursday as Julia Bryce goes back to school with the upside down pineapple cake.
When I think back to the last time I made an upside down pineapple cake, it must have been at least more than a decade ago in my secondary home economics class.
I remember it being easy to make and tasting delicious, which was probably more down to the sugary ingredients needed to create it – rather than my skill.
Popular in the 50s with housewives across the country, this classic is a dish many will know how to make, but have probably not done so in a long time.
Invented out of pure convenience items, housewives would regularly make this sweet bake due to it being pretty, quick to make and enjoyable.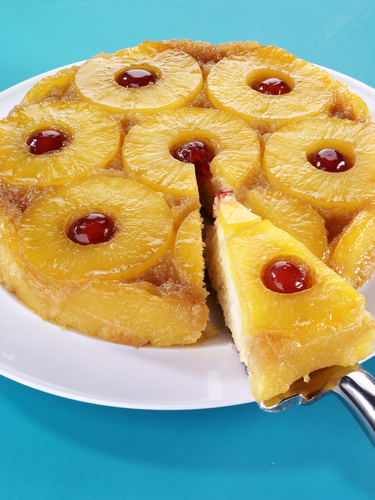 An upside down cake is a bake which is cooked in a single cake tin with the desired toppings in the bottom of the tin, so that when it is turned upside down, they appear on top.
Generally featuring sliced fruit such as apples, cherries, peaches and pineapple, a sugary butter mix is always placed in the bottom of the tin before any other ingredients to act as a "layer" which helps keep the fruit in place.
Cooking an upside down cake is an old technique which dates back centuries to when bakes were cooked in cast iron skillets. Easy to make, it is cooked up in no time and can be customised to taste.
It wasn't until 1911 when Henry Gabriel Ginaca, who worked as an engineer for the "Pineapple King" James Dole, invented a machine called the Ginaca Machine that canned pineapples – commonly used in upside down pineapple cakes – really took off.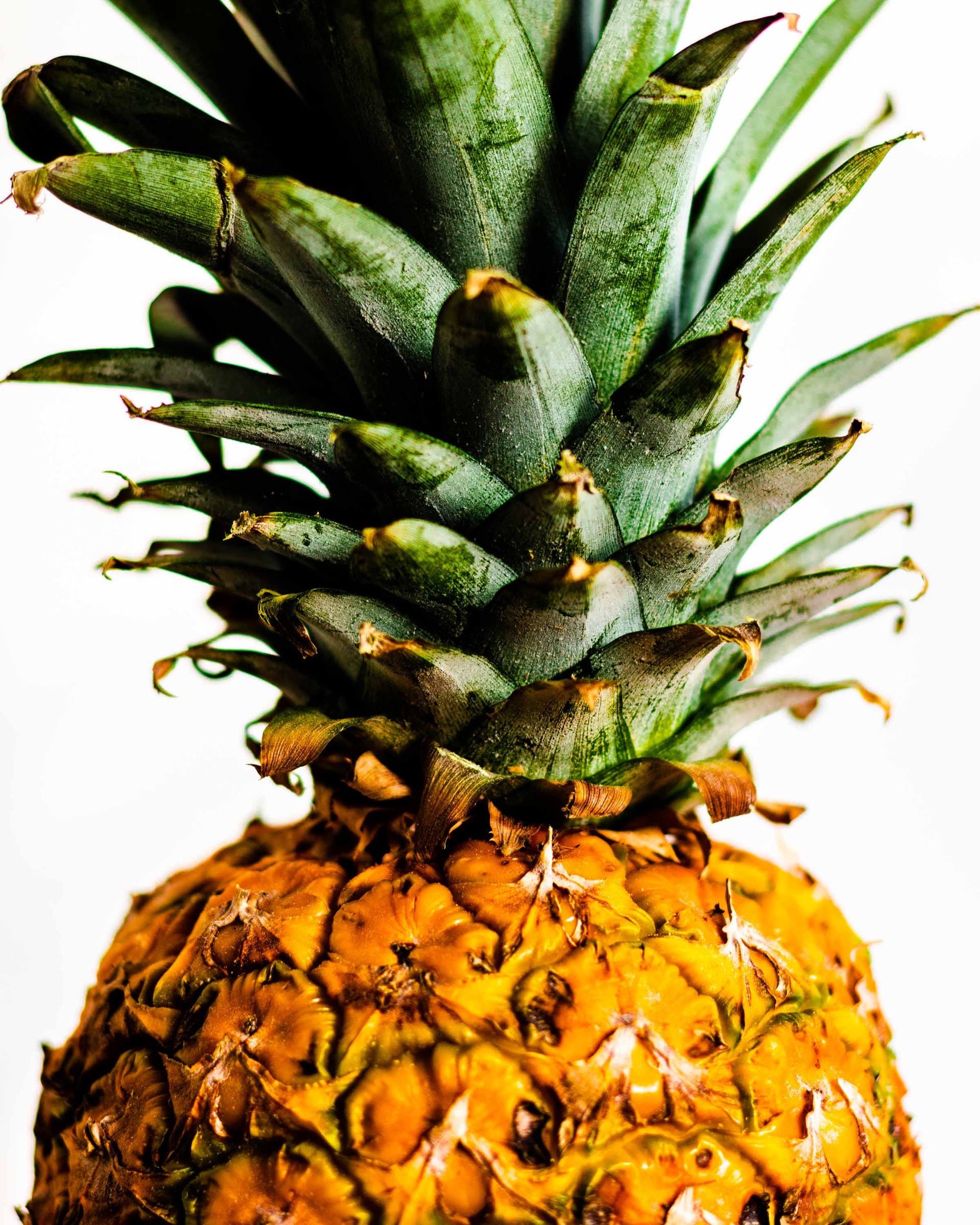 Henry's invention made canning pineapples more efficient and by 1913, the machine removed the pineapple skin, cored and also sliced the fruit to sit neatly in the can.
It is reported the machine brought production levels from processing 15 pineapples per minute to 35. Another machine was later invented to bring production up to 100 pineapples per minute.
The glace/maraschino cherry used in the upside down pineapple pudding recipe was later added into the mix to bring a pop of colour to it and to make it look pretty.
---
Upside Down Pineapple Pudding
(Serves 6-8)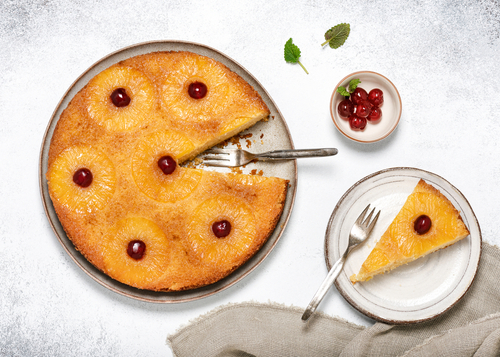 Ingredients
100g softened butter (plus a little extra for greasing the tin)
130g caster sugar
7-10 glace cherries (3 additional for decoration)
7 slices canned pineapple in juice (plus 2-3 tablespoons of the juice)
100g plain flour
1 tsp baking powder
¼ teaspoon bicarbonate of soda
2 large eggs
Method
Preheat the oven to 200°C/180°C fan
Mix a little butter with 30g of the caster sugar into a paste and grease an 8-inch cake tin with it.
Place the pineapple slices in the cake tin, arranging the seven rings so one is in the middle and the rest along the perimeter. Place a glace cherry in the centre of each ring. You can place additional cherries in the other empty gaps too if you desire.
Add the flour, baking powder, bicarbonate of soda, caster sugar, butter, pineapple juice and eggs into a mixing bowl or food processor and mix until it is smooth and soft.
Empty this mixture out on top of the pineapple rings and cherries, being careful as you do so not to move them. Spread it out evenly.
Bake for 30-35 minutes and leave to stand for around 10 minutes, then turn out onto a plate.
---
More in this series…
---
Throwback Thursday: How the coffee-soaked tiramisu dominated the 80s
Throwback Thursday: Duck a L'Orange, the trendy dish that sent the 1960s quackers