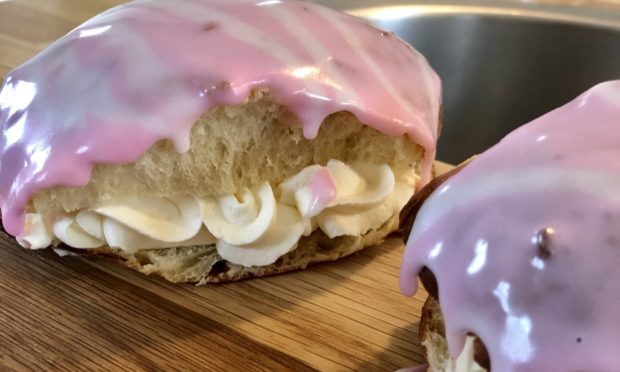 Catherine Devaney, a regular contributor to our food and drink magazine The Menu, shares a recipe from the Fife countryside
I keep thinking about a Sunday in early lockdown, when the weather was unseasonably warm and the outside world felt suddenly terrifying.
We called it "cream bun day" because all we did was pull weeds out of the garden, drink tea and bake cream buns. With all the hectic schedules of normality stripped away, the pressures of work suddenly cast aside, there was nothing to do except be together.
As everything begins to pick up again and the pace gathers I want to make sure we stop, every now and again, to have a Cream Bun Day.
Bun dough is easy to make but takes time. I use fresh yeast but you can substitute dried (simply halve the quantity). Weigh and sieve 500g strong flour. Dissolve 25g yeast in 125g milk (boiled and cooled to 40C) and mix in enough of the flour to make a thick batter.
Cover with cling film and put in a warm place until the surface bubbles. Rub 60g butter into the rest of the flour. Once fermented, add the batter along with two beaten eggs, 5g salt, 60g sugar and another 125g warm milk.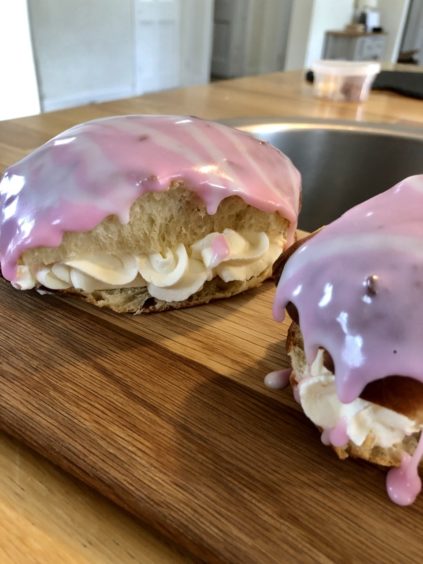 Mix slowly until soft and elastic, then leave to prove in a lightly oiled bowl in a warm place. When risen, knock back and knead gently, then let it rest for ten minutes before scaling into 60g pieces and rolling into oval shapes.
Cover with oiled cling film and let them prove – again – before baking at 200C for 10-15 minutes. Ice and fill with Chantilly cream.
For more from Catherine, visit harperandlime.com
Songs to cook to
Abba, Thank You for the Music – the title says it all really!
---
More in this series…
Food blogger: Sweet or savoury – choux buns are easy to make and scrumptious