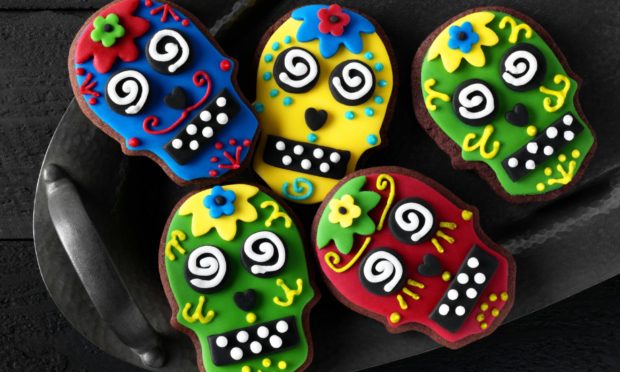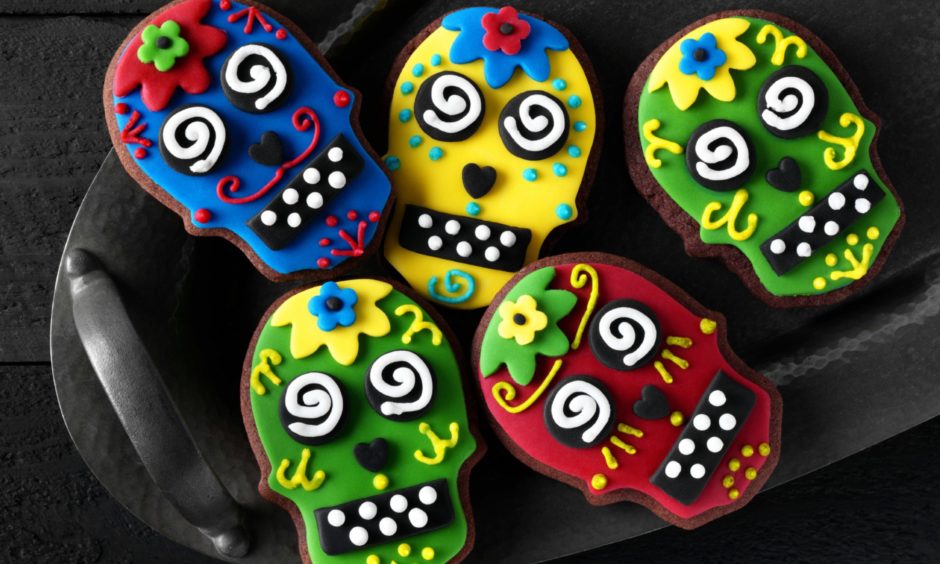 Three recipes for making Halloween treats that are friendly for all the family, and make a perfect scary movie snack too…
Halloween is going to look slightly different this year, with several coronavirus restrictions in place meaning that guising (going door to door trick or treating) won't be allowed.
However, this doesn't mean that the festivities should be cancelled altogether, especially not if you have children to entertain.
We have three different Halloween treat ideas below that will keep the kids busy for the whole day. Have them make the skull cookies, shortbread fingers or monster cupcakes early in the afternoon, then you could turn it into a game where they have to hunt for them around the house.
Starting early is the best way to make sure that all the treats are ready for your at-home  activities to begin later in the day.
Even if you don't have children to entertain on Halloween, these treats are the perfect snack for settling down to a scary movie or two.
Recipes courtesy of Dr Oetker.
---
Chocolate Skull Cookies
(Makes 16)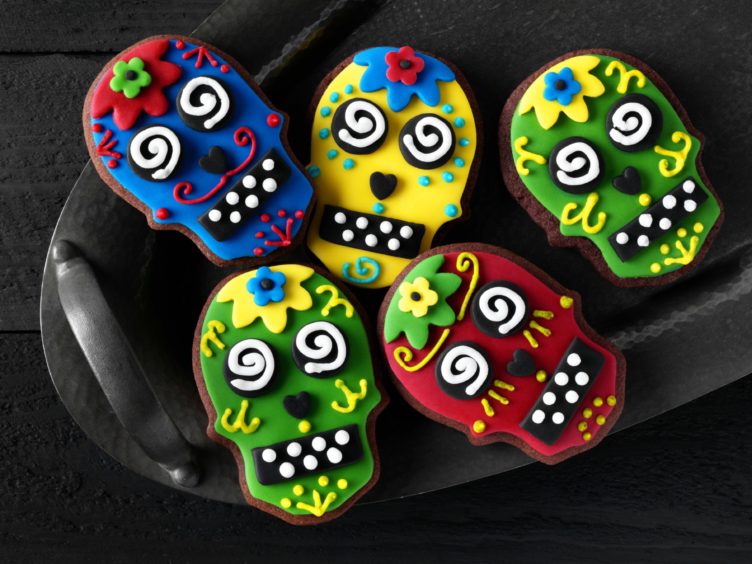 Ingredients
For the cookies:
125g lightly salted butter, softened
125g caster sugar
Medium egg, beaten
225g plain flour
1 Dr Oetker Fine Dark Cocoa Powder (25g)
1 Dr Oetker Baking Powder sachet (5g)
2 tsp ground cinnamon
To decorate:
Dr Oetker Coloured Ready to Roll Regal-Ice
1g icing sugar, to dust
15ml clear honey (1 tbsp)
Dr Oetker White Designer Icing
Dr Oetker Bright Writing Icing
Method
Line two large baking trays with baking parchment. In a bowl, beat the butter and caster sugar together until creamy.
Whisk in the egg. Sift the flour, cocoa, baking powder and cinnamon on top and stir well. Use your hands to bring the mixture together to form a firm dough. Turn on to a lightly-floured surface and knead until smooth and pliable. Roll out the dough to ½ cm thick.
Using an 8cm long skull-shaped cutter, cut out 16 skull shapes, re-rolling the dough as necessary.
Arrange on the baking trays, prick with a fork and chill for 30 minutes. Ten minutes before baking, preheat the oven to 180C/160C fan/gas 4. Bake the cookies for about 15 minutes, until firm.
Leave to cool on the baking trays for five minutes before transferring to a wire rack to cool completely.
To decorate, using the red, green, yellow and blue Ready to Roll Icing, and working on each colour separately, knead gently to make pliable. Dust the work surface lightly with icing sugar then roll out each colour to the thickness of a £1 coin.
Using the same skull cutter, stamp out four skull shapes from each colour, re-rolling the trimmings as necessary. Once you have 16 icing skulls, keep the coloured trimmings for decoration.
Brush the top of each cookie lightly with honey and stick the skulls on top, smoothing them in place with your fingers to ensure a neat fit. Knead the black icing as above, and then roll out thinly.
Cut out 16 pairs of eyes using a small round cutter and use either a small heart-shaped cutter or another small round cutter to stamp out 16 shapes for the nose.
Re-roll the trimmings and cut out 16 small oblongs for the mouths. Secure the shapes on top of each cookie using a little water.
Roll out the Ready to Roll Colour trimmings and cut out shapes to decorate the top of the skulls – we used half flower-shapes topped with smaller flower shapes, finished with a dot of Black Ready to Roll Icing.
Pipe dots and swirls to decorate your cookies using the Designer Icing and Writing Icing. Leave to dry for about 30 minutes before serving.
---
Halloween Monster Cupcakes
(Makes 12)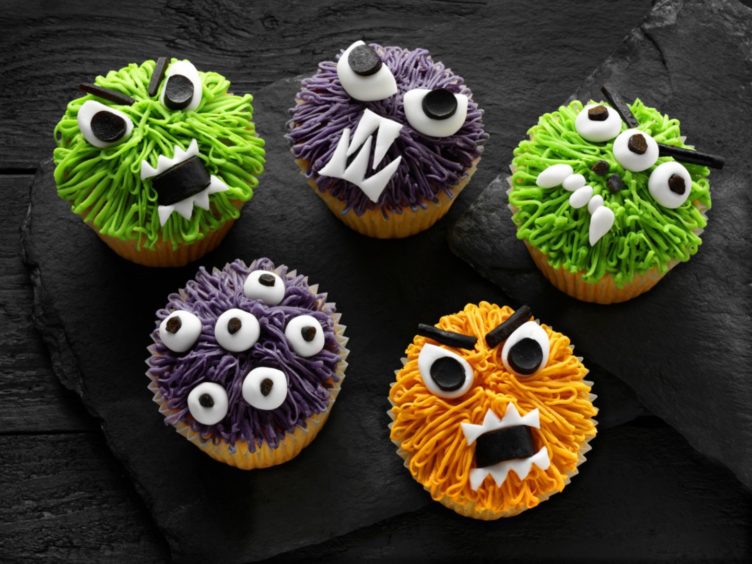 Ingredients
12 Dr Oetker muffin cases
125g baking margarine, softened
125g caster sugar
5ml (1 tsp) Dr Oetker Madagascan Natural Vanilla Extract
2 large eggs, beaten 175g self-raising flour
To decorate:
75g unsalted 
butter, softened
150g icing sugar, plus extra for dusting
5ml (1 tsp) Dr Oetker Madagascan Natural Vanilla Extract
Dr Oetker Extra Strong Food Colour Gels (orange, green and violet)
115g Dr Oetker Regal Ice White
40g black liquorice
Method
Preheat the oven to 180C/160C fan/gas mark 4. Put the muffin cases in 12 cupcake or muffin tins. Put the margarine in a bowl with the caster sugar, eggs and vanilla extract. Sift the flour on top.
Using an electric whisk, gently mix the ingredients until well blended. Divide the mixture equally between the muffin cases. Smooth the tops and bake for about 20 minutes until risen, and lightly golden.
Transfer to a wire rack to cool. To decorate, put the butter in a bowl and beat until smooth. Gradually sieve and mix in the icing sugar to make a smooth icing. Stir in the vanilla extract.
Divide into three equal portions and colour each with 2.5g (2.5ml/½ tsp) of a different colour gel, and mix well. Spoon the icing into three uncut small piping bags or small, clean plastic food bags.
Snip a tiny corner from the bags. Working on one colour at a time, pipe thin strands of icing, in short lines, back and forth, working your way round the top of the cake, from the centre to the edge.
Continue piping strands on top, in layers, to build up a "hairy" look. When all the cakes are iced, knead the Regal Ice to soften it and then form into various-sized eye shapes and teeth – use a little icing sugar to stop the icing sticking.
Cut up small pieces of liquorice and push into the eyeballs, and use some for open mouths, nostrils and eyebrows.
Arrange all the pieces on top of the cakes to make monster faces.
Serve, scare and enjoy!
---
Real Shortbread Fingers
(Makes 18 pieces)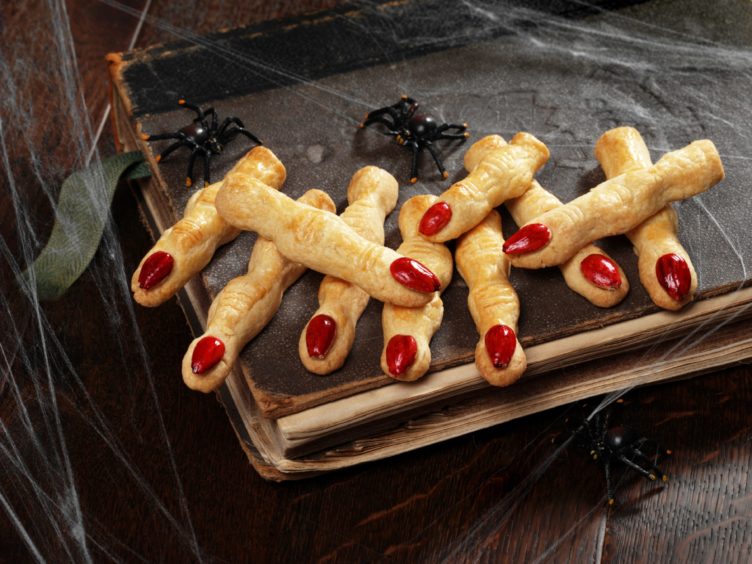 Ingredients
115g lightly salted butter, softened
65g caster sugar
5ml Dr Oetker Caramel Flavour (1 tsp)
165g plain flour
40g Cornflour (1½ oz)
1 Dr Oetker Free Range Egg White Powder Sachet (5g)
25g blanched almonds
Dr Oetker Bright Red Gel food colour
Method
Line a large baking tray with baking parchment. In a bowl, beat together the butter and sugar until creamy.
Beat in the caramel flavour. Sift the flour and cornflour on top and stir into the creamed mixture, then bring the mixture together with your hands to form a firm dough.
Turn on to a lightly-floured work surface and knead gently until smooth. Cut the dough in half and divide each half into nine portions.
Working on one portion at a time, roll the shortbread back and forth to form a skinny finger shape about 10cm long. Pinch the dough in two places to make the bony joints and score with a knife to make the wrinkles.
Put on the baking tray while you work on the remaining pieces. Keep the fingers spaced a little apart on the tray.
Make up the egg white powder as directed and whisk until slightly frothy. Brush over the top of each finger.
Gently press an almond into the top of each finger to resemble fingernails. Chill for 30 minutes.
Preheat the oven to 180C/160C fan/gas mark 4. Brush the rest of the fingers with egg white, leaving the almond unbrushed.
Squeeze a few drops of red food colour gel into a small dish and carefully paint it over the almonds. Bake for about 20 minutes.
---
Read more in this series…
Three ways with pumpkin: A risotto, chilli con carne and a healthy smoothie
Three one-pot supper recipes that will keep you going through autumn