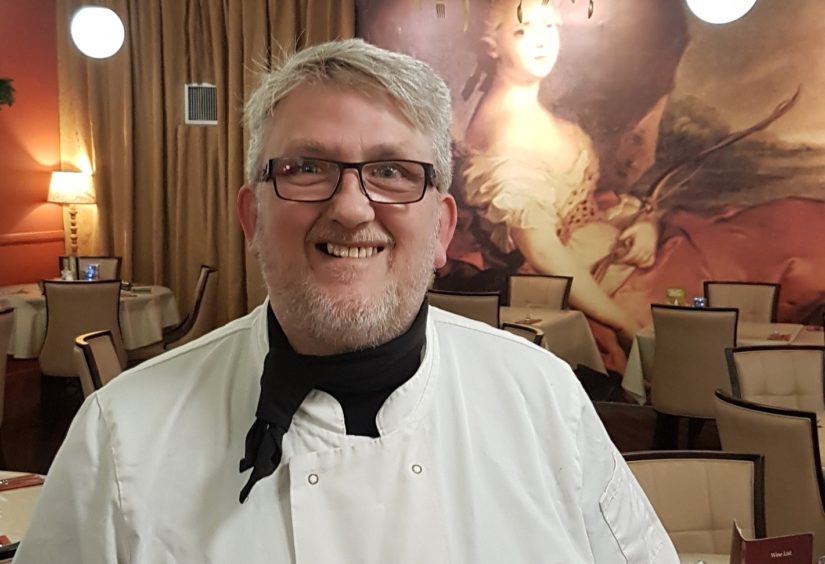 Carl Sullivan, head chef at the Scottish Antique & Arts Centre at Abernyte, always make sure he's playing country music when he's cooking, discovers Caroline Lindsay
Q Desert island food?
A Doughnuts – can't beat a fresh cream and strawberry jam doughnut.
Q Favourite TV chef?
A Brian Turner – old school with a modern twist.
Q Favourite cook book?
A Cuisine Naturelle by Anton Mossiman. In his recipes, the main focus is the flavour of the food itself, and does without ingredients such as butter, cream or alcohol.
Q Favourite ingredient y?
A Garlic – I just love it!
Q Most hated ingredient?
A Curry powder – so easy to make your own using all different spices, and it tastes so much better!
Q Perfect dinner guest?
A: Muhammad Ali – what a conversation that would be. Sport, politics, religion and all from the best sportsman, in my opinion, ever.
Q Favourite kitchen gadget?
A Robot Chef – need I say more?
Q Favourite music to cook to?
A Country music – it keeps me calm and relaxes me.
Q Perfect menu?
A Mussels – roast duck – strawberry tart.
Q Favourite country for food?
A: India. Spice , texture, flavour, colour and culture – what's not to love?
Q Favourite chef, alive or dead?
A Delia! Her recipes are straightforward and always spot on.
Q Favourite culinary season?
A Summer – so much more choice of fresh food.
Q Salt or pepper?
A Both as they help to enhance the flavour of food, but maybe a little less salt these days.
Q Favourite herb?
A Thyme – it complements and adds to the flavour of so many different dishes, from slow cooked roasts to cassoulets and stews. No kitchen should be without the heady, aromatic flavour of thyme. There are many different varieties, both cultivated and wild, with flavours of mint, caraway, lemon, and stronger varieties that taste more akin to oregano.
Q Favourite spice?
A Cumin – this warm and slightly bitter spice is derived from the seed of the cumin plant and adds wonderful fragrant flavour to curries, Mexican dishes and Moroccan lamb dishes.
Q Favourite way to cook the humble potato?
A Roasted in goose fat.
Q Favourite go-to recipe if you're in a hurry?
A Omelette – I love eggs and you can fling anything in an omelette, cheese, peppers, mushrooms, onions and spices, and it will always taste fabulous.
Q Favourite health food?
A Water.
Q Ideal picnic dish?
A Pork pie.
Q Ideal BBQ food?
A Slow cooked BBQ pork loin.
Q Are you critical of the food when you're dining out?
A I really try not to be critical, but sometimes you have no choice.
Q Do you tip in restaurants?
A Yes, all the time, except where service charge is included.
Q Top tip for failsafe cooking?
A Patience.
Q Worst cooking sin in your opinion?
A Over seasoning and over cooking – it can ruin a meal!
Lamb and Stornoway black pudding croquettes
Ingredients
Makes 8
2 medium lamb shanks
150g diced onion
150g diced leek
150g carrot
3 sprigs of thyme
100g black pudding, minced
8 leaves of mint
Salt and pepper
Box of breadcrumbs
175ml red meat stock
250ml red wine
75g redcurrant jelly
Cornflour if necessary
Directions
Preheat oven to 175C.
Seal lamb shanks in a deep oven tray, add onion, leek, carrot and thyme. Cook slowly for 10 minutes, then add the red wine and stock.
Cover with tin foil, and put into the oven for two hours at 175C.
Take it out of the oven and let it cool. Remove meat from the bone and pull apart, then add black pudding, mint and seasoning.
Leave in the fridge for two hours.
Roll into eight croquettes, breadcrumb them and deep fry until golden brown.
Sieve the stock and red wine into a saucepan, add redcurrant jelly and reduce. Use a teaspoon of cornflour to thicken if necessary.
Serve.